Top 10
Sacramento

Appliance Repair Service Companies
Top Best
Appliance Repair Service Companies
#

1

A & J Appliance Repair Service

A & J Appliance Repair Service is a professional repair company located in Sacramento County in California. They are a family owned and operated repair company with over 30 years experience serving Sacramento and the neighboring regions. They repair dishwashers, dryers, freezers, microwaves, ovens and washing machines. Their reliability and expertise has earned them a five star rating on yelp. They are highly recommended by their previous customers who were extremely satisfied by the services offered. Their staff is knowledgeable, patient, articulate and prompt when delivering the services. They offer 24 hour emergency repair at very fair prices and are very professional. Make an appointment today for fast service and fair pricing.

#

2

Appliance Worx

Appliance Worx is a 4.5 star rated repair company located in Sacramento, California. They offer all major appliance installation and repair services within Sacramento and the nearby areas. They have been committed to a friendly and excellent service since 2015 but have a combined experience of over 30 years. They are a family owned and operated business that has strived to acquire and build a great team of trustworthy people who are dedicated to their craft. Their factory trained workmanship ensures they take care of all your repair needs at very fair prices. They also give free advice and consultation, and their appliance repair service techs are professional, skilled and ready to help.

2121 Natomas Crossing Dr Ste 200-204

Sacramento, CA 95834

#

3

Capital Appliance Repair

Capital Appliance Repair 4.0 star rated repair company located in Sacramento, California. They repair refrigerators, washers, dryers, stoves, dishwashers, microwaves, furnaces, heaters, air conditioners, ovens and cooktops. They service Sacramento and neighboring areas and offer 5% off labor for first time customers and a 10% off labor for returning customers. They have same day service and guarantee 100% satisfaction. They have a free six month warranty for parts replacement, an extended warranty of up to one year for just $25 and have free service calls. Contact them, describe your problem, get an appointment, allow for a two hour window and enjoy your fixed appliance. They work seven days a week from 9 a.m. to 11 p.m.

5777 Madison Ave Ste 500

Sacramento, CA 95841

#

4

Fair Appliance Repair Service

Fair Appliance Repair Service is an experienced appliance repair company located in Sacramento, California. They have well trained, experienced, licensed and trusted technicians who provide the fastest, highest quality and professional service repairs and regular maintenance and have earned a 4.9 star rating. They repair dishwashers, dryers, freezers, microwaves, ranges, well ovens, refrigerators, trash compactors, cook tops, washers, range hoods and garbage disposals. Their online booking is hassle free and they charge very fair prices. All of their repairs are covered by a 90 day part warranty as well as a thirty labor warranty. Their friendly and professional staff offer the best service and create good long term relationships with the customers.

341 Rick Heinrich Cir

Sacramento, CA 95835

#

5

Lake Appliance Repair

Lake Appliance Repair is a 3.5 star rated appliance repair company located in Sacramento, California. Their technicians and managers will get your broken appliances up and running as quickly as possible. Their technicians are trained on leading brands like Whirlpool, KitchenAid, Jenn-Air, Samsung, Sub-Zero, Wolf and LG and repair refrigerators, dishwashers, ovens, ranges, washers, dryers and more. They started in 2004 and their excellent service has led to their continued growth. They are a family owned business that now has more than 30 well trained employees that strive to ensure quality service to all their customers. Their first priority is to offer the highest level customer satisfaction and promise fast service and competitive rates.

3508 Cody Way

Sacramento, CA 95825

#

6

Prime HVAC & Appliance Repair

Prime HVAC & Appliance Repair is a 4.8 star rated appliance repair company located in Fair Oaks. They offer a $25 discount on online bookings for appliance repairs. They repair refrigerators, washers, dryers, dishwashers, ovens, HVAC, ranges and cooktops. Call them to book their online services, stay connected to get updates on their ETA and to chat with them via text and enjoy your appliance. They also have an exclusive loyalty program where customers receive exclusive gifts such as free diagnostics, up to 25% off on any repair service and Tech support for DIY customers. They have fair pricings, free diagnostics and estimates, a senior and military discount and up to six months warranty on parts and labor.

#

7

Sublime Appliance Repair

Sublime Appliance Repair is a five star rated appliance repair company located in Sacramento, California. They repair dishwashers, dryers, freezers, ovens, washing machines, cookers, garbage dispensers and gas burners. Their well trained and certified staff have top tier punctuality, responsiveness, quality, value and professionalism. They offer same day service, have a service warranty, are licensed and insured and guarantee 100% customer satisfaction. They come heavily recommended by their previous customers whose expectations were exceeded. They offer a $25 discount for online bookings, a 10% senior discount for repairs only, 15% military discount on repairs only and a 15% veterans discount on repairs only. Contact them today for any repair queries.

#

8

Sunrise Appliance Repair

Sunrise Appliance Repair is a professional appliance repair company located in Fair Oaks, CA. They repair dryers, ovens and other household appliances. Their excellent punctuality, responsiveness, quality and value have earned them a five star rating on yelp. They offer a prompt and professional diagnosis of the problem and fix the broken equipment at a very fair price. They are a locally owned and operated appliance repair company that repairs most major brands, makes and models. They are open on all weekdays from 8.00 a.m. to 8.00 p.m. and are closed on Saturdays and Sundays. Contact them today to book their services and experience their high quality service.
Do you want to have some repairs done for your busted appliances? You do not have to worry for there are plenty of appliance repair service companies in Sacramento.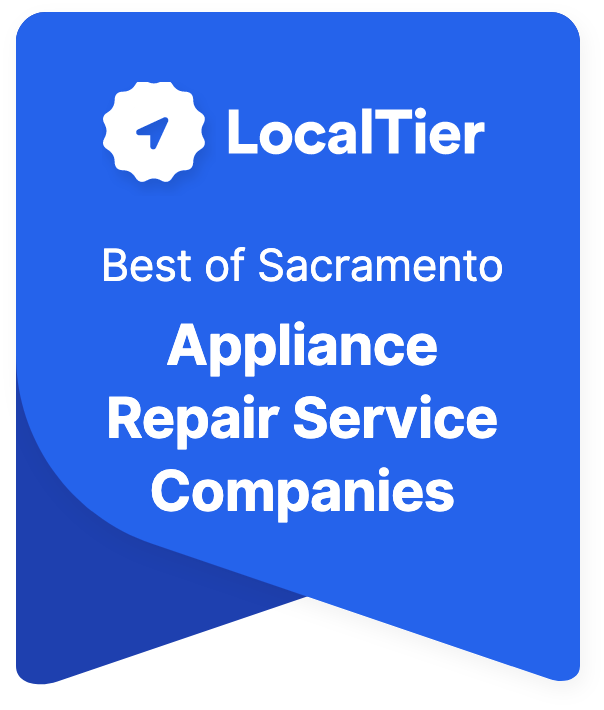 Sacramento Appliance Repair Companies
Home appliances are your worthy everyday companion. They play an important part in your life as they are very useful in helping you do your household chores. These home appliances make your daily life comfortable, so in return, you must take good care of them to keep them going and for them to last long. Regular maintenance is necessary for these home appliances.
You want everything always to run smoothly but unfortunately, that is not the reality. At one point in your life, a home appliance of yours may bug down. It may be your washing machine, refrigerator, air-conditioner, microwave, or any other home appliance. This situation can be daunting, as it will be hard to function without them. These home appliances are necessities in your daily living. If one or two of them gets broken or start to malfunction, you better call on the best appliance repairman in town.
Any good home appliance repairman will give you options. After checking the status of your home appliance, they will ask you to choose between going for appliance repair or replacement of the unit. If the damages are still repairable, your best bet will be to go for appliance repair. You may consider the following reasons.
You can save money - it will be a lot cheaper to have these home appliances repaired than to purchase a new one.
It will be a wise move, especially for minor damages on your home appliance that can easily be fixed.
You will be happy to prolong your appliance's life and usage.
Your home appliances may still be under warranty, so you can take advantage of that.
Appliance Repair Companies Near Me
A list of the top ten best appliance repair service companies in Sacramento is provided for you in this article. Select any of those local appliance repair service companies that do not charge exorbitant rates. They can offer a wide scope of appliance repair services. All you need to do is call them up or schedule an appointment.
Our Selection Criteria
Each business is graded according to the following criteria:
Qualification
How qualified are they to do the work in their chosen field? Do they have any licenses or certifications?
Availability
Are they open during normal business hours? Are the hours clearly posted on their website and at their actual storefront?
Reputation
What are others saying about them? How well-known are they in the community?
Experience
How many years have they been in business? Have they won any awards or accolades?
Professionalism
How do they treat their customers? Are they courteous?
Are you ready to Hire an Appliance Repair Company in Sacramento?
These local home appliances service repairmen can give you an accurate diagnosis of your appliance problem. Given the correct action to take to fix your home appliances, their end goal will be to have them up and running again, depending on the severity of the damage.
Look for those appliances service repairman who is skilled, highly trained, and qualified to fix your appliances. Their rates will depend on the appliance's brand, type, make and model. Some older models' parts may be harder to find, and the cost of service and labor may vary. In which case, your safe bet will be to ask for a free consultation and estimates before signing up for their service.
Be cautious also when handling these broken home appliances. Most of them run on electricity, thus may pose some danger, and can cause harm. Your home appliance repairman knows about this so that they can handle them most safely. To be safe and sure, hire only those who are licensed and insured.
You may also ask if they offer discounts, easy payment options, and free parts and labor warranty.
Some of these Sacramento Appliance Repair Service Companies even have stocks of parts for use in their repair service. It can make things easier, especially those rare home appliance parts that need to be replaced. They can even offer same-day service for your home appliance repair. Lastly, do not forget to check for online reviews and accreditation, and you may also ask around for recommendations.