Top 10
Sacramento

Bathroom Remodeling Companies
Top Best
Bathroom Remodeling Companies
#

1

GVD Renovations

GVD Renovations is a locally owned and trusted contractor in Roseville. They specialize in complete exterior and interior renovation services, including James Hardie siding replacement, kitchen remodeling, bathroom remodeling, replacement windows and home remodeling. Their competent team has extensive experience making hundreds of Sacramento homeowners happy. Their expert design consultants will be pleased to give a customer all recommendations on improving the living space. They use only high-quality materials and modern technologies in their work. GVD Renovations offers excellent craftsmanship, always keeping your home and yard clean and ready to live after finishing the project.

620 Commerce Dr, Ste D

Roseville, CA 95678

#

2

Solid Construction & Design

Solid Construction & Design is one of the most prominent home remodeling contractors in Sacramento. They specialize in residential home renovations, kitchen remodeling, bathroom remodeling, countertops, shower installations, home additions, new construction, and more. They use the best vendors and suppliers and guarantee that only the best materials will be used in a construction project. They have been remodeling houses for over 15 years and are a family-owned and operated business. They strive for quality work and customer satisfaction. They offer customized service for every client and prove their reputation as an honest contractor. They never push unnecessary spendings to their customers.

5549 Auburn Blvd

Sacramento, CA 95841

#

3

Kitchen Mart

Kitchen Mart is one of the most trusted companies in Sacramento. They specialize in kitchen remodeling and bath remodeling, cabinet refacing and repainting, and custom countertop services. Their highly qualified staffs offer assistance with kitchen cabinets and bathroom cabinets, countertops made of different materials. Their main priority is to help people with the choice of bathroom and kitchen furniture. Kitchen Mart also offers assistance with the interior decoration of rooms and finding the necessary building materials. They satisfy all the requirements and desires of their customers. They respect and value their customers.

3742 Bradview Dr

Sacramento, CA 95827

#

4

Good Life Construction

Good Life Construction is a prominent dry rot repair and exterior renovation contractor serving Sacramento and surrounding areas. They specialize in wood and dry rot repair, siding and decking repairs and fire restoration. They have been in this industry for over 25 years. Their experienced team provides the best possible service after termite damage. They focus on your customized requirements and never leave the project without the complete satisfaction of the customers. Their exteriors serve residents for years, which is their pride and best recommendation. Good Life Construction offers free consultations and high-quality designs for all its customers.

3720 Madison Ave Ste 250

North Highlands, CA 95660

#

5

Rose Remodeling

Rose Remodeling is a leading remodeling contractor serving Sacramento and surrounding areas. They specialize in bathrooms and kitchens remodeling and improvement. Their experienced team has been building comfort and beautiful spaces for Sacramento homeowners for almost 20 years. The family-owned business aims to achieve the complete customers' satisfaction of the works. They never leave the house without total clean up making the renewed kitchens and bathrooms sparkling and attractive. Rose Remodeling is dedicated to meeting all wishes of their clients, seeking the balance between affordable cost and required time to repair.

9701 Dino Dr Ste 100

Elk Grove, CA 95624

#

6

America's Dream HomeWorks

America's Dream HomeWorks is a family-owned business in the home improvement area serving Sacramento and surrounding areas. They offer a wide range of home renovation services at affordable prices. They specialize in home remodeling, kitchen remodeling, bath renovation and other renovation services. They control the quality of the work throughout the whole process of implementation. Their experienced team has been renovating and improving residential homes for the last two decades. They offer professionally driven services and high-quality building materials for all their customers. Their primary goal is to meet all wishes of the customers.

7115 Watt Ave, Ste 100

North Highlands, CA 95660

#

7

Shaver Construction

Shaver Construction is one of the best Sacramento remodeling companies. They specialize in tiling, roofing, sidings, and covering objects both inside and outside. Their experienced technicians design the current projects for the most demanding customers. They always use only safe and reliable materials and technologies to provide a high quality of results. They offer renovated and new constructions in kitchens, bathrooms, rough framing, and door installation for Sacramento homeowners. They provide an endless variety of works at a competitive price and high implementation level. Their team does everything to reach the complete satisfaction of their clients.

#

8

Grandpa's Truck Construction Services

Grandpa's Truck Construction Services is one of the best builders, painters, and contractors in Sacramento. They specialize in indoor remodeling rooms, firstly, kitchen and bathroom areas. Their professional team provides fire and water damage restoration services. They strengthen the house water lines to avoid breaks and flooding. They give warranty for their works to customers and confirm it by extensive experience. They communicate with insurance companies if some issue happens to their customers and provide an independent estimation of the damage and cost of repair.

#

9

New Dawn Awning Company

New Dawn Awning Company is one of the top remodeling companies in the Sacramento area. They specialize in patio design, construction, and covering. Their experienced team has been working for over 50 years. They provide services of installation and maintenance of freestanding patio covers and unique exterior constructions. They offer a free estimation cost and will be pleased to answer all questions through phone or email. They focus on the high-quality process and lasting results. Their staffs always meet the requirements and desires of the customers and suggest the best technical solutions.

10420 Fair Oaks Blvd Ste B

Fair Oaks, CA 95628

#

10

Vitex Innovation

Vitex Innovation is a kitchen remodeling company that specializes in kitchens, bathroom remodeling, home construction, and renovation services in Sacramento. They are proud of the highest grades given by their customers. They provide services on remodeling the floors in every room of your house, including such complicated coverings as in kitchens and bathrooms. Their experienced team will attentively record your personal preferences and provide the best solutions. Vitex Innovation aims to achieve all customers' home remodeling dreams to come to reality. They prioritize high-quality and modern approaches in all their projects. It makes their floors serve for decades and clients happy.

11255 Sunrise Gold Cir Ste C, D and E

Rancho Cordova, CA 95742

#

11

David Wilson Construction

David Wilson Construction is the most prominent contractor servicing the Greater Sacramento area. They have been remodeling homes for over 30 years. They specialize in plumbing and any water lines works. Their experienced team designs and installs all kinds of heating and cooling systems to provide complete maintenance, repair, and dismantling cycle. They work accurately and clean, never leaving the house or the yard without the thorough cleanup and recovering of the environment. Their licensed professionals focus on the high quality of the work and complete customer satisfaction.

#

12

Sam Russo Handyman

Sam Russo Handyman is a respected family-owned contractor in Sacramento. They specialize in plumbing services, lighting, wires fixtures, and many other tiny home works requiring handymen. They perform minor repairs and improvements of both interior and exterior of the house. High-skilled professionals install and maintain window coverings, doors, thermostats, doorbells, screen adjustments, lights, outlets, switches, dishwashers, and washing machines. They perform cleanup and garbage disposal, shades and blinds replacement, assemble furniture, and everything comes up to the house owner. Their experienced staffs will finish all works in the shortest time. They are available from the early morning to the late evening.

#

13

Caldwell Construction

Caldwell Construction is a reliable and comprehensive contractor in Sacramento. They specialize in performing handy works, plumbing, painting, and remodeling. They offer minor to medium home repairing and reengineering. Their unique feature is a free one-year craftsmanship warranty of their works. They provide a free estimation of the planned works and guarantee high-quality results always on time. Their professionals have been working for years using the most modern materials and technologies. They want all their customers to feel happy and comfortable in their homes.

3351 Business Dr Ste 105

Sacramento, CA 95820
One of the rooms in the house you spend the most time in without thinking about it is the bathroom. You need a place that is easy to get ready in the morning and relax in the evening. Every day, people are looking for a bathroom remodeling contractor near them in Sacramento. Bathroom remodeling companies handle everything from changing a couple of fixtures to a complete remodel of the bathroom.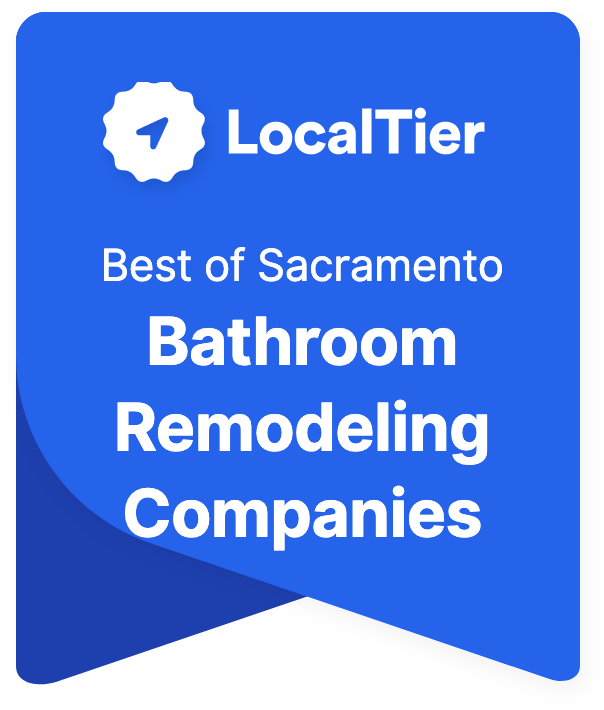 Best Sacramento Bathroom Remodeling Contractors
Swapping out a toilet or changing a faucet may not require assistance from a Sacramento bathroom remodeling specialist. However, you will want to contact bathroom remodeling companies professionals if you are making many changes to the room. You can quickly run into problems with the plumbing and electric lines. It is essential that wiring is done correctly and everything is well ventilated because you mix electricity and water in this room. Bathroom remodeling contractors in Sacramento have years of experience to know how to handle issues that arise.
With that said, finding a Sacramento bath remodeling companies you can trust that gives you the best value can be daunting. We have compiled a list of the top bathroom remodeling contractors in Sacramento to help start the search. You will want to visit the websites to find out their prices, services, and any other information you can glean. Using social media or other networking channels, look for reviews from past clients.
Top Bathroom Remodeling Companies in Sacramento
After you have narrowed your options down to three or four Sacramento bathroom remodelers, you are ready to start calling to find out more information. You will want to make sure the bathroom remodeling companies and contractor is certified and insured for all work performed. Some bathroom remodeling companies offer extra services that will make your life easier, such as debris removal. Therefore, let them know the extent of your project and find out the rates for every aspect you need assistance with. Make sure you are completely satisfied with their answers before signing a bathroom remodeling contract.
Our Selection Criteria
Each business is graded according to the following criteria:
Qualification
How qualified are they to do the work in their chosen field? Do they have any licenses or certifications?
Availability
Are they open during normal business hours? Are the hours clearly posted on their website and at their actual storefront?
Reputation
What are others saying about them? How well-known are they in the community?
Experience
How many years have they been in business? Have they won any awards or accolades?
Professionalism
How do they treat their customers? Are they courteous?
Hire the Best Bathroom Remodelers in Sacramento
Bathroom remodeling contractors help relieve stress, ensure work is done correctly and can help save money. Some contractors allow you to purchase fixtures from approved locations, and they assist with the install. At the same time, others will require you to buy everything through them. It is essential to know how the Sacramento bathroom remodeling companies operate before starting a project.
When you are starting your search for bathroom remodeling companies and contractors in Sacramento, consider talking to friends and family for recommendations. However, if you are new to the area, this list offers a great start. You can look at their online profiles and learn more about them on your own. It takes extra time to do thorough research, but it is worth it when the work is completed. You will be able to enjoy your new bathroom remodel in Sacramento and know you got the best value for your money.
Because time is money, you will want a bathroom remodeling companies in Sacramento that respects your timelines and strives to stay within your budget. They should work efficiently and keep your style in mind. You are bringing the bathroom remodeling contractor into your house around your belongings, so trust is a huge factor. When you find that perfect match, you can continue with your life as they work for you.
Checking and double-checking that every Sacramento bathroom remodeling contractor that comes to your home is licensed, insured, and has a background check will take time. You can find information by contacting previous clients. Therefore, if you cannot find reviews online, make sure you ask every Sacramento bathroom remodeling companies for references that you can get. They should exhibit confidence and transparency in answering all the questions you have.