Top 10
Sacramento

Roofing Companies
Top Best
Roofing Companies
#

1

A&L Roofing Repairs & Cleaning

A&L Roofing Repairs & Cleaning is a roof repair and gutter cleaning service based in Sacramento. They specialize in tile roof repairs. They are known for their consistent professionalism and efficiency. Alejandro, the owner, has years of experience in the field and has managed to gain loyal customers through his incredible customer service. Unlike other contractors, A&L Repairs prioritizes good and fast communication with their customers and always keep the clients in the loop during every step of the repair process. This is done by providing the clients with pictures and updates of how the job is going. Some of the services they offer include Roof Repair, Roof Cleaning, Leak Repair and Roof Sealing.

#

2

Alex Perez's Roofing

Alex Perex Roofing is a roof replacement and repairs service operating in Sacramento. The owner, Alex, established the business in 2017 and has years of experience providing the best quality workmanship to his clients. His main vision is to serve the community of Sacramento by providing excellent customer service. He goes above and beyond to cater to his clients' needs. At Alex Perez Roofing Inc, they understand the financial burden home owners have. They therefore provide their clients with optional payment solutions for example affordable monthly payments. The staff is also trained to ensure their workmanship is up to standard and their communication is transparent and responsive throughout the job.

901 W. El Camino Ave

Sacramento, CA 95833

#

3

Cal-Vintage Roofing Company

Cal-Vintage Roofing Company is a well-known and trusted contractor in Gold River. They specialize in decking, railing, and siding services. They create patio coverings, repair roofs, and design attractive outside fences most professionally and outstandingly. They always focus on their clients' needs. Their experienced team uses the latest technologies and methods in construction. They provide a 30-day guarantee for all their works. Their durable products serve people to last a lifetime. Cal-Vintage Roofing Company has been providing services for years and has earned high reviews and ranks in the city.

11257 Coloma Rd Ste A-3

Gold River, CA 95670

#

4

Century Roofing

Century Roofing is a premier roofing and gutter company in Rocklin. They specialize in roofs of all types, door sales, installation, and repair. Their team offers a variety of services for remodeling and renovation of the customers' gutters and roofs. They use the most contemporary technologies providing high quality with the most affordable thorough service. Their experienced staffs professionally inspect, clean, and repair air duct lines and rain gutters. They have many awards, prominent certifications, and the highest reputation among the customers. They focus on trustable and reliable service for their customers.

5506 Cabrillo Way

Rocklin, CA 95765

#

5

Harlan Quality Roofing

Harlan Quality Roofing is a prominent and well-known company caring for the indoor air in Gold River. They specialize in cleaning vent systems for air conditioners, split systems, ducts, and chimneys. They provide the unique service of embedding a chimney into your house most naturally and appropriately. Their experienced team focuses on the safety of their customers. They aim to make all clients happy and healthy in rooms with the best quality air. They meet the most modern national and international standards of air quality.

11292 Coloma Rd Ste A

Gold River, CA 95670

#

6

Less-CoRoofing

Less-CoRoofing is an experienced roofing company based in Sacramento. They pride themselves in providing quality work with quality products. The business was established in 1980 and has over 4 decades experience in the industry. They also offer the lowest price guarantee while providing excellent workmanship at the same time. Some of the services they provide include Roof Replacement, Roof Installation, Flat Roof Services, Virtual Consultations, Asphalt Shingle Roof Services and Installation, Commercial Roofing, among others. Their team of fully certified professionals are able to tackle even your most complex roofing projects. They also offer free price estimates as they go the extra mile to ensure their clients are always happy.

3826 Pasadena Ave

Sacramento, CA 95821

#

7

NRG Pros

NRG Pros is the best contractor company in Sacramento. They specialize in tiling, roofing, sidings, and covering objects both inside and outside. Their experienced technicians design the current projects for the most demanding customers. They always use only safe and reliable materials and technologies to provide a high quality of results. They offer renovated and new constructions in kitchens, bathrooms, rough framing, and door installation. They provide an endless variety of works at a competitive price and high implementation level. Their team does everything to reach the complete satisfaction of their clients.

3100 Fite Cir Ste 208

Sacramento, CA 95827

#

8

Palmer & Sons Construction

Palmer & Sons Construction is a reliable family-owned remodeling company in Rancho Cordova. They specialize in kitchen remodels, bath renovation, windows and roof design, installation, and maintenance. They have been working in the market for over 35 years, providing contemporary materials and technologies. Their experiences staffs aim to help people in remodeling their homes. Palmer & Sons Construction strives to make people get rid of their worries and frustrations about bad weather, heavy rains, or strong winds. They never leave their customers without complete satisfaction following the reputation of the best local remodeling company.

#

9

Rose Remodeling

Rose Remodeling is a leading remodeling contractor serving Sacramento and surrounding areas. They specialize in bathrooms and kitchens remodeling and improvement. Their experienced team has been building comfort and beautiful spaces for Sacramento homeowners for almost 20 years. The family-owned business aims to achieve the complete customers' satisfaction of the works. They never leave the house without total clean up making the renewed kitchens and bathrooms sparkling and attractive. Rose Remodeling is dedicated to meeting all wishes of their clients, seeking the balance between affordable cost and required time to repair.

9701 Dino Dr Ste 100

Elk Grove, CA 95624

#

10

Roseville Roofing

Roseville Roofing is a roofing service company based in Roseville. Established in 1989, they have over 3 decades' experience perfecting the quality of their work and products. They have remained a premium provider of roofing services, some of which include Roof Installation, Metal Roof Services, Concrete Tile Roof Services, Leak Repair, Flat Roof Services, Clay Tile Roof Services, Slate Tile Roof Services, Re-roofing or recovering, among others. The owner Jeff Vogt learned the trade of roofing from his father, with whom he worked during high school and the summer months. He continued the trade during college and finally set up his own business in 1989. At Roseville Roofing, they provide superior customer experiences for their clients and have managed to build strong relationships with them.

#

11

Two Rivers Roofing

Two Rivers Roofing is a roofing service based in Sacramento. They specialize in Commercial and Residential roofs. Some of the services they offer include Flat Roof Services, Roof Installation, Reroofing/Re-covering, Roof Sealing, Wood Shake Services, Metal Roof Services, Leak Repair, Roof Repair, Asphalt Shingle Roof Services, among others. Established in 2017, they have years of experience perfecting their workmanship and customer service skills. The staff at Two Rivers Roofing is factory-trained to the highest standards to provide the best quality roof repair services. It is family-owned by couple Arazate Rios and Brenda Rios. Arazate Rios is a second-generation contractor with over 2 decades' experience in the industry. Their passion for quality products and quality workmanship sets them apart from their competitors.

6771 Ferrier Ct

Sacramento, CA 95822
Do you have problems with your roof right now? Are you searching for a reputable roofing contractor nearby that offers roof repair or installation? No need to worry as Sacramento does not fall short of excellent roofing companies that can serve you.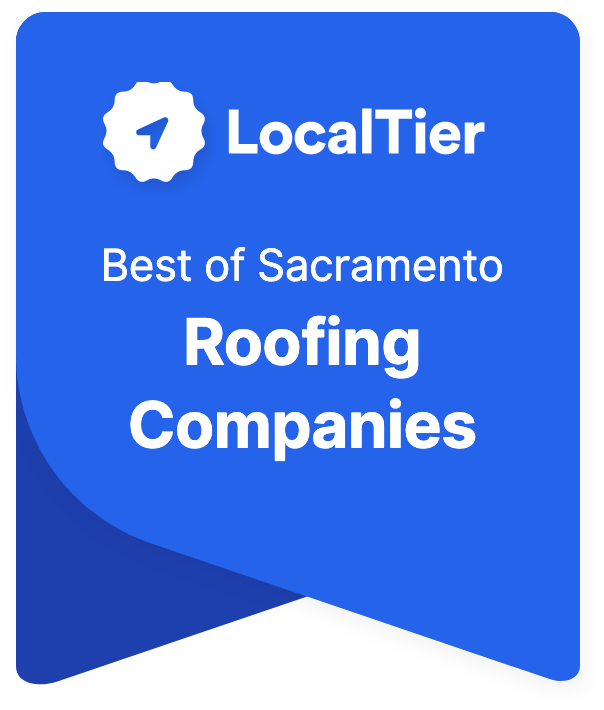 Checkout the Best Roofing Companies in Sacramento
Everyone needs a solid and steady roof above their head. A good roof can protect you and your family against any natural calamities like storms and hail. A sturdy roof can be your safe bet against any roof decay or destruction. Those roofs, however, are always prone to many factors which cause their deterioration. Among those factors are unpredictable weather disruptions, poor quality of materials, aging, and natural wear and tear. When people search for "best roofing contractors near me", they will get considerable results. There are many excellent roofing companies within the city, and the best of them is gathered in one list which is included in this article. All these roofing companies offer specialized roofing services from installation, maintenance, and repair. These roofers cater to both residential and commercial consumers for their roofing requirements. A good roofing contractor will always aim to deliver the best results in the most efficient way. If you need to replace your roofs, hire one of the most reliable roofing contractors in Sacramento.
As with the other industry providers, they may carry different types and brands of products. Their scope of services may also vary. The best roofing contractor that you should choose must be trustworthy, with a strong and solid experience, and an unquestionable skill in working with roofs. Many people are aware that there are "storm chasers" or "carpet bagger" roofers, who usually arrive at a certain place right after a storm, offering their services to people. It will be advisable not to contract the services of these mobile roofing contractors as they do not have a permanent base here in Sacramento. It will be hard to chase after them for any post-installation works, repairs, unfinished or incomplete jobs, or any defective aspects of roofing installations once the job is done and they are gone.
A reputable roofing contractor will leave you with no worries and with peace of mind, long after they are done with installing your roofs.
Our Selection Criteria
Each business is graded according to the following criteria:
Qualification
How qualified are they to do the work in their chosen field? Do they have any licenses or certifications?
Availability
Are they open during normal business hours? Are the hours clearly posted on their website and at their actual storefront?
Reputation
What are others saying about them? How well-known are they in the community?
Experience
How many years have they been in business? Have they won any awards or accolades?
Professionalism
How do they treat their customers? Are they courteous?
Now you are ready to Buy roofing companies in Sacramento
Cost is also a very important aspect of any roofing project. Those excellent roofing companies can take care of this with utmost diligence and consideration. They will not dig holes in your pockets. Know that there are a lot of options, ask for a design consultation, and keep an honest and open communication with your roofing contractor. No matter how complicated the project may be, your chosen roofing contractor can offer comprehensive solutions.
The best roofing contractor will always offer reasonable options and practical suggestions to give you the best roofing deal possible. They must present to you a solid plan for the entire roofing job. The cost estimate must cover everything, from start to finish. Through this, both of you will be able to achieve a smooth flow of the roofing project. These roofing companies offer free roof inspection, free estimates, and warranty coverage for labor. It will also be an added assurance if you will select a roofing contractor who is certified, fully licensed, and insured.
In connection to the recent global pandemic situation, your roofing contractor must know how to strictly observe "no contact" and social distancing requirements in compliance with the Covid-19 protocols. This is to ensure safety for both of you.
A well-installed quality roof will benefit you and your whole family. With your roofing contractor's timely and reliable service, you can be assured that you have trusted protection above your head.