Top 10
Sacramento

Assisted Living Facilities for Senior Cares
Top Best
Assisted Living Facilities for Senior Care
#

1

A Better Living Home Care Agency

A Better Living Home Care Agency is a respective hospice, personal care services, and home health care company based in Sacramento, California. They specialize in providing affordable, high-quality, professional in-home caregivers to families. Their employees are highly compatible with a full range of needs and lifestyles, and their knowledgeable Care Coordinators can arrange care right over the phone, or via a free in-home consultation with their director. If you are looking for a caregiver to take care of an elderly or special-needs family member, A Better Living Home Care Agency is here to help. Their caregivers are wonderfully compassionate and exceedingly talented at what they do.

591 Watt Ave Ste 240

Sacramento, CA 95864

#

2

Assisted Living Facility | Senior Care Authority

Assisted Living Facility | Senior Care Authority is a trusted assisted living facility based in Sacramento, California. They specialize in providing assisted living services to clients who have elderly or special-needs family members. Their caregivers are some of the best in the industry, with years of extensive training and a full range of knowledge at their disposal. They are able to provide clients with the assisted living services they need to live happily and comfortably, no matter what they may be dealing with. They work with compassion and care to make sure that every single client feels loved, respected, and cared for, and are one of the best assisted living facilities in Sacramento.

1215 K St Ste 1700

Sacramento, CA 95814

#

3

Carlton Senior Living - Sacramento

Carlton Senior Living - Sacramento is a professional retirement homes and assisted living facilities company based in Sacramento, California. They specialize in providing clients with high-quality assisted living and retirement home services with a world-class dedication to customer satisfaction. Their caregivers are some of the best in the industry, and they have been serving clients of the Sacramento area for years. With more than a decade of experience, Carlton Senior Living offers professional services at affordable prices, so that your loved ones can live in an environment that is healthy and nurturing for any and all of their needs.

1075 Fulton Ave

Sacramento, CA 95825

#

4

El Dorado Hills Senior Care Village

El Dorado Hills Senior Care Village is a premiere assisted living facilities and retirement homes company based in El Dorado Hills, California. They specialize in offering personalized assisted care to their clients, and are located on a campus of 6 beautiful and comfortable homes that are interconnected by lawns and walkways. The campus was specially designed and built for the care of the elderly and other individuals who are in need of assistance. They were established in 1990, and with more than 20 years of experience in the industry, they provide some of the best caregiving and assisted living services in California.

2920 Tam O Shanter Dr

El Dorado Hills, CA 95762

#

5

Family Matters In-Home Care

Family Matters In-Home Care is a trusted personal care services and home health care company based in Roseville, California. They specialize in providing highly personalized and professional in-home care services, treating all of their clients with the same level of compassion and understanding that they would apply to their own family members. They have been in the business since 2002, and with nearly 20 years of experience in the industry, they know exactly how to take care of each patient and cater to their individual needs. Nobody does in-home care better than Family matters, so if one of your loved ones requires assisted living, you know exactly who to call.

300 Harding Blvd Ste 101

Roseville, CA 95678

#

6

Golden Moments Care Home

Goldens Moments Care Home is a respected assisted living facility based in Sacramento, California. They specialize in providing a safe, positive, and caring alternative to nursing home care. They specially design their services to help older adults stay mentally and physically active, and reduce isolation, which helps prevent the decline of their ability from mild to moderate Alzheimer's and Dementia. They are passionate about celebrating all of life's golden moments, and their caregivers are some of the best in the industry, with a commitment to world-class professionalism and an endless capacity for compassion. With more than a decade of experience in the industry, Golden Moments Care Home is the best of the best.

2651 Armstrong Dr

Sacramento, CA 95825

#

7

Golden Pond Retirement Community

Golden Pond Retirement Community is a trusted retirement home based in Sacramento, California. They specialize in independent living, assisted living, and memory care options for senior citizens, and understand that no two individuals are the same. That's why they offer a very simple philosophy of service so that they can make their clients' lives easier and more comfortable. They were established in 1985, and with more than 30 years of experience in the industry, the Golden Pond Retirement Community is one of the best retirement facilities in California. Their customer service experience is an excellent one, and they are committed to compassionate care of their clients.

3415 Mayhew Rd

Sacramento, CA 95827

#

8

Mercy McMahon Terrace

Mercy McMahon Terrace is a Christian assisted living facility based in Sacramento, California. They specialize in providing 24/7 nursing services, with a weekly Catholic mass service, and are also able to help patients with diabetes via insulin management. They were established more than 30 years ago, and the Sisters of Mercy understand the need for a safe, caring space for seniors. They continue to support their mission to provide safe and compassionate care to the eldery members of society, and their services are some of the best in the industry. They treat all of their residents with the utmost kindness, and aim to create a safe space for Christian elderlies that need a little assistance with their day to day lives.

3865 J St

Sacramento, CA 95816

#

9

River's Edge

River's Edge is a trusted retirement homes, memory care, and assisted living facilities company based in Sacramento, California. They specialize in offering independent, assisted living and memory care communities where the experience of their residents truly matters. They are a distinctive senior community in Sacramento that is set along the American River. They have been in the business for more than 20 years, and their caregivers are some of the best in the industry. They know exactly how to take care of any kind of patient, no matter what kind of assistance your loved one might need. So, if you're looking for a good, compassionate home for your family member to live in, be sure to call River's Edge.

601 Feature Dr

Sacramento, CA 95825

#

10

The Pines A Merrill Gardens Community

The Pines is a professional assisted living facilities and retirement homes company based in Rocklin, California. They specialize in providing their residents with hobbies, social activities, and regular excursions, while also frequently having visiting sessions for family members to come and see their loved ones. They were established in the 90s, and with more than 20 years of experience under their belts, they have become one of the best retirement homes in the state. Their caregivers are extremely compassionate and understanding, and have all of the experience necessary to help residents with any and all of their needs, no matter what they may be.

500 W Ranch View Dr

Rocklin, CA 95765
When the daily needs of your elderly become too burdensome, it might be time to help them move into an assisted living facility, where they can join a community, receive day-to-day help, and proper medication management. In such cases, you may check out our list of the top assisted living facilities in the Sacramento area, all of which offer friendly staff, great amenities, and affordable costs.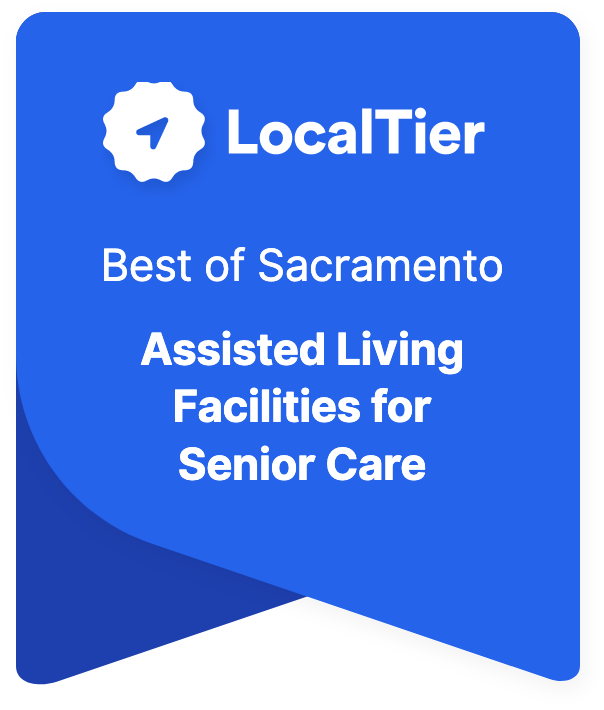 Find the Best Sacramento Assisted Living Facilities
Are you looking for Sacramento area best assisted living facilities or reviews for the top assisted living and senior care in the Sacramento area? Then you've come to the right place.
When the time has come to make a change in the living situation of your older loved one, then you may want to consider looking into an assisted living community within the Sacramento area.
Fast becoming one of the most in-demand types of elder care, assisted living will not only provide good housing, meals, and proper medication management, but will also give your elder family member many opportunities, along with a connected community.
Not only that, but assisted living facilities in Sacramento will also provide your loved one with the freedom that they want, all while making sure that they're in a safe and secure environment that will help attend to their day-to-day needs. This is especially important for elders that are starting to experience memory loss and other similar issues.
Another benefit that assisted living facilities can provide is constant companionship, as loneliness can contribute to mental and physical strain that will affect your elderly's health and well-being.
So whether your senior needs companionship, help with taking proper medications, or assisting in day-to-day living, assisted living and senior care facilities specialize in providing an elderly's needs through its professional staff, amenities, and overall culture.
And luckily, there are plenty of reputable assisted living facilities found right in Sacramento area. In order to check what these facilities offer to its residents, there are also guided tours you can take, with each one offering several levels of care for your loved one and his/her needs.
Here in Sacramento area, facilities commonly provide:
Daily meals
Transportation
Housekeeping
Medication management
Health Care
Social and communal activities
When you're ready to choose the right assisted living facility in the Sacramento area for your loved one, the list contains our most recommended choices.
Our Selection Criteria
Each business is graded according to the following criteria:
Qualification
How qualified are they to do the work in their chosen field? Do they have any licenses or certifications?
Availability
Are they open during normal business hours? Are the hours clearly posted on their website and at their actual storefront?
Reputation
What are others saying about them? How well-known are they in the community?
Experience
How many years have they been in business? Have they won any awards or accolades?
Professionalism
How do they treat their customers? Are they courteous?
Now You Are Ready to Select an Assisted Living Facility in Sacramento
And with that, you're now ready to help your loved one move to the next chapter of their lives.
Regardless of whether you are in the Sacramento area or any other city, finding the right assisted living facility for the needs of your loved one is not always a walk in the park. In addition to making sure that all of their needs will be provided in the facility, your elderly might not be completely ready to move into a new community without the family they know. To some, it might even lead them into thinking that they are being abandoned.
In such cases, it's important to help them understand that this is far from the case, and they are simply moving into a community where their day-to-day needs will be the priority, all while helping them retain their freedom. For adults with busy and hectic lives, assisted living will provide the care and peace of mind they are not always available to give.
So, once you have talked to your elderly and both of you are ready to make a decision, you can start by checking our handy list of the right Sacramento area assisted living and senior care facilities. Each one has years of quality experience and top amenities to boot, in addition to friendly staff and health care specialists that are trained to assist in any way.
Additionally, each one of these facilities in Sacramento will also assess the needs of your loved one to guarantee that they are getting a plan custom-made to provide any medication or special requests. This way, you can breathe easier at night knowing your elder is in a caring facility.