Top 10
Sacramento

Auction Houses & Real Estate Auction Companies
Top Best
Auction Houses & Real Estate Auction Companies
#

1

David Sobon Auctions

David Sobon Auctions is an active Auction house located at 1724 N St, Sacramento, CA 95811, United States. They are experts in the science of charity auctions. They have gained a lot of experience in fundraising and auctioneering after 23 years of service. Their CEO is a member of The Association of Fundraising Professionals and a part of their teaching faculty. He is also a member of The National Auctioneers Association and has earned the title of Benefit Auction Specialist. The Auction House's fresh and innovative ideas have given way to great and exciting events, while their experience has generated a good repertoire with their clients and donors. They specialize in auction consulting, non-profit consulting, auctioneering, networking, and event coordination. Their professionalism, expertise, and ability to deliver have earned them a four-star rating.

#

2

FSA Auctions

FSA Auctions is a fundraising event strategist and auctioneer located at 1079 Sunrise Ave Ste B-5, Roseville, CA 95661, United States. They partner with nonprofits, charity organizations, and schools for their major fundraising events and have fundraised over ten million dollars for hundreds of their partners. They consult with their partners on sponsorships, marketing, communications, special appeals, live auctions, and the run of shows. They are professional, passionate, energetic, and travel from Sacramento and charge a flat fee. They have extensive knowledge in virtual fundraising events, which sets up their clients for success. Their passion, knowledge, experience, energy, expertise, professionalism, and commitment to success has earned them a five-star rating on yelp. Contact them today to set up your upcoming fundraising event.

1079 Sunrise Ave Ste B-5

Roseville, CA 95661

#

3

Sac Valley Auctions

Sac Valley Auctions is an online estate sales and business liquidation sales agent located at 2061 Freeway Dr. Ste F Woodland, CA 95776, United States. They serve the Sacramento Valley and neighboring areas. They are locally owned and operated online as an auction website. They service antique furniture, bankruptcy sales, business liquidation, carpet cleaning, consignment auctions, estate auctions, home auctions, online auctions, senior downsizing, and store liquidation. They have a five-star rating for their professionalism, high-quality services, and responsiveness. They share information about the online auctions beforehand on their website and social media pages. Visit their website today to bid on one of their auctions.

2061 Freeway Dr Ste F

Woodland, CA 95776

#

4

TMC Auction & Realty

TMC Auction & Realty is a professional liquidation and appraisal company located at 1911 Douglass Blvd. Suite 85-375 Roseville, CA 95661. They specialize in the sale of government surplus and estates. Their goal is to engage and inspire all the buyers and sellers to have fun during the auction. They provide professional and fast real estate auctions, storage auctions, commercial auctions, liquidation auctions, estate auctions, benefit/charity auctions, and appraisal services to the residents of Sacramento. They do appraisals for a tax deduction, establish resale values, and obtain liquidation estimates. Their expertise, professional handling of clients, high-quality services, and love for auctioneering has earned them a 4.8-star rating.

1911 Douglass Blvd Ste 85-375

Roseville, CA 95661

#

5

Wright's Estate Liquidators

Wright's Estate Liquidators is a loyal family-owned liquidator of real estate in Sacramento. They specialize in online sales, auctions, and complete or partial buy-outs. They deliver a customized approach and personalized options for their clients. They help people sell vehicles, jewelry, art objects, household items, vintage clothing, table sets, tools, and equipment. Their experienced staffs search for the best prices for customers' items. Their central concept is to make the client get profit from everything while transitioning. Their professional team is always ready to use all their knowledge and skills to satisfy a client for 100%.
Are you searching for Sacramento auction houses or reviews for the top real estate auction companies in Sacramento?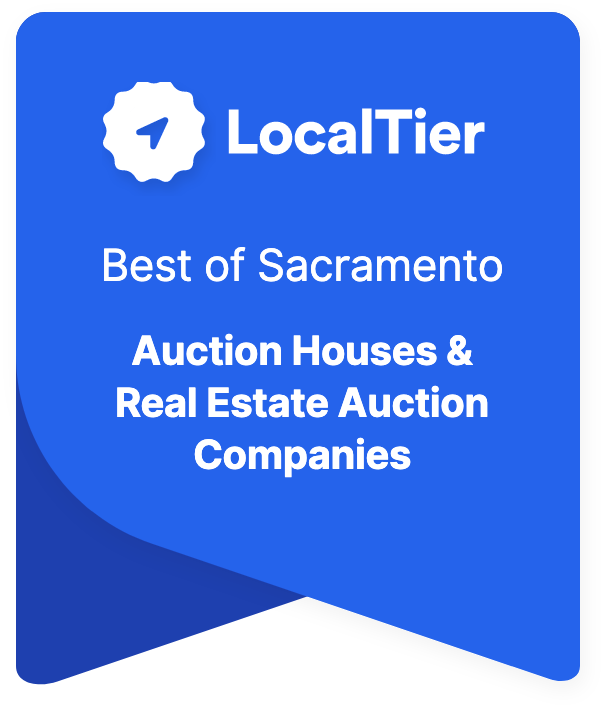 Best Sacramento Auction Houses & Real Estate Auction Companies
Whether you're selling your belongings or assisting your family to sell theirs, you'll require to search for the best auction house or company to fit your specific needs.
The first thing is to figure out is, are you selling a few items, or does the whole house have to be sold? Depending on the items needing to go, you can decide if you'll need to get in touch with an auction house or a real estate auction company.
Sacramento, real estate auctions, can be stressful, and it pays to partner with an auction house that you can trust. Integrity is one of the essential qualities to look for when choosing an auction house or real estate auction company.
After integrity, pricing is the next primary factor to consider. Consignment prices can vary significantly among companies, meaning you should do your thorough research to bag yourself the right deal. We've done the legwork for you and hand-picked the top 10 Auction Houses & Real Estate Auction Companies in the Sacramento area.
We searched for vital factors like pricing, trust, reliability, and expertise when selecting these companies. You can get all the info you are looking for in one place and save time investigating these companies on your own by using our list.
When researching auction houses and real estate auction companies, keep both pricing and integrity in mind. The process will go much more smoothly, and you will be under less stress if you engage with a company that offers the most fantastic price and is well-known in the industry. The key to a successful auction and a pleasant experience is to plan ahead of time and select the best company for your needs.
In Sacramento, there are many to choose from this list. Here's a list of ten of the best Sacramento auction companies to help narrow down which one works for you.
Our Selection Criteria
Each business is graded according to the following criteria:
Qualification
How qualified are they to do the work in their chosen field? Do they have any licenses or certifications?
Availability
Are they open during normal business hours? Are the hours clearly posted on their website and at their actual storefront?
Reputation
What are others saying about them? How well-known are they in the community?
Experience
How many years have they been in business? Have they won any awards or accolades?
Professionalism
How do they treat their customers? Are they courteous?
Now You Are Ready to Choose Sacramento Auction Services
To conclude, we'd like to say that a great deal of thought and care went into selecting these ten companies. With this information you now have at hand, you are equipped and better placed to choose the best auction house or real estate auction company for you.
We aim to offer you with a great experience, and we are confident in the capacity of these top 10 companies to do so. All you have to do now is find out which of our descriptions most closely matches what you're searching for in a real estate auction company or auction house.
You can scale down your options by considering the numerous features and specialties of each of the ten companies listed here. Ask yourself precisely what you're looking for in these businesses, and then pick the one that is the closest match to your criteria.
We pride ourselves on providing you with high-quality and actionable information that gives you more power as a customer. But dig deep to find more information about these companies, and nothing beats your research.
Choosing an auction house or a real estate auction company in Sacramento city should be easy. This list will provide you with the best that the Sacramento city area has to offer.
Choosing an auction house or real estate auction company can be challenging, especially when there's not much information available on the companies you're considering. Now you should pick up the phone and get in touch with the auction house of your choice.