Top 10
Sacramento

Barbeque Restaurants
Top Best
Barbeque Restaurants
#

1

Roxie Deli and Barbeque - East Sac & Downtown

Roxie Deli and Barbeque is a prominent barbeque restaurant and a charming place to buy delis and barbeque in Sacramento. They are famous for their hand-made delicious sandwiches and meat cooked in the best American traditions. They offer fresh BBQ, salads and sides for their meals. Their experienced chefs prepare one of the best craft beers in the city. They offer a wide range of sodas and other drinks best fitting to the meat. They know everything about the requirements and preferences for the best BBQ in town. They combine a delightful, friendly service with a high quality of cuisine.

3340 C St

Sacramento, CA 95816

#

2

MoMo's Meat Market

MoMo's Meat Market is the right place to eat tasty barbeque in Sacramento. They specialize in numerous meat cooking recipes, giving the clients a chance to taste American, European, and exotic BBQ cuisine. They provide a variety of kinds of meat, fresh and soft. They focus on the safety of their customers and sell only the best meat from reliable local suppliers. Their famous barbeque, chicken and turkey use the earned popularity like other recipes. They accompany the main meal with numerous sauces, sides, and salads. MoMo's Meat Market in Sacramento offers the highest quality BBQ in town.

5780 Broadway

Sacramento, CA 95820

#

3

Tank House BBQ and Bar

Tank House BBQ and Bar is a unique and authentic BBQ restaurant in Sacramento. They specialize in incomparable taste and modern technologies of barbeque cooking. Their clients and guests are always sure of the highest quality of their barbeque meals. Their experienced staffs provide the most friendly and comfortable atmosphere to make you relax and enjoy BBQ after a stressful day. They enjoy creating new serving methods and making their clients happy. Tank House BBQ and Bar is proud of the high reputation earned by clients and does everything to improve guests' satisfaction.

1925 J St

Sacramento, CA 95811

#

4

D'Miller's Famous BBQ

D'Miller's Famous BBQ is one of the top barbeque restaurant in Sacramento county. They specialize in pre-cooking and cooking various kinds of meat according to the best world-famous barbeque recipes. Their experienced chefs know how to achieve the complete satisfaction and sell excellent barbeque, salads, sides, and delis most fitting their special meals. D'Miller's Famous BBQ is a family-owned business in Sacramento that shares the most attractive and tasty dishes with unconditional love and friendliness towards its clients. They will satisfy even the most demanding gourmet and the minor kids making their first steps into a beautiful world of BBQ.

7305 Fair Oaks Blvd

Carmichael, CA 95608

#

5

Urban Roots Brewing & Smokehouse

Urban Roots Brewing & Smokehouse is an unbelievably tasty BBQ restaurant in Sacramento. They specialize in smoked meats and craft beers. Their tasty food will make you forget about all issues, relax and enjoy your life. Their experienced chefs inspired clients with great ideas and creative approaches in decision-making. They are sure that everyone deserves the best cuisine as one of the primary ways to feel love and happiness. They offer an extraordinary quality of beer and food for single guests and families. Its mission is to deliver good times to everyone.

1322 V St

Sacramento, CA 95818

#

6

Original Barbeque

Original Barbeque is one of the leading barbeque places in Sacramento county. They specialize in meeting all wishes and desires about barbeque. Their Sacramento family-owned barbeque restaurant provides the highest quality meats with fresh salads and sides. You will enjoy the buying process as the experts share their knowledge about specific meat kinds and peculiarities in its serving at home or an event meeting. They cook tri-tip, smoked links, chicken, and ribs with love going from the heart. It makes their food incomparable and unforgettable.

5725 Manzanita Ave

Carmichael, CA 95608

#

7

Q & R BBQ

Q&R BBQ is one of the leading barbeque places in Sacramento. They specialize in barbeque of all possible kinds and ways to cook. They provide a wonderful atmosphere of traditional American meals bringing their customer's satisfaction in the stomach and relaxation of the soul. They smoke and fry pork, beef, and poultry, individual pieces of meat, such as brisket, shoulder, ham, backs, and ribs. Their experienced chefs are dedicated to meeting all wishes of their customers and making their dreams come true. Q&R BBQ focus on their clients' complete satisfaction.

3820 Marysville Blvd

Sacramento, CA 95838

#

8

T&R Taste of Texas

T&R Taste of Texas is a great barbeque restaurant in Sacramento. They specialize in selling trendy dishes of American and European cuisine. They offer an extensive selection of second courses, salads, and side dishes. Their nice feature is that they have numerous ready-made sauce bottles, and they provide catering. Their customers select various BBQs, kebabs, ribs, breast, multiple salads, national hot dishes, pastries, sweets, and drinks. T&R Taste of Texas is an excellent place to rest after a stressful day and relax in pleasant company.

3621 Broadway

Sacramento, CA 95817

#

9

Buckhorn BBQ - Sacramento Midtown

Buckhorn BBQ is a worthy barbeque place to buy a burger or BBQ dish in Sacramento. They specialize in the adorable tastes of the products and provide a chance to choose a wished part of the meat for their customers. They focus on the quality of the service. Their friendly and helpful staff explain everything about cooking and ways of serving the ready meals. The chefs improve their skills in competitions and regularly win awards for their excellent BBQs. The customers can enjoy delicious meat with soda on the side in the restaurant and take it away.

1801 L St Ste 10

Sacramento, CA 95811

#

10

Sauced BBQ & Spirits - Sacramento

Sauced BBQ & Spirits is a well-known BBQ restaurant in Sacramento. They specialize in the classic Southern meat cuisine. They consider every customer to be a part of their family business and share their love of meat and the spirit of traditional American dishes. They serve the meat meals with vast portions of sidings and salads with an enormous variety of drinks. They share their passion for good cuisine and great fun with beloved customers. They have a network of restaurants providing the highest level of service everywhere.

1028 7th St

Sacramento, CA 95814

#

11

South Quarters

South Quarters is a beautiful professional BBQ restaurant in McClellan Park, Sacramento. They specialize in Southern cuisine. Their experienced team offers a catering service for businesses and individuals. They celebrate all traditional American holidays providing their customers newest season positions on the menu for every case. They serve unique dishes for Father's Day and Halloween, Christmas, and Independence Day. Their holiday menu is never dull, and the clients feel their love and care. South Quarters always meets the most secret wishes of their customers to satisfy everybody.

5443 Dudley Blvd

McClellan Park, CA 95652
It is not for nothing that the grill has firmly established itself in the menu of Sacramento barbecue restaurants. It always seems that grilled dishes have a unique, soulful taste and a cozy smell of smoke. They can be juicy, but with a crisp crust, or quite tender and melt in your mouth. They remind you of evenings around the campfire or bribe with the most helpful way of heat treatment. Nowadays, there are no indifferent people to the grill. And we are happy to tell you which restaurants in Sacramento have the best grill.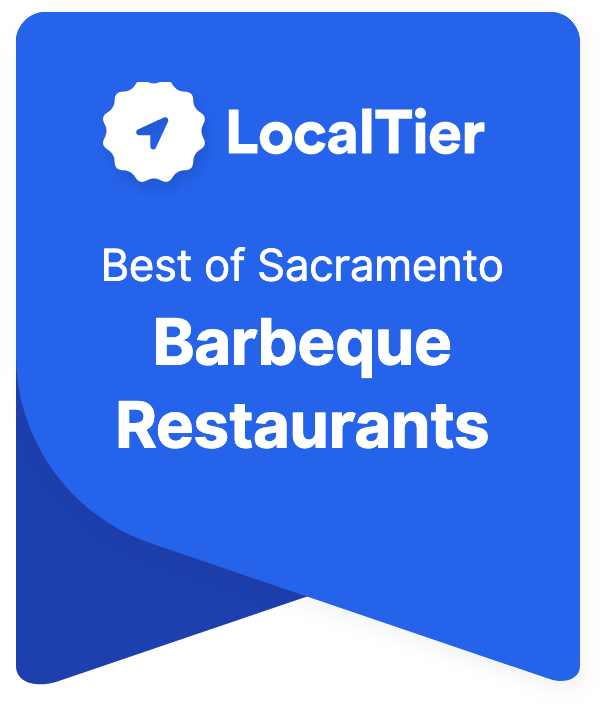 Best BBQ In Sacramento
All Sacramento barbecue restaurants resemble a cozy corner of nature. They are like a summer country residence in the middle of a bustling city. In barbecue restaurants, they prepare the amazing tender juicy lamb, mind-blowing green beans, young cabbage with parmesan on the grill. Here you can find the divine grilled squid-juicy and tender.
American barbecue has an explicit time determinant — July 4, when Independence Day's principal national holiday is celebrated in the United States. By the end of the XIX century, Americans began to spend July 4 with their families instead of going to rallies.
Top Sacramento Barbeque Restaurants
In particular, the cult of barbeque is developed in southern states, such as Texas, Louisiana, Carolina, Kentucky, Tennessee, and Missouri. 70 of the 100 best barbecue restaurants are located there, according to Johnny Fugitt, who a few years ago traveled around 48 states in search of the best barbecue and grill. The most critical championships among pitmasters are also held there — this is the name of people who professionally cook barbecue in Sacramento. For example, Jack Daniel's Invitational BBQ Championship is held annually near the distillery in Tennessee. According to pitmaster Evan Leroy, for people, barbecue is not a fashion but a lifestyle.
You will enjoy the authentic American culture of cooking meat in any of the Sacramento barbecue restaurants listed below.
Our Selection Criteria
Each business is graded according to the following criteria:
Qualification
How qualified are they to do the work in their chosen field? Do they have any licenses or certifications?
Availability
Are they open during normal business hours? Are the hours clearly posted on their website and at their actual storefront?
Reputation
What are others saying about them? How well-known are they in the community?
Experience
How many years have they been in business? Have they won any awards or accolades?
Professionalism
How do they treat their customers? Are they courteous?
Now You Know Where to Find the Best BBQ in Sacramento
The grill is the basis of the great and world gastronomic history: it is the living fire that stands at the origins of each country's cuisine. And this is clearly confirmed by the menu of Sacramento barbecue restaurants. You will be offered Georgian barbecue on a spit, tobacco chicken, Italian ossobuco, Spanish octopus in butter sauce, Italian grilled Caprese salad, Argentine chili con carne, Mexican quesadilla with chicken. The closest acquaintance with any barbecue restaurants menu categorically and authoritatively proves that it is always tastier with smoke!
The Sacramento barbecue restaurants' chefs will prepare you incomparable seafood, including shrimp, squid, octopus, and scallops.
In the USA, the birthplace of barbecue, there are several gastronomic centers where dishes are prepared according to various recipes. In fact, every southern state has its own sauce and sometimes a traditional side dish with which meat is served in Sacramento barbecue. For example, in Memphis, they prepare sweet "dry ribs." The sweetness is achieved not from the sauce but with the help of a complex set of spices. In North Carolina, meat sauce is made from tomatoes, vinegar, several pepper varieties, hot sauce, and salt.
On the contrary, in the southern part of the peninsula, mustard-based gas stations are most often used. The sauce is made from beef broth, vinegar, salt, garlic, and pepper in Texas. In Kansas, meat is served with a sweeter dressing, sugar and soy sauce are added. Some spices are prepared based on alcoholic beverages, such as wine, beer, or whiskey. For example, in Tennessee, whiskey is traditionally served with ribs-a a sauce made based on bourbon, apple cider vinegar, and canola oil. There are hundreds of options in total, and the main thing is to understand that BBQ sauce, which is most often served with meat, is one of many alternatives. In our list, you will find the best barbecue restaurants in Sacramento where you can try all these dishes and sauces.