Top 10
Sacramento

Exterior Remodeling Companies
Top Best
Exterior Remodeling Companies
#

1

GVD Renovations

GVD Renovations is a locally owned and trusted contractor in Roseville. They specialize in complete exterior and interior renovation services, including James Hardie siding replacement, kitchen remodeling, bathroom remodeling, replacement windows and home remodeling. Their competent team has extensive experience making hundreds of Sacramento homeowners happy. Their expert design consultants will be pleased to give a customer all recommendations on improving the living space. They use only high-quality materials and modern technologies in their work. GVD Renovations offers excellent craftsmanship, always keeping your home and yard clean and ready to live after finishing the project.

620 Commerce Dr, Ste D

Roseville, CA 95678

#

2

DL Design Construction

DL Design Construction is a reliable family-owned remodeling company in Sacramento. They specialize in windows and siding design, installation, and maintenance. Their staffs have been working in the market for over 10 years, providing fiber cement siding, gutters, windows or garage doors. Their experiences staffs aim to help people in remodeling their homes. DL Design Construction strives to make people felling happy and safe in their homes or office. They never leave their customers without complete satisfaction following the reputation of the best local remodeling company.

9941 Horn Rd Ste C

Sacramento, CA 95827

#

3

California Energy Consultant Service

California Energy Consultant Service is one of the oldest insulation installation, heating, and air conditioning and windows installation companies in Rancho Cordova. They specialize in installing, maintaining, and repairing heating and cooling systems. Their professional staff provides unique emergency services for cooling and heating systems. Their key goal is to serve customers with the highest level of service by certified professionals, honesty, integrity, and the commitment to a job. California Energy Consultant Service navigate you in a world of modern technology and services for heating and cooling maintenance, installation, and repair.

11367 Trade Center Dr Ste 115

Rancho Cordova, CA 95742

#

4

All Sides Exteriors

All Sides Exteriors is a loyal contractor of windows installation and wall painting service in Sacramento. They do all types of siding repairs and new installations. They do emergency works on the day you call. Free cost estimation is available for all customers. You can get consultations and advice on the high-quality renovation of your property. Their team is the trusted source for commercial and residential customers. All Sides Exteriors on their customers' needs. Their primary goal is to achieve clients' complete satisfaction and perform all works at the highest level.

#

5

Northwest Exteriors

Northwest Exteriors is a loyal contractor of windows installation and wall painting service in Rancho Cordova. They provide reliable remodeling and improvements for more comfortable, energy-efficient, and aesthetically appealing. You can get consultations and advice on the high-quality renovation of your property. Their team is the trusted source for commercial and residential customers. They have the highest reputation and offer affordable prices. Northwest Exteriors focuses on their customers' needs. Their primary goal is to achieve clients' complete satisfaction and perform all works at the highest level.

11200 Sun Center Dr

Rancho Cordova, CA 95670

#

6

DL Design Construction

DL Design Construction is a reliable family-owned remodeling company in Sacramento. They specialize in windows and siding design, installation, and maintenance. Their staffs have been working in the market for over 10 years, providing fiber cement siding, gutters, windows or garage doors. Their experiences staffs aim to help people in remodeling their homes. DL Design Construction strives to make people felling happy and safe in their homes or office. They never leave their customers without complete satisfaction following the reputation of the best local remodeling company.

9941 Horn Rd Ste C

Sacramento, CA 95827

#

7

3 Generations Improvements

3 Generations Improvements is a family-owned comprehensive contractor in Folsom. They have been remodeling and reengineering houses for over 70 years. They specialize in windows installation, patio coverings, wall repair, and other outdoor works. Their highly professional team provides the most reliable and timely checked solutions for their customers. They install fiber cement siding, wood siding, composite siding, metal siding, composite decking, and full windows replacement. They protect their customers from the emergency providing safe and lasting outdoor works. 3 Generations Improvements offers excellent services at a reasonable price.

101 Parkshore Dr Ste 100

Folsom, CA 95630

#

8

Elite Lath & Plastering

Elite Lath & Plastering is one of the largest remodeling business in Rancho Cordova. They specialize in all kinds of stucco services. They offer the design of the most modern walls, with the embedded lighting, air conditioning, steaming, and water saving. Their experienced team works with water leaks, damaged and peeling stucco. They do stucco replacement and installation in the cleanest way. Elite Lath & Plastering uses hi-tech technologies and only high-quality materials for stucco services. Their primary goal is to reach the happiness of their customers.

10517 George Town Dr

Rancho Cordova, CA 95670

#

9

House to Home Builder

House to Home Builder is a renovation contractor in Sacramento. They specialize in various kinds of water leak, stucco repair work. They provide unique stucco texture, services of stucco cracks repair. Their experienced team help with a leaking roof, window or door. They use only high-quality materials for their customers' houses. Their clients can be sure of the complete safety of the walls. Their exterior projects assemble the whole-street sight attractive and very beautiful. They create feelings of happiness and satisfaction from living in the renovated houses.

#

10

Elite Construction and Remodel Corp

Elite Construction and Remodel Corp Shadings is a famous family-owned remodeling contractor in Sacramento. They specialize in recovery after damaged dry rot and termite damage. Their specialists provide their services for residential and commercial clients. Their staffs have certificated to repair the most complex cases. They are proud to have great reviews from their customers, homeowners, stores, shops, warehouses, and others. They always focus on the clients' needs and on the particular environment to get the best lasting results.

4360 Pinell St

Sacramento, CA 95838
If you are new to homeownership or the area, it may be challenging to know where to begin. Hundreds of homeowners search for "exterior remodelers near me" in Sacramento. Search engines will pull dozens of results for you, but that does not mean they are trustworthy.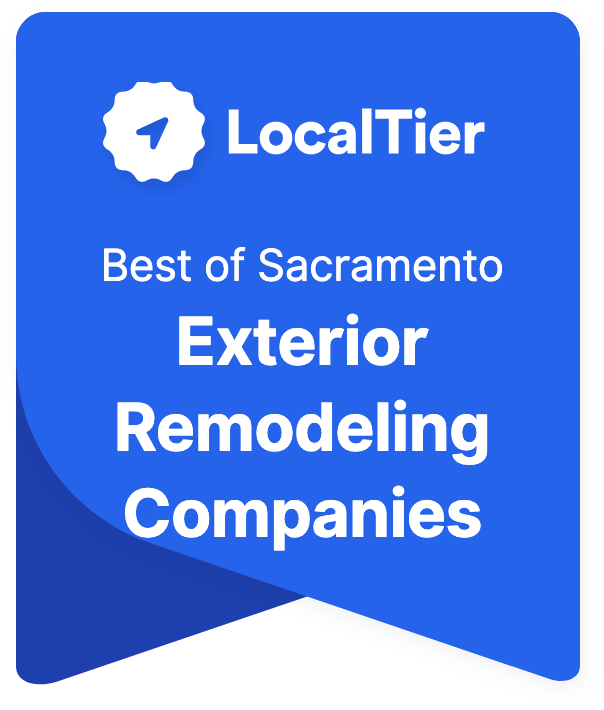 Sacramento Exterior Remodeling Companies
Do you find yourself in need of exterior remodeling contractors in Sacramento? Don't worry! You are not alone.
It is a daunting task, especially since you are entrusting them with your home. Before hiring someone to work on your home, you will want to do your research. Signing a contract is binding, and you are putting money and your shelter on the line. Visit the contractor's websites to find out what information is readily available. Pay attention to the rates, certifications, insurance, and warranties they offer. Remember, experience comes with time, so look for how long they have been in business and their specialized services in Sacramento. If they have a section with recommendations, contact the former customers and find out what they liked about them. Finally, research the company name for any complaints, lawsuits, or any other red flag. With the vast number of exterior remodeling available in Sacramento, you can be selective.
The goal is to create a list of three to five businesses that show potential to handle your work needs. However, the selection process is not over yet. You will want to call the contractors on your narrowed list and ask about their portfolios. They should be willing to show you past jobs and give you references. In addition, they should give you a printed copy of their rates. Comfort is king here. Make sure you feel relaxed when talking to them and receive all information to any questions asked. Do not be afraid to move to the following contractor on your list if you are not receiving answers.
Our Selection Criteria
Each business is graded according to the following criteria:
Qualification
How qualified are they to do the work in their chosen field? Do they have any licenses or certifications?
Availability
Are they open during normal business hours? Are the hours clearly posted on their website and at their actual storefront?
Reputation
What are others saying about them? How well-known are they in the community?
Experience
How many years have they been in business? Have they won any awards or accolades?
Professionalism
How do they treat their customers? Are they courteous?
Contact The Best Exterior Remodeling Contractors in Sacramento
With the number of options you have, this list will give you a place to start. Remember that what is suitable for one person may not meet the needs of another. Always check into every business and find the one that fits your workload. You will discover that some of these companies offer only specific services, while others will be more robust in experience. Consider talking to your friends and family in the area if they have heard of the company in Sacramento. Social media is another great outlet to request information regarding a contracting business if you are in a local group.
This list is just a starter list, so select a few near you and start to do your research. Look for reviews online and see what other customers have to say about the company. Know what aspects you are most concerned about, such as rates or mission statements. As you research, start picking out the top contenders for your job. These are the people you will want to contact further.
Before you contact the company, have a list of questions ready and know exactly what your project will entail. The more information you can give them, the clearer they can be on rates and availability. Contractors rely on customer service, so always ask hard questions and expect honest answers. Even if the first company you call sounds like it will work, always shop around. You want to ensure you get the best rate, and some businesses will even offer financing plans.
Remember that they are coming onto your investment, and you want the job done the first time correctly. Take the time to do the research and find the best match. Only sign a contract when you are satisfied with all the answers and are comfortable with the entire staff.