Top 10
Sacramento

Cash Junk Car Buyers
Top Best
Cash Junk Car Buyers
#

1

Black Diamond Auto Sales

Black Diamond Auto Sales is a car dealers and car buyers company based in Rancho Cordova, California. They specialize in the buying and selling of new and used cars, and are one of the best auto dealerships in California. Black Diamond Auto Sales is proud to provide their clients with respect, integrity and trust, and they offer these values in their sales and business practices. They were established in 2009, and with more than a decade of experience in the industry, there's nobody who does auto sales better than Black Diamond. So, the next time you're looking for a car dealership with excellent customer service, you know exactly who to call.

1940 Zinfandel Dr Ste Q

Rancho Cordova, CA 95670

#

2

Capital Valley Towing

Capital Valley Towing is a trusted towing and car buyers company based in Carmichael, California. They specialize in towing services, as well as free junk car removal, and they pay cash for cars, boats, and RVs. The great thing about Capital Valley Towing is that they offer same-day services, so you can phone them today and receive a quote by the end of your call. They were established in 2010, and with more than 10 years of experience in the industry, they are one of the top towing and auto sales companies in Carmichael. They have had a steady and dedicated client base for years, and are happy to add you to their family.

3927 Wayside Ln

Carmichael, CA 95608

#

3

Xtreme Muscle Towing

Xtreme Muscle Towing is a dedicated towing and car buyers company based in Rio Linda, California. They specialize in providing their customers with cash for their cars, as well as buying, selling, trading, recycling, and restoring automotives. They were established in 2000, and with more than two decades of experience in the industry, Xtreme Muscle Towing is one of the top auto companies in Rio Linda. They don't even require you to submit any paperwork - you can simply call them for details, and they'll provide you with a free quote immediately. What's more, once they've purchased your vehicle, your towing is free.

5915 24th St

Rio Linda, CA 95673
Are you searching for a cash junk car buyer in Sacramento ? Check out the top ten here!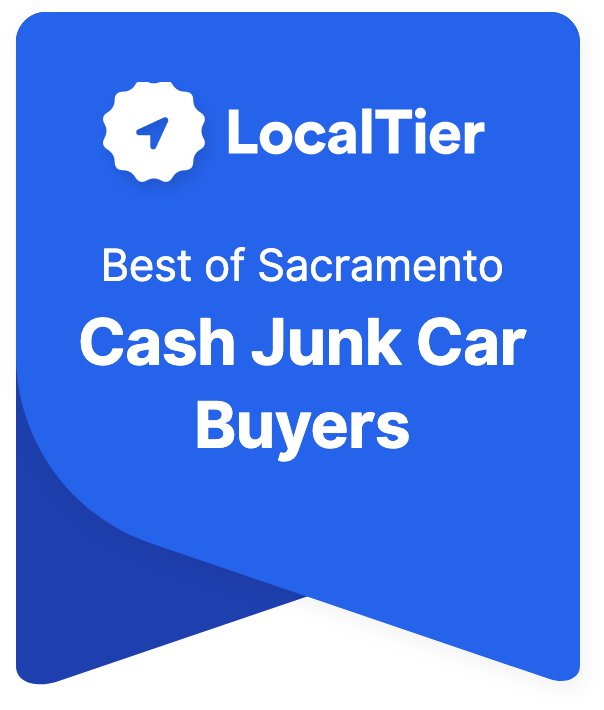 Cash Junk Car Buyers in Sacramento
Are you on the hunt for Sacramento cash junk car buyers?
Each week, many people around Sacramento are looking for junk car buyers near them, whether in the local paper or online.
Do you own a junk car? Maybe you are still in possession of an old vehicle that is still runnable, but it certainly isn't in excellent condition.
Or perhaps you have a much newer vehicle involved in some cash junk form of accident, which has led to it being deemed totaled by your insurance company?
When a vehicle has been deemed as totaled, it means that it is well beyond being repaired. That could be anything from a frame being bent due to the accident, or perhaps it has been deemed that the cost of repair is too expensive.
Perhaps you own a junk car buyers might want, a couple of older vehicles that no longer run very well, or start but are not safe to drive. You might be looking at buying a newer one to replace them, but you are skeptical about using a trade-in option.
Car dealerships are online likely to take your vehicle if it is working, but you almost certainly won't get an excellent price, and often they tend to call junk car buyers to come and collect it in Sacramento.
So why not skip out the middle man?
Even if you can't start your vehicle, almost all cash junk car buyers will still come and get it. That is how their business works. They get cars and take them apart, salvaging any parts they can and selling them to those who need them.
So without ado, let's look at the top ten best cash junk car buyers in Sacramento.
Our Selection Criteria
Each business is graded according to the following criteria:
Qualification
How qualified are they to do the work in their chosen field? Do they have any licenses or certifications?
Availability
Are they open during normal business hours? Are the hours clearly posted on their website and at their actual storefront?
Reputation
What are others saying about them? How well-known are they in the community?
Experience
How many years have they been in business? Have they won any awards or accolades?
Professionalism
How do they treat their customers? Are they courteous?
Start Selling Your Junk Car For Cash in Sacramento
There you have it, the top 10 best Sacramento cash junk car buyers. Hopefully, from reading this list, you will have found a company on this list that will assist you in removing your old junk vehicle and offer you some good money as a result.
Some of these companies are known to pay the very top dollar as well, so make sure you take time to shop around Sacramento.
Make sure that you take the time to check each of these companies regarding their policies, as a few of them will be more lenient on certain things whereas others will not.
For example, quite a few of them will tow your vehicle without charging you any more money and offer other benefits from using their business in Sacramento.
Selling your old junk vehicles is an excellent way to be able to make cash junk space on your driveway or yard, and it will probably please your neighbors as well!
They might not have said anything to you directly, but they are probably tired of looking over to your house and seeing that junk car on your drive, probably as much as you are.
Throwing out your junk car and making a little bit of money in the process is a win-win for everyone who is involved. You will be so happy to have finally got rid of that vehicle you have not used for years, and the junk car buyer you choose will be so glad to receive it and collect the usable parts to sell on.
The best junk car buying companies in Sacramento will be sure to use all parts that are still in good condition.
Car fanatics tend to buy refurbished or used parts from junk car dealers, saving them a lot of money. Not only that, but it also allows these parts to go back into circulation, which is good for the environment.
Just because your vehicle no longer runs doesn't mean that it can't still serve a purpose and help someone else get their car up and running.