Top 10
Sacramento

Demolition Companies & Wrecking Services
Top Best
Demolition Companies & Wrecking Services
#

1

BK Demolition

BK Demolition is a demolition company based in Roseville, California. They specialize in large jobs in all aspects of demolition, site development, bobcat service, and garbage removal. Their primary goal is to make it as simple and convenient for you to move or destroy anything you need moved or destroyed, and they do so at an affordable price. They provide commercial pool and concrete removal, land cleaning, and complete excavations. They offer free estimates with no commitments, and have more than a decade of experience in the industry under their belt. They have earned their reputation as a demolitions company, and there's nobody better to turn to for demolition services in Roseville.

2289 Ridgemere Cir

Roseville, CA 95757

#

2

Jericho Wrecking

Jericho Wrecking is a respected wrecking and demolitions company based in North Highlands, California. They specialize in all things to do with construction and destruction, and are one of the most trusted wrecking companies in California. If you are a commercial or residential client in the North Highlands area and you need something destroyed in a safe yet efficient way, they are the people to call. They have more than 15 years of experience in the industry, and the residents of North Highlands have relied on Jericho Wrecking for as long as the company has been open. Nobody does it better than Jericho.

4608 Roseville Rd Ste 110

North Hgihlands, CA 95660

#

3

Junk Away

Junk Away is a highly qualified junk removal company in Sacramento. They provide eco-friendly and professional junk removal services. Their experienced staffs offer free on-site estimates. If the customers are satisfied with the prices, Junk Away does the job right then or at the customers' convenience. As a bonus, they sweep the area with no extra charge after doing all the work. They focus on simplifying lives by helping people with removal services. Junk Away guarantee high-quality service. They follow all recommendations of their customers. They respect and appreciate the clients.

#

4

Junk Box

Junk Box is a family-owned junk removal and demolition service company. They specialize in a garbage disposal. Their professional personnel provides the most reliable, professional, and trustworthy junk removal moving services in Sacramento. Their primary goal is to please the customers with the cleanliness and order of the surrounding area. Junk Box considers that a tidy environment is essential for people, and they are ready to help with this. Junk Box offers only high-quality services to its clients. They satisfy all desires of their clients. They work in the friendliest manner.

1500 4th Street

Sacramento, CA 95814

#

5

Marshall Property Maintenance

Marshall Property Maintenance is a trusted property maintenance company based in Rio Linda, California. They specialized in the removal of unwanted wood, junt, dirt, metal, or construction debris. They offer the demolition of small scale projects, as well as property cleanup. They also offer demolition for building structures, concrete walkways, patios, sheds, tiles, flooring, and more. There's pretty much nothing that Marshall Property Maintenance can't demolish, but destruction isn't their only calling card. They are also experts at getting rid of unwanted junk and debris from your property, making it look as good as new again. So, the next time that you need something destroyed or moved, you know who to call.
Are you looking for the best demolition companies in Sacramento? Check out the top ten in your area here!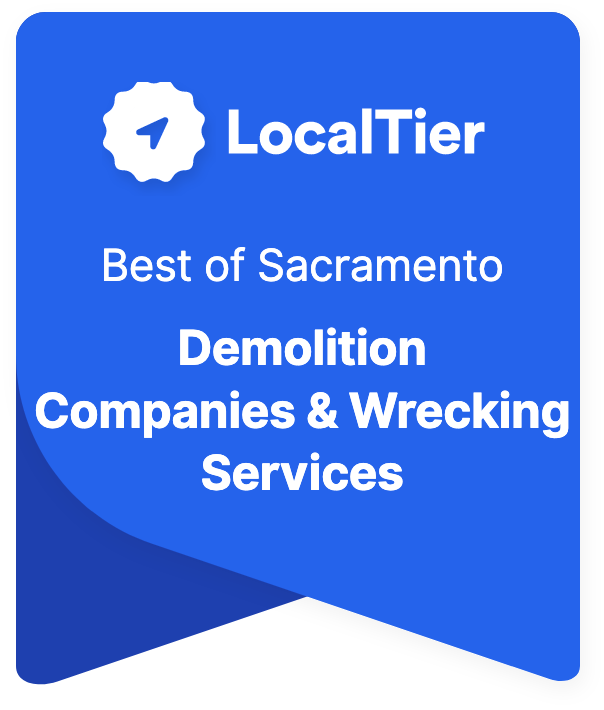 Sacramento Demolition Companies
Are you looking for the best Sacramento demolition company?
Each day, Sacramento homeowners and wrecking service companies look for demolition companies online to help them with their building needs. If you have ever seen a demolition crew use a wrecking ball to knock down a large building in Sacramento, then you will know it is awe-inspiring.
However, you will also know that there is so much involved in tearing down a building. You don't want just anyone swinging that wrecking ball!
Sacramento demolition contractors and wrecking service companies need to ensure they are highly precise and skilled when they pull down a building in Sacramento. With so many different factors in play, especially if the building is densely populated, they cannot afford to be careless.
Smaller buildings, such as one or two-story buildings or old houses, are much easier to be pulled down with machinery such as bulldozers or cranes. But taller buildings require more attention to detail. These sorts of buildings tend to require a wrecking ball and skilled workers from wrecking service demolition companies.
Planning is essential and detailed thinking is needed before the demolition is undertaken. Contractors need to consider the surrounding area and the location of the demolition companies as well. If the area is still being used for other things, these aspects need to be preserved and not damaged as the job is underway.
These are just some of the potential dangers that can arise during the demolition process.
The contractors also need to have a great understanding of the electricity and gas lines located in the Sacramento surrounding area. As you can tell, there is plenty of preparation that goes on before demolition takes place.
Finding a contractor may not be an issue, but making sure they are the highest quality possible in Sacramento might be. With that in mind, we have fathered the top ten Sacramento demolition companies and wrecking service companies to save you from making any serious mistakes.
Our Selection Criteria
Each business is graded according to the following criteria:
Qualification
How qualified are they to do the work in their chosen field? Do they have any licenses or certifications?
Availability
Are they open during normal business hours? Are the hours clearly posted on their website and at their actual storefront?
Reputation
What are others saying about them? How well-known are they in the community?
Experience
How many years have they been in business? Have they won any awards or accolades?
Professionalism
How do they treat their customers? Are they courteous?
Hire The Best Wrecking Service Companies and Demolition Contractors in Sacramento
Hopefully, you will be able to use this list to narrow down your options further when finding the right service for you and your particular project.
As you can see from this list, there are so many different demolotion companies on this list. Some are specialists when it comes to smaller jobs, and some specialize in much larger jobs. There are even a few that are top quality at them both.
Once you have managed to narrow down a couple that you believe will be the most suitable for your project, be sure to take some time and prepare any questions that you might want to ask those companies as part of your interview. Ultimately, you will be paying quite a lot of money for the services of the company you choose, so you need to be sure to ask some difficult questions to make sure you get the right company for you.
Take some time to check each of these companies for yourself. They will all likely tell you exactly what you want to hear, so be sure to always inquire with more than one company to get a better grasp of who is suitable for you. You can also look at online review sites for each of the demolition companies that you are thinking about hiring. You will be able to see if they have had any infractions or complaints made against them.
Ultimately, the most important thing is to be sure to take the time to seek out the right company for you. Write a list of all of the things you would like a company to provide, and compare each quote to that list.
Demolition can be highly risky, so ensure you have chosen a company that has your best interest and the best interest of the area at heart.