Top 10
Sacramento

Drainage Contractors for Landscape Water Solutions
Top Best
Drainage Contractors for Landscape Water Solutions
#

1

Garcia Landscape

Garcia Landscape is locally-owned landscaping company in Granite Bay. They have over 10 year experience in the landscape industry. Their highly skilled staffs provide quality service for large business centers and private house owners. They are proud of the honest and sensitive landscaping works they perform always on time. Garcia Landscape affords 24-hour emergency service. They will be pleased to answer your call and give all required recommendations on the care of your landscape and garden. They focus on customers' needs and requirements for the best results.

#

2

Purchase Green Artificial Grass - Rancho Cordova

Purchase Green Artificial Grass specializes in landscape installations in Rancho Cordova. They build artificial grass lawns using the best materials. Their staffs will design and construct all the necessary intrastructure for care of the grass. They guarantee years of sustainable landscape architecture by the proven experience. Purchase Green Artificial Grass provides its services for residential and commercial clients. They are dedicated to the complete customers' satisfaction and make their clients happy in comfortable and luxury environment. They offer a free design estimation, samples, and free maintenance recommendations.

2419 Mercantile Dr Ste A

Rancho Cordova, CA 95742

#

3

M&H Landscape Construction

M&H Landscape Construction is a full-service landscaping company in Roseville. They specialize in beautiful, efficient outdoor spaces that meet the needs and lifestyles of each customer. Their goal is to meet the customers' vision of outdoor living space and provide the best materials and techniques to implement all ideas. Their experienced team can fix any irrigation problems and do customize decks and fences on your exterior. They strive to obtain the best result of every project, totally focusing on customers' wishes and desires. They thrive to ensure customers' complete satisfaction.

#

4

System Pavers

System Pavers is one of the leading landscaping architectural companies in Sacramento. They have been serving mansions and condominiums for a quarter of the century. Their staffs have extensive experience in all kinds of landscaping, masonry, and concrete works. They strive to satisfy the requirements of the most demanding clients and are obsessed with the high quality of the results. They aim to leave the landscape for years loyally functioning and smooth operating under any circumstances. They build durable products that last a lifetime and give a 30-day satisfaction guarantee.

3035 Prospect Park Dr Ste 110

Sacramento, CA 95670

#

5

A & A Stepping Stone

A&A Stepping Stone is a well-known masonry craftsman and landscaper in Citrus Heights. They specialize in masonry supplies, pavers, retaining walls, natural stone fences and curbs, and many others. They are a family-operated business providing high-quality service to residential and business customers. They have been operating in the market for almost half a century and offer key product lines with the appropriate design, construction, and maintenance. Their experienced and licensed staff will be pleased to meet all your wishes and suggest the best possible solutions for lasting results.

7517 Walnut Dr

Citrus Heights, CA 95610

#

6

Total Landscape Concepts

Total Landscape Concepts is a diversified landscaping service, architectural design, and pest control company in Rancho Cordova. Their multiple staffs provide a wide range of high-quality services in artificial greens, low voltage lighting, retaining walls, custom outdoor areas, irrigation systems, landscape designs, implementation, and many more. They provide weekly maintenance services both for their former projects and for those inherited from the other designers. Their experienced maintenance crew exceeds all expectations when implementing and supporting the works. Their primary principle is a complex approach allowing solving the arrangement of the land plot in all aspects.

2591 Mercantile Dr Ste C

Rancho Cordova, CA 95742

#

7

Zoe Landscaping

Zoe Landscaping is s trusted landscaping company in Vacaville. They specialize in landscaping design and maintenance service using up-to-date technologies and the latest trends in design. Their team is experienced in hundreds of projects, always following the customers' needs and wishes. They focus on charming service and making their customers happy in the new environment. Zoe Landscaping offers honest businesses dedicated to a high-quality and customized service at an affordable price. Their team supports exceptional service with the best materials and long-living solutions of irrigation, water, fire systems embedding, lightning, and more.

#

8

Fierros Landscaping/Concrete

Fierros Landscaping & Concrete is a reputed and well-known company in Davis. They specialize in general landscaping services like masonry, synthetic grass fencing, concrete pavers, installing irrigation systems, etc. They guarantee a complete transformation of your land plot with high-quality materials and an attentive attitude to all your wishes and desires. Their experienced team will schedule a complimentary design in person, online, or through the phone. They provide urgent 24-hour service in breaking the irrigation system to save your lawns in their best state.

#

9

Black Diamond Paver Stones & Landscape

Black Diamond Paver Stones & Landscape is a licensed and insured landscaping company in Sacramento. They have served thousands of lawns, yards, and parks for almost 20 years of experience. Their team commits to the 100% satisfaction of their customers and provides sustainable and long-lasting maintenance of the works. They specialize in outdoor remodeling concerning driveways, lawns, walkways, retaining walls, patio covers, BBQ zones. They design and implement plants and trees plans, install artificial grass and landscape lighting. Black Diamond Paver Stones & Landscape takes pride in their expert design and exceptionally positive reviews of their customers.

1111 Howe Ave Ste 535

Sacramento, CA 95825

#

10

Viewpoint Lighting

Viewpoint Lighting is a unique outdoor lighting service company in Sacramento. They specialize in low-voltage exterior lighting. Their experienced technicians provide complete design, installation, maintenance, and repair of existing lighting systems. They design and install event lighting for weddings and parties. Customers can rent their equipment and lights for a night or a week at an affordable price. They always meet customers' wishes and suggest the most beautiful solutions considering the existing landscape, trees, plants, and surrounding buildings. Viewpoint Lighting provides its services at the highest level of quality and safety.

800 San Ramon Way

Sacramento, CA 95864
Have you walked outside and noticed water pooling in your yard? Water problems are a constant battle for homeowners from the inside out. You may not even be aware you have drainage problems in Sacramento until a situation arises and damage is caused.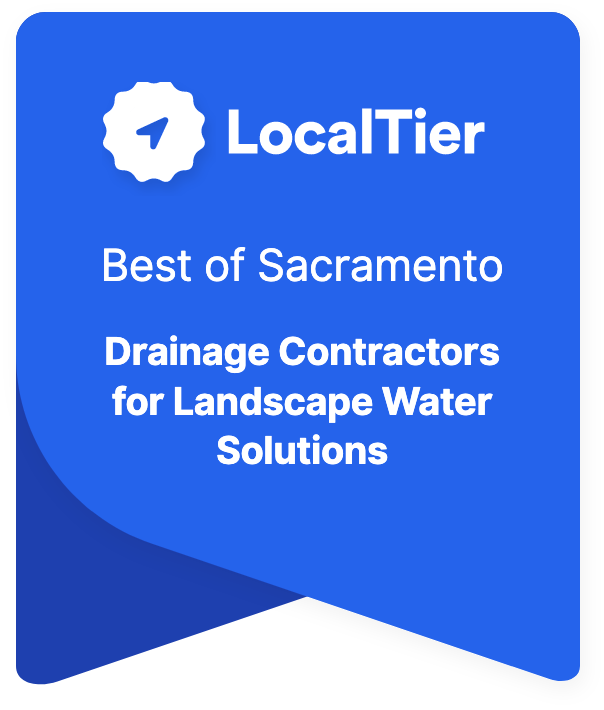 Find Best Drainage Contractors in Sacramento
You are not alone in your search. Hundreds of homeowners across Sacramento search the web for drainage contractors near them. The problem with a basic search is that you may not find the best company in Sacramento in terms of cost, experience, or dependability. We are hoping to fix that problem with the list of top contractors in this article.
There are a few signs that you may have a drainage issue:
Standing water in the yard (excluding immediately following a rainstorm)
Damp spots along the walls or floor of your basement
Cracks in your foundation
Water will naturally pool in your yard following a storm, but it should absorb within a few hours unless you are in a flood zone. Either way, it never hurts to contact a drainage contractors specialist to see what solutions they may have to remove excess water. You want your basement always to be dry. If you see water spots, wood rot, or cracks in the foundation, you likely have a drainage problem weakening your home . If these problems are left alone, you will be looking at foundation repairs later on that are costly in Sacramento.
Sacramento Drainage Contractors
Drainage issues can be caused by poor landscaping, soil problems, clogged pipes, or leaking pipes. It is crucial to contact an expert promptly. However, you will want to do your research first. The list of top drainage contractors below is a great place to start. Check out their online profiles and make sure you understand their rates, warranties, and contact previous customers.
Our Selection Criteria
Each business is graded according to the following criteria:
Qualification
How qualified are they to do the work in their chosen field? Do they have any licenses or certifications?
Availability
Are they open during normal business hours? Are the hours clearly posted on their website and at their actual storefront?
Reputation
What are others saying about them? How well-known are they in the community?
Experience
How many years have they been in business? Have they won any awards or accolades?
Professionalism
How do they treat their customers? Are they courteous?
Now You Are Ready to Hire a Sacramento Drainage Contractor
This list is designed only to give you a starting place for searching for a drainage contractor in Sacramento. You will want to take the time to research each other and narrow it to three or four that you like. From there, you will want to reach out to the company via phone and schedule consultations. Generally speaking, the first meeting is at no cost. Therefore, make sure you go prepared with a list of questions you have and gather as much information you can during that appointment in Sacramento.
If you already have a situation, you will want to have as much information as possible to answer the drainage contractors questions. Attempt to explain what is going on so they can give you appropriate solution options. They will also know what to expect when they show up at your house. They base their initial estimates on what you tell them and then final estimates after evaluating the problem.
Price is generally a deterrent for many in hiring experts in Sacramento. However, many drainage companies will offer financing options. You will also want to consider the costs you may incur if you fail to deal with the situation in a timely fashion. Some companies in Sacramento may have higher rates but offer better warranties or have more experience. You will also want to consider their availability. If they cost more but can come out the same day, this could be beneficial. Make sure you look at the big picture and not just the price tag.
Finally, consider reaching out to family and friends in the area who have had drainage problems in the past. Find out whom they turned to and what they liked about them. Drainage Contractors rely on word of mouth for a lot of business in Sacramento, so they aim to leave clients satisfied. However, previous customers tend to be more honest with the pros and cons, so don't be afraid to ask.