Top 10
Sacramento

Estate Sales Companies
Top Best
Estate Sales Companies
Are you looking to hold an estate sale but want the most profit possible? You are not alone. Estate sale companies work tirelessly to assist individuals in selling their loved one's possessions. Every day people search for help in the Sacramento area.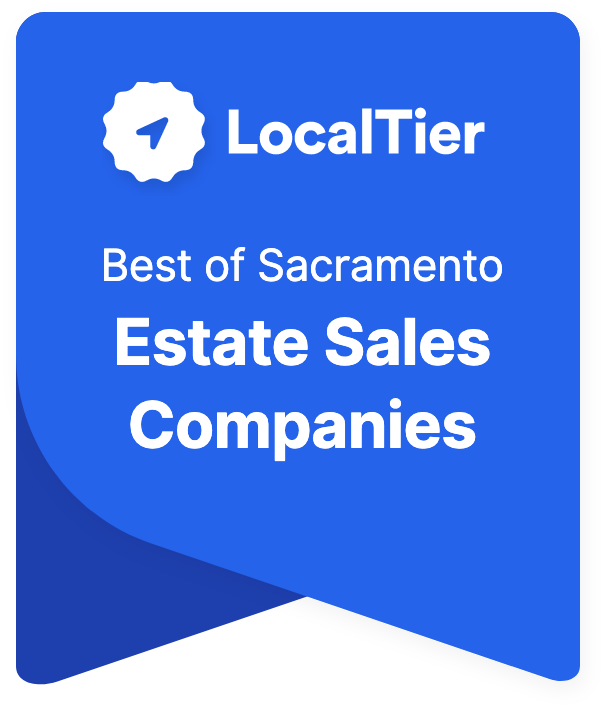 Find The Best Sacramento Estate Sales Companies
Losing a loved one invokes emotions, and parting with belongings can become overwhelming. These sales require a delicate hand. In some cases, estate sales are made due to financial hardships that need the family to sell what they own to pay bills. In either case, it is rarely because a homeowner wants to part with their belongings. It is essential to find a company that will handle your sale with care and treats you with the respect you are due.
We have compiled a list of the top estate sale companies into Sacramento help you start your search. They have shown to have the experience and integrity to make sure you get the most profit. However, because selling involves emotions, you will want to find the business that you feel most comfortable with. We aim to make it easier in this difficult time, but you will still need to do some research.
Hiring an estate sale specialist benefits you by reducing the stress, organizing your belongings, knowing the market value, and marketing to the public. In some cases, they will also help you with the accounting and clean-up. Research each repair companies online and find out what their rates are and what services they offer in Sacramento. Do not be afraid to ask them questions and tell them what items mean to you. You want to make sure they understand your emotions, and they should always make you feel like you matter to them. Remember, they are there to help you maximize your profits while helping you through this difficult time.
Our Selection Criteria
Each business is graded according to the following criteria:
Qualification
How qualified are they to do the work in their chosen field? Do they have any licenses or certifications?
Availability
Are they open during normal business hours? Are the hours clearly posted on their website and at their actual storefront?
Reputation
What are others saying about them? How well-known are they in the community?
Experience
How many years have they been in business? Have they won any awards or accolades?
Professionalism
How do they treat their customers? Are they courteous?
Hire an Estate Sales Company in Sacramento
This list is designed to give you confidence in starting your search for local estate sale companies in Sacramento. When you are working with one from this list, you can rest assured that you will have someone who has the experience and the knowledge of the market. However, working with someone you feel comfortable with as well. Talking to friends and family will help give you ideas of whom they have worked with and why. Other reviews online will assist in this aspect as well.
Estate sales are a great way to make a large amount of money in a short period. They will require you to part with belongings you may have emotional attachments to. When you find a company you are comfortable with, you will have a better experience and make the money you need to pay bills. Searching the internet will not always tell you how a company handles sensitive items, so you need to make sure you take the time to call and talk to the repair companies in Sacramento.
It takes experience to sift through belongings and determine what their values are quick. You want someone who creates a warm and caring atmosphere while marketing your items professionally. How the sale is set up is just as important as the pricing of items. Talk to the business owners to see portfolios of past sales. Every home will be different, and you will need a delegate touch when it comes to items you feel should be valued higher. Don't be afraid to take your time in selecting the perfect estate sale company in Sacramento and never contract with someone until you are completely satisfied.