Top 10
Sacramento

Excavating Contractors
Top Best
Excavating Contractors
#

1

America's Dream HomeWorks

America's Dream HomeWorks is a family-owned business in the home improvement area serving Sacramento and surrounding areas. They offer a wide range of home renovation services at affordable prices. They specialize in home remodeling, kitchen remodeling, bath renovation and other renovation services. They control the quality of the work throughout the whole process of implementation. Their experienced team has been renovating and improving residential homes for the last two decades. They offer professionally driven services and high-quality building materials for all their customers. Their primary goal is to meet all wishes of the customers.

7115 Watt Ave, Ste 100

North Highlands, CA 95660

#

2

Iron Wood Construction

Iron Wood Construction is the largest bathroom remodeling business in Sacramento. They specialize in all kinds of works with water, electricity, siding, walls preparation, and installation of plumping equipment. They offer the design of the most modern bathroom, with the latest trends in lighting, air conditioning, steaming, and water-saving. Their experienced team can install a jacuzzi tub with a bubble generator, unique safe bathtubs for older adults and children, and modern shower cabins with embedded hi-tech technologies. Their primary goal is to reach the happiness of their customers.

#

3

Good Life Construction

Good Life Construction is a prominent dry rot repair and exterior renovation contractor serving Sacramento and surrounding areas. They specialize in wood and dry rot repair, siding and decking repairs and fire restoration. They have been in this industry for over 25 years. Their experienced team provides the best possible service after termite damage. They focus on your customized requirements and never leave the project without the complete satisfaction of the customers. Their exteriors serve residents for years, which is their pride and best recommendation. Good Life Construction offers free consultations and high-quality designs for all its customers.

3720 Madison Ave Ste 250

North Highlands, CA 95660

#

4

Taylor Made Construction

Taylor Made Construction is the best choice to remodel a house in Shingle Springs. They are keen on high-quality and affordable services for real estate owners. They have operated on the market since 1995. Their staffs have tremendous experience in the construction industry. They can make all customers' dreams come true and exceed the wildest expectations. Their catalogs of remodeling ideas are a unique way to be acquainted with the newest house exteriors and interiors trends. They will accompany you up to the art of living in a beautiful and cozy house.

4175 Business Dr Ste D

Shingle Springs, CA 95682

#

5

Palmer & Sons Construction

Palmer & Sons Construction is a reliable family-owned remodeling company in Rancho Cordova. They specialize in kitchen remodels, bath renovation, windows and roof design, installation, and maintenance. They have been working in the market for over 35 years, providing contemporary materials and technologies. Their experiences staffs aim to help people in remodeling their homes. Palmer & Sons Construction strives to make people get rid of their worries and frustrations about bad weather, heavy rains, or strong winds. They never leave their customers without complete satisfaction following the reputation of the best local remodeling company.

#

6

Innovative Concrete Solutions

Innovative Concrete Solutions is the most trusted masonry and concrete contractor in Folsom. They specialize in concrete staining, overlays, and sealing. Their experienced experts produce high-quality landscaping design and stain concrete. They always meet all customers' desires and suggest the best solutions to achieve lasting results. Innovative Concrete Solutions provides maintenance services. They offer a unique 5-step custom stain and seal system at a reasonable price. They provide unlimited color options for their customers to paint surfaces, including concrete. They apply the most modern methods of adhesion, requiring the lowest maintenance in the future.

796 Travis St

Folsom, CA 95630

#

7

Bay Area Underpinning

Bay Area Underpinning is an A+ rated foundation repair company in Fairfield. They specialize in foundation repair and steel foundation production by individual schemes. They suggest their clients a customized approach starting from a free inspection and forming a price plan. Their team has extensive experience in design, implementation, and testing foundations, ensuring it will serve for dozens of years. They provide their customers professional service on time, without any delays. Their key goal is to make their clients satisfied for 100% and even more.

2333 Courage Dr Ste C

Fairfield, CA 94533

#

8

Inspection Ready Contractors

Inspection Ready Contractors is a prominent remodeling company in Folsom. They specialize in both exterior and interior works. Their experienced staffs do their best for every customer as soon as possible. They provide a whole range of activities, including design, construction, testing, and maintenance. They will be happy to make a free estimation on a call and offer customized discounts for their customers. Inspection Ready Contractors has highly skilled personnel who always focus on their customers' needs and requirements. Their primary purpose is to provide all services at the highest quality in the shortest time.

301 Natoma St Ste 101

Folsom, CA 95630

#

9

Vitex Innovation

Vitex Innovation is a kitchen remodeling company that specializes in kitchens, bathroom remodeling, home construction, and renovation services in Sacramento. They are proud of the highest grades given by their customers. They provide services on remodeling the floors in every room of your house, including such complicated coverings as in kitchens and bathrooms. Their experienced team will attentively record your personal preferences and provide the best solutions. Vitex Innovation aims to achieve all customers' home remodeling dreams to come to reality. They prioritize high-quality and modern approaches in all their projects. It makes their floors serve for decades and clients happy.

11255 Sunrise Gold Cir Ste C, D and E

Rancho Cordova, CA 95742

#

10

GVD Renovations

GVD Renovations is a locally owned and trusted contractor in Roseville. They specialize in complete exterior and interior renovation services, including James Hardie siding replacement, kitchen remodeling, bathroom remodeling, replacement windows and home remodeling. Their competent team has extensive experience making hundreds of Sacramento homeowners happy. Their expert design consultants will be pleased to give a customer all recommendations on improving the living space. They use only high-quality materials and modern technologies in their work. GVD Renovations offers excellent craftsmanship, always keeping your home and yard clean and ready to live after finishing the project.

620 Commerce Dr, Ste D

Roseville, CA 95678
Do you own a home, apartment complex, or commercial property and need to clear a large area? You are likely going to need an excavator. Dozens in Sacramento are in the same boat as you and are looking for excavating contractors near them.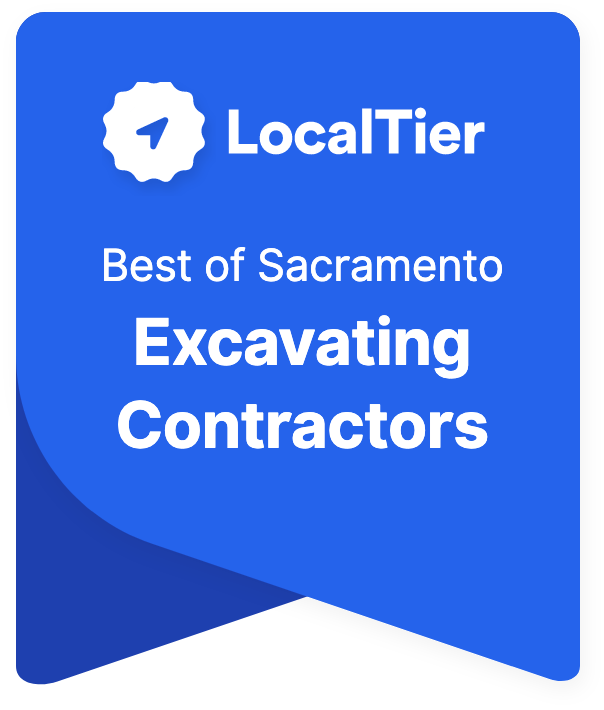 Contact For Excavating Contractors in Sacramento
This is a service that can be difficult to find. Thankfully, we have compiled a list of the top excavating contractors in Sacramento.
When you hire someone to clear land, you want someone dependable, has reliable equipment and is experienced. They are often called in when a project is just beginning, so working on a deadline is crucial. You don't want to be waiting on someone before you can continue with a remodel or build. For example, if you're installing a pool, you want the dig to occur to start the install. If you contract someone in May and they don't show up until July, summer is already half over.
The companies on this list have shown that their expertise and dependability are top-notch. However, you will want to do further research to find out their rates, how they compare to the competition, and when they are available to start work. As you contact excavating contractors, find out how well they work with other people. They will be part of a team. In some cases, they are hired by your general excavating contractor, who will oversee the project.
You will also need to understand what goes into the bid price. Don't be afraid to ask the excavating contractor for a breakdown of the estimate they give you. They will need to cover the cost of the equipment, their time, and debris removal. There is likely a base cost offsets what they spend on licensing, certifications, and insurance to operate safely in Sacramento.
Our Selection Criteria
Each business is graded according to the following criteria:
Qualification
How qualified are they to do the work in their chosen field? Do they have any licenses or certifications?
Availability
Are they open during normal business hours? Are the hours clearly posted on their website and at their actual storefront?
Reputation
What are others saying about them? How well-known are they in the community?
Experience
How many years have they been in business? Have they won any awards or accolades?
Professionalism
How do they treat their customers? Are they courteous?
Not All Sacramento Excavation Contractors are Alike
When looking for an excavating contractors in Sacramento, you want to start with this list. You will find companies that specialize in small jobs and others that do only large, commercial jobs. It is important to do ample research and only contact excavating contractors that can assist your job. You are investing your time and theirs during the selection process.
Before you start contacting companies, know what your project will entail in Sacramento. Just as you want to learn as much about them as possible, they want to know everything they can for a proper assessment. Have your questions ready for the interview to have an efficient meeting. You want to compare them to other companies because the price tag is only one aspect. Make sure they have the experience and knowledge to handle the work you want to be done. Prices will vary, but you should never be afraid to ask for a breakdown of the costs. This will allow you to assess where your money is going.
When researching, ask for references and look for reviews online. Check out the projects they have done and contact previous clients to find out what they liked or didn't like about the contractor. Ask them for advice on what to ask and what information you might need for the prospective excavating contractors.
The process can become overwhelming if you are not prepared. Take your time and look over this list. Only sign a contract when you feel satisfied with the answers you have been given and feel comfortable with the business.