Top 10
Sacramento

Foundation Repair Companies
Top Best
Foundation Repair Companies
#

1

America's Dream HomeWorks

America's Dream HomeWorks is a family-owned business in the home improvement area serving Sacramento and surrounding areas. They offer a wide range of home renovation services at affordable prices. They specialize in home remodeling, kitchen remodeling, bath renovation and other renovation services. They control the quality of the work throughout the whole process of implementation. Their experienced team has been renovating and improving residential homes for the last two decades. They offer professionally driven services and high-quality building materials for all their customers. Their primary goal is to meet all wishes of the customers.

7115 Watt Ave, Ste 100

North Highlands, CA 95660

#

2

Bay Area Underpinning

Bay Area Underpinning is an A+ rated foundation repair company in Fairfield. They specialize in foundation repair and steel foundation production by individual schemes. They suggest their clients a customized approach starting from a free inspection and forming a price plan. Their team has extensive experience in design, implementation, and testing foundations, ensuring it will serve for dozens of years. They provide their customers professional service on time, without any delays. Their key goal is to make their clients satisfied for 100% and even more.

2333 Courage Dr Ste C

Fairfield, CA 94533

#

3

Belru Construction

Belru Construction is a family-owned home construction business based in Roseville. It was established in 2010 and has over a decade's experience in home building and home improvements. They have worked on everything from building new homes from scratch, extensive second story additions to even kitchens and bathrooms. At Belru Construction, they pride themselves for being responsible and accountable to all their clients. Through the leadership of their CEO Dmitriy Trepachko, the staff at Belru Construction provides high quality workmanship and are continuously learning to improve their skills. Dmitry is an experienced builder, project manager and entrepreneur. He uses his acquired skills to motivate his team. They are best known for their custom staircases, fine woodwork and high-end finishes.

#

4

KGA Construction

KGA Construction is a trusted contractor of railing and cover services in Rio Linda. They specialize in renovating and remodeling buildings, including cases of fire and water restoration. They can design and construct new patio and room additions. Their experienced staff will give you the best advice appropriate to your custom conditions. They work at affordable prices and provide only high-quality services. They perform all the inspections on the same day you call them and always complete the project on time, meeting your desires and requirements.

#

5

LuxeHome Construction

Luxehome Construction is an elite kitchen and bathroom remodeling firm in Roseville, CA, established in 2001. They are also experts in siding, flooring, and roofing. They have a proud history of exceptional customer service. They are passionate about well-designed and built projects, to enhance your kitchen and bathroom experience. Their primary focus is on cleanliness, accuracy, and communication. Allow their kitchen remodeling experts to create the perfect kitchen for your lifestyle. For your bathroom remodeling needs, their experience ranges from creating compact powder rooms to high-end luxury master suites. Let them transform your kitchen and bathroom according to your specifications and requirements. Call them to discuss financing options and how they can assist you to create the bathroom and kitchen of your dreams.

300 Harding Blvd Ste 103E

Roseville, CA 95678

#

6

MB Construction

MB Construction is an expert bathroom and kitchen remodeling specialist, in Pilot Hill, CA, since 2009. They are a small family-owned father and son business. Walk-ins are welcome and they provide free consultations as well as virtual estimates. They are budget-friendly and have a wide service offering. Their services include bathroom, kitchen, and home remodeling; windows and electrical services, damage restoration, cabinetry, and flooring. They have built a track record of quality, excellence, and superior service. You can expect consistent professionality, high-quality building materials, and fair pricing from this established firm. Excellent customer service is a value that drives every customer interaction. Call them now to discuss your requirements and let them make your home dreams a reality.

#

7

Montgomery Structural Lifters

Montgomery Structural Lifters is a premier, structural, and lifting company in Rancho Cordova, CA. Their services include moving houses, raising houses, moving commercial buildings, moving classrooms as well as heavy equipment. They also specialize in foundation repair. No matter the distance or height, Montgomery Structural Lifters will get it done with precision and high quality. Montgomery Structural Lifters understands the importance of quality work and careful planning. Their certified riggers and staff have over 100 years of experience. If your foundation has been damaged by an earthquake, flood, or deterioration or you need more space and want to add a level to your house, look no further. Call us now for a fair estimate for quality work.

3209 Fitzgerald Rd

Rancho Cordova, CA 95742

#

8

NorCal Foundation Support

NorCal Foundation Support is an authorized Supportworks and CleanSpace Dealer in Fairfield, CA. They offer tested foundation, concrete lifting, and leveling and crawl space repair that includes moisture control for residential and commercial structures. They provide residential services to many locations. They promise exemplary customer care, quality products, and services for every project. From the moment you call to schedule your no-cost, no-obligation estimate, to the moment they finish the job, you can count on NorCal Foundation Support to deliver on their promise. They service and repair both residential and commercial properties. They are professionally trained PolyLevel, CleanSpace, and Supportworks dealers, which allows them to access proven repair systems, tested products, and comprehensive training for their technicians. Call them now to discuss your requirements.

320 Campus Ln Ste A

Fairfield, CA 94534

#

9

NorCal Ram Jack

NorCal Ram Jack is a reliable and trusted contractor in Sacramento. They specialize in the foundation, walls, and roof repair. Their experienced team has been working for the customers' comfort and safety for almost 25 years. They provide services repair for the base and foundation of any buildings. Their primary concept is to do the work right and on time. They will be happy to give consultations about the sign of the possible damage and ruin of the foundation. Their professional technicians offer the best solutions to strengthen the house.

430 Lea Way Ste B

Sacramento, CA 95815

#

10

Palmer & Sons Construction

Palmer & Sons Construction is a reliable family-owned remodeling company in Rancho Cordova. They specialize in kitchen remodels, bath renovation, windows and roof design, installation, and maintenance. They have been working in the market for over 35 years, providing contemporary materials and technologies. Their experiences staffs aim to help people in remodeling their homes. Palmer & Sons Construction strives to make people get rid of their worries and frustrations about bad weather, heavy rains, or strong winds. They never leave their customers without complete satisfaction following the reputation of the best local remodeling company.

#

11

VC Builder

VC Builder is a loyal contractor of windows installation and wall painting service in Citrus Heights. They do emergency works on the day you call. Free cost estimation is available for all customers. You can get consultations and advice on the high-quality renovation of your property. Their team is the trusted source for commercial and residential customers. They have the highest reputation and offer affordable prices. VC Builder focuses on their customers' needs. Their primary goal is to achieve clients' complete satisfaction and perform all works at the highest level.
Many people will need the services of a home business foundation repair company near them. Are you one of these people? Well, you will find that there are a lot of foundation repair companies in Sacramento.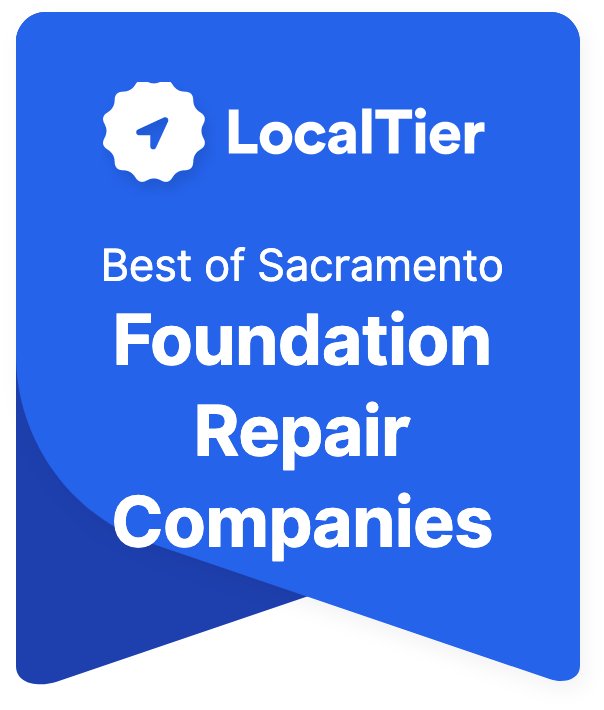 Best Foundation Repair Contractors in Sacramento
Your home or business needs to be set on firm, steady foundations providing you with peace of mind. If there is any damage to the foundations, the whole structure will be unstable. It may pose some danger to its residents or occupants. So you must deal with this matter now rather than leave it until later.
There are numerous foundation repair companies in Sacramento you can call on at any time to ask for their help. In this article, you will also find a list of the top 10 foundation repair companies in Sacramento. This guide could prove a help to you to choose which one to hire.
As any damage to foundations is of great concern, any of these foundation repair companies will act immediately and not waste time coming up with a plan of action.
Any good foundation repair contractor will know the main reasons why a foundation has become damaged or, worse, is on the brink of collapsing. The most common is water damage caused by poor waterproofing, leaking pipes, damaged drainage system or sudden weather disturbances. Also, weak foundations made from substandard materials are unlikely to stand the test of time.
Sacramento Foundation Repair
Foundation works of any type can be very expensive. It will be best to consider the cost when employing a foundation repair companies. Going over their service rates and project cost estimates makes sense, whether for your home or business. You may also want to check if the foundation damage discovered is covered by insurance. However, note that the insurance coverage will still depend on what has caused the foundation damage.
Our Selection Criteria
Each business is graded according to the following criteria:
Qualification
How qualified are they to do the work in their chosen field? Do they have any licenses or certifications?
Availability
Are they open during normal business hours? Are the hours clearly posted on their website and at their actual storefront?
Reputation
What are others saying about them? How well-known are they in the community?
Experience
How many years have they been in business? Have they won any awards or accolades?
Professionalism
How do they treat their customers? Are they courteous?
Hire the Best Foundation Repair Company in Sacramento
The search for the best home business foundation experts can prove challenging. The sites on our list will help you learn more about the top foundation repair companies Sacramento for home business needs. They can carry out basement wall repairs, basement waterproofing services, sump pump and yard drainage. They also offer other products and services. But make sure that the home business needs foundation experts you choose have already obtained the necessary permits before they begin the project.
These business home foundation companies will carry out all the work for any basement wall or foundation issues you have. They can also provide you with flexible payment terms and easy payment options from home business needs. They will also offer free estimates and extended warranties for their work.
Their highly experienced staff have been trained to provide the customer with world-class service and quality work in Sacramento.
These foundation repair companies aim to deliver efficient results promptly and consistently. Their focus is on value and integrity. You may even ask them for their licenses, insurance and certifications. Most of these repair companies in Sacramento have been in this business for many years, gaining experience in foundation building and repairs.
It would be advisable to carry out due diligence when selecting a foundation company for this type of job. It would be wise to obtain at least three quotes from different home business foundation companies before settling on one for home business.
You may also want to carry out some research into the background of these foundation repair companies. But nothing beats word of mouth testimonials from satisfied customers. You also want to get recommendations from trusted friends who have had a similar experience. This information should help you find the right home business foundation repair experts.