Top 10
Sacramento

Hardwood Floor Refinishing Companies & Contractors
Top Best
Hardwood Floor Refinishing Companies & Contractors
#

1

A Fence Repair

A Fence Repair is a wood fence installation and repair service based in Sacramento. They have over 8 years experience working on thousands of wood fence installations and repairs. A Fence Repair guarantees its clients high quality work at reasonable prices. Some of the services they offer include Fence Repair, Fence Installation, Gate Repair, Wooden Fence Services and Gate Installation. It also offers free price estimates to all its clients. The owner Vadim D is also a family man and enjoys spending time with his family playing volleyball and arm wrestling in his free time. His customers are always impressed by his professionalism and have often referred him to their friends and family.

#

2

Capital Valley Floors

Capital Valley Floors is a prescreened floor and carpets contractor located at 7707 College Town Drive Sacramento, CA 95826, United States. They help their clients find the perfect floors for their homes. They are licensed and insured to do installs of prefinished hardwood, laminate, LVP, baseboards, stairs, and demo and specialize in hardwood floor refinishing. They provide different color pairings, from excellent to warm colors, that create unique moods in each room of the client's home. Their Downs H20 luxury vinyl plank uses advanced imaging technology to mimic the natural textures of natural hardwood and give a classic look. The outstanding services they provide to the residents of Sacramento have earned them a five-star rating on yelp.

#

3

Dimensional Iron

Dimensional Iron is one of the most trusted companies in Fairfield. They specialize in patios, fences, sheds, pergolas, outdoor decks, floors, and many more. Their experienced employees help residential and commercial construction assignments. Their main priority is pavilions, shade structures, mahogany furniture, custom milling. Dimensional Iron guarantees a high-quality and fast performance of their work. They follow all the instructions of their clients. Their experienced staffs will finish all works in the shortest time. They are available from the early morning to the late evening.

#

4

Epoxy Armor Systems

Epoxy Armor systems is a five-star rated flooring contractor located in Folsom, California. They offer a limited lifetime warranty for their floors for as long as you own the home. They can transform any old, messy, and stained garage into the garage of your dreams. They are fast, efficient and offer great prices. Their garage floors are impervious to all auto fluids and ultraviolet light. They use Citadel floor finishing systems and the highest quality products with low Volatile Organic Content. All of their installers are experienced and certified. They are A-rated by the Better Business Bureau and have a five-star rating on YELP. Contact them all year round for epoxy solutions.

230 Palladio Pkwy Ste 1227

Folsom, CA 95630

#

5

Ergeon

Ergon is the most customer-oriented construction company in Sacramento. They provide licensed works of a wide range, including fences, driveways, walkways, patios, and other objects. They provide stains, woodworks, gate, and chain links for their clients. Their experienced experts offer fast and friendly service focusing on customers' needs and preferences. They allow homeowners to forget about stress and anxiety about the remodeling of their houses' exteriors. They serve both individual and business estate using the latest techniques and methods. Ergon shares a free vision of the future design and inspires their customers for a happy life in renovated houses.

#

6

F&S FENCING

F&S Fencing is a local family-owned and operated fencing business located in Sacramento. They are dedicated to serving their customers efficiently and always deliver quality work in a reasonable time frame. One thing that makes them stand out is their good and quick communication when dealing with customers. They specialize in wood fencing and gates. They have experience building them from scratch or repairing those that have been damaged. The quality of their work is beautiful and outstanding which always leaves their customers overjoyed and satisfied. At F&S Fencing, they always guarantee quality workmanship as they make sure to only hire certified professionals who they further train and instruct to uphold company standards.

#

7

Linmoore Fencing and Iron Works

Linmoore Fencing and Iron Works Inc is an ornamental iron company based in Citrus Heights. Established in 1995, they have over two decades' experience perfecting their quality and attention to detail. They offer various services like Chain Link Fence Services, Aluminium Fence Services, Automatic Gate Opener Repair, Fence Repair, Wooden Fence Services, Automatic Gate Opener Installation, Fence Installation and Gate Installation. At Linmoore Fencing and Iron Works Inc, they have a fabrication shop and showroom where their customers get a chance to choose fence, iron gate and railing designs as well as coat colours. Customers can also come in to see work in progress. They are known to surpass their clients' expectations through the quality craftsmanship and high-end work that they produce.

7512 Watson Way

Citrus Heights, CA 95610

#

8

Mike's Tile

Mike's Tile is a trusted tiling, kitchen and bath, and flooring company based in North Highlands, California. They specialize in tiling kitchens, floors, bathrooms, outdoor patios, fire places, and more. They were established in 2013, and with more than 9 years of experience in the industry, there's nobody better to call for all of your tiling needs than Mike's Tile. They have an incredible attention to detail and quality that is truly hard to come by in tiling companies these days, and their dedication to professionalism is what sets them apart from other businesses in the industry. They are a family-owned business, and treat all of their clients as though they were a member of the family.

3685 Elkhorn Blvd

North Highlands, CA 95660

#

9

Norcal Construction

Norcal Construction is a prescreened decks and porch contractor located at 8297 Gerber Rd, Sacramento, CA 95828, United States. Their commercial projects include new constructions and repairs/restorations and occupied and fully operational job sites. They also plan, manage, and build multi-phase jobs and offer end to end client experience. They are a small business comprising between 1 to 10 employees that provides affordable services to the Sacramento community. They provide construction and post-construction services, working with trusted subcontractors to maintain accountability throughout the entire build. They offer site cleanups, systems training, final inspections, and move-in coordination during the post-construction. They have a five-star rating on yelp.

#

10

Pro Floors

Pro Floors is a full-service multi-family flooring provider that is located in Gold River, CA. They have a five-star rating on YELP and they strive to meet the customers' needs and expectations. They offer the best quality at the lowest possible price and work with management companies on apartment complexes, business offices, and hotels. They also service the retail customer by making same-day and next-day services available. They are passionate about having the best team to provide the best quality installation service to all their customers. They can quickly and easily resize any unit and, in some cases, cover it with their Pro Floors Lifetime Installation Warranty.

2285 Cemo Cir

Gold River, CA 95670

#

11

Whitmore's Fencing & Construction

138 Sierra St

Woodland, CA 95695

#

12

Zothex Flooring

Zothex Flooring is one of the best contemporary photography companies in Sacramento. They specialize in Carpet Installation, Cabinetry, and Flooring. Their experienced team creates panels, coverings, and wallpapers. They represent all goods for online stores and services. Their key goal is to provide to satisfy all wishes of their clients. They use the most advanced equipment in its work. They satisfy all wishes of their clients.

4021 N Freeway Blvd Ste 100

Sacramento, CA 95834
Are you searching for the best Sacramento hardwood flooring company? Here, you will find a list of some of the best hardwood flooring refinishing companies.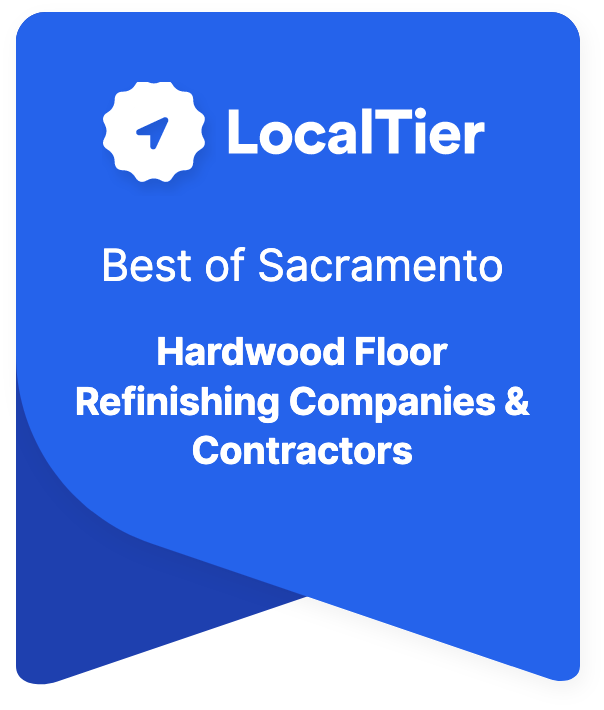 Contact for Top Best Hardwood Floor Refinishing Companies & Contractors in Sacramento
Every day dozens of homeowners in Sacramento will search for "hardwood floor refinishing near me in Sacramento.
Work to refinish hardwood flooring can prove challenging, so you must choose the best hardwood flooring contractor available.
It doesn't matter if your house is old or new, up for sale or just purchased; refinishing damaged or old Sacramento hardwood floors is one of the first things to consider doing when remodelling the interior of your home.
Not only are hardwood floors a fantastic feature, but they also come with several benefits. But they do need love and care. So regular maintenance of them is highly recommended. Not only will it help to increase the hardwood floors durability, but also its shine.
Choosing to hire a local hardwood flooring contractor is a good idea, as they may be willing more often than not to give you a discount. You'll find you don't need to look outside of Sacramento when it comes to hiring a hardwood flooring refinishing contractor.
Though the cost of hardwood floor refinishing in Sacramento is pretty affordable, you need to be careful when choosing your hardwood flooring contractor. Remember you are inviting these people into your home.
You must consider the professionalism and attitude of their staff, the kind of customer service they offer. Also, don't be afraid to ask if they have carried out background checks on their employees.
Also, it would help if you asked them questions like:-
Is the hardwood flooring contractor doing the work themselves, or are they hiring others to do it?
Is the process dustless?
What would happen if the Sacramento hardwood flooring company were to cause damage to your furniture or other parts of your home?
Do they have an insurance policy in place to provide compensation for any damage?
Below is ten of the best hardwood flooring and refinishing companies Sacramento contractors who are popular. These have, over time, gained high rankings in search engines.
But there is no substitute for you carrying out research and due diligence when carrying out home improvements such as hardwood flooring refinishing in Sacramento.
Also, it is a good idea to ask friends or family members for recommendations. Plus, reading through positive reviews left by customers is an excellent place to start.
Our Selection Criteria
Each business is graded according to the following criteria:
Qualification
How qualified are they to do the work in their chosen field? Do they have any licenses or certifications?
Availability
Are they open during normal business hours? Are the hours clearly posted on their website and at their actual storefront?
Reputation
What are others saying about them? How well-known are they in the community?
Experience
How many years have they been in business? Have they won any awards or accolades?
Professionalism
How do they treat their customers? Are they courteous?
Now you are ready to hire a Hardwood Floor Refinishing Contractors in Sacramento
You are now ready to hire the best hardwood flooring refinishing Sacramento has to offer!
Shiny, sparkling hardwood floors will add a touch of elegance to any room. It is an excellent investment as it will last a long time and never lose its appeal.
Any hardwood flooring refinishing should be carried out by a qualified company. Our list will help you choose the best Sacramento hardwood flooring contractor. These companies are only a call away and ready to provide you with the professional help you need.
But, do not forget anything beats carrying out due diligence. So make sure to carry out research and perform reference checks. Take a look online for reviews about each company before making that final decision.
Once you have narrowed your choice down to a couple that you believe is suitable for your refinishing project, take the time to prepare any questions you may want to ask them as part of the interview process.
Remember, you will be paying quite significant sums of money to the Sacramento hardwood floor refinishing contractor you've chosen. So by asking them difficult questions, you'll be able to ensure you select the right company for taking care of your hardwood floors.
It is okay to delve deeper to gather as much information as possible about the refinishing companies. Many of them will make promises that they aren't able to fulfil. So look closely at each one to better understand what they are offering and see if they can meet all your requirements.
When considering installing or refinishing hardwood floors and are looking for professional companies to work with, then look no further than our list of the best Sacramento hardwood flooring refinishing companies.