Top 10
Sacramento

Home Builders & Custom Home Builders
Top Best
Home Builders & Custom Home Builders
#

1

HouseIdea

HOUSEIDEA is a custom home builder/remodeler and full service design build firm in Sacramento offering new home construction, project management and luxury home construction services.

#

2

Solid Construction & Design

Solid Construction & Design is one of the most prominent home remodeling contractors in Sacramento. They specialize in residential home renovations, kitchen remodeling, bathroom remodeling, countertops, shower installations, home additions, new construction, and more. They use the best vendors and suppliers and guarantee that only the best materials will be used in a construction project. They have been remodeling houses for over 15 years and are a family-owned and operated business. They strive for quality work and customer satisfaction. They offer customized service for every client and prove their reputation as an honest contractor. They never push unnecessary spendings to their customers.

5549 Auburn Blvd

Sacramento, CA 95841

#

3

Belru Construction

Belru Construction is a family-owned home construction business based in Roseville. It was established in 2010 and has over a decade's experience in home building and home improvements. They have worked on everything from building new homes from scratch, extensive second story additions to even kitchens and bathrooms. At Belru Construction, they pride themselves for being responsible and accountable to all their clients. Through the leadership of their CEO Dmitriy Trepachko, the staff at Belru Construction provides high quality workmanship and are continuously learning to improve their skills. Dmitry is an experienced builder, project manager and entrepreneur. He uses his acquired skills to motivate his team. They are best known for their custom staircases, fine woodwork and high-end finishes.

#

4

DL Design Construction

DL Design Construction is a reliable family-owned remodeling company in Sacramento. They specialize in windows and siding design, installation, and maintenance. Their staffs have been working in the market for over 10 years, providing fiber cement siding, gutters, windows or garage doors. Their experiences staffs aim to help people in remodeling their homes. DL Design Construction strives to make people felling happy and safe in their homes or office. They never leave their customers without complete satisfaction following the reputation of the best local remodeling company.

9941 Horn Rd Ste C

Sacramento, CA 95827

#

5

Elite Construction and Remodel Corp

Elite Construction and Remodel Corp Shadings is a famous family-owned remodeling contractor in Sacramento. They specialize in recovery after damaged dry rot and termite damage. Their specialists provide their services for residential and commercial clients. Their staffs have certificated to repair the most complex cases. They are proud to have great reviews from their customers, homeowners, stores, shops, warehouses, and others. They always focus on the clients' needs and on the particular environment to get the best lasting results.

4360 Pinell St

Sacramento, CA 95838

#

6

MB Construction

MB Construction is an expert bathroom and kitchen remodeling specialist, in Pilot Hill, CA, since 2009. They are a small family-owned father and son business. Walk-ins are welcome and they provide free consultations as well as virtual estimates. They are budget-friendly and have a wide service offering. Their services include bathroom, kitchen, and home remodeling; windows and electrical services, damage restoration, cabinetry, and flooring. They have built a track record of quality, excellence, and superior service. You can expect consistent professionality, high-quality building materials, and fair pricing from this established firm. Excellent customer service is a value that drives every customer interaction. Call them now to discuss your requirements and let them make your home dreams a reality.

#

7

America's Dream HomeWorks

America's Dream HomeWorks is a family-owned business in the home improvement area serving Sacramento and surrounding areas. They offer a wide range of home renovation services at affordable prices. They specialize in home remodeling, kitchen remodeling, bath renovation and other renovation services. They control the quality of the work throughout the whole process of implementation. Their experienced team has been renovating and improving residential homes for the last two decades. They offer professionally driven services and high-quality building materials for all their customers. Their primary goal is to meet all wishes of the customers.

7115 Watt Ave, Ste 100

North Highlands, CA 95660

#

8

Meacham Construction

Meacham Construction is a reputable home construction company based in Sacramento, California. They specialize in building homes that cater to the personal vision and taste of their clients, while also adding their own unique flare to the entire process. They have been in business for nearly 20 years, and with so much experience in the industry, they know exactly how to build a house that not only looks very aesthetically pleasing, but that will also stand the test of time. They have a team of construction workers that help satisfy dozens of clients each year, and their homes are some of the best in the state. Meacham Construction works within your timeframe and budget to build a beautiful home that you'll actually enjoy living in.

#

9

VC Builder

VC Builder is a loyal contractor of windows installation and wall painting service in Citrus Heights. They do emergency works on the day you call. Free cost estimation is available for all customers. You can get consultations and advice on the high-quality renovation of your property. Their team is the trusted source for commercial and residential customers. They have the highest reputation and offer affordable prices. VC Builder focuses on their customers' needs. Their primary goal is to achieve clients' complete satisfaction and perform all works at the highest level.
Are you looking for the best home builders or new custom home builders in Sacramento?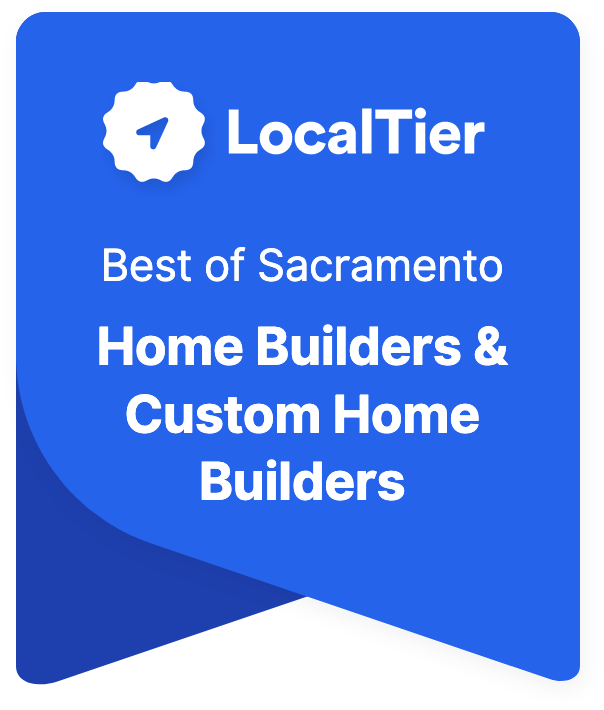 Best Home Builders in Sacramento
Each day, hundreds of homebuyers are looking for the top home builders near them. Your home is your castle!
Building a home is a considerable investment, so choosing the right home builders near to you is crucial. Our list will help you narrow down the best Sacramento custom home builders near you.
Partnering with the best home builders near you that meet your budget and suit your style is essential when planning to build a new home in Sacramento .
The many Sacramento home builders will help you choose the right house design and carry out any changes you want.
But, finding honest, reputable Sacramento home builders near you that will build high-quality homes without cutting corners and back their work with warranties is more critical.
Some Sacramento city home builders will not have the correct documentation to be operating in this industry. These are the ones that will take shortcuts when building your home and can prove very expensive in the future.
Numerous home builders have been and gone in the Sacramento area. Even some well-known home builders, especially those in the luxury home builders market, are not as good as they say they are. Some of these Sacramento custom home builders near you will make customers promises that they can't keep.
Sacramento Custom Home Builders
Finding homebuilders in Sacramento is easy. But we recommend you go through our list of home builders that can meet all your requirements as to what you want in the design of your house and its construction.
Although nothing beats due diligence, below we list ten of the best Sacramento custom home builders who will help you design and build your dream home. These home builders in Sacramento are just a phone call away.
Make an appointment today so you can begin to plan your dream home using the services of a highly qualified team of home builders.
Our Selection Criteria
Each business is graded according to the following criteria:
Qualification
How qualified are they to do the work in their chosen field? Do they have any licenses or certifications?
Availability
Are they open during normal business hours? Are the hours clearly posted on their website and at their actual storefront?
Reputation
What are others saying about them? How well-known are they in the community?
Experience
How many years have they been in business? Have they won any awards or accolades?
Professionalism
How do they treat their customers? Are they courteous?
Hire The Best Sacramento Home Builders
You are now ready to hire Sacramento builders.
Here you have Sacramento very best new home builders.
After setting up a meeting with a home builder, make sure that you ask all of these questions to avoid any misunderstandings or "gotchas".
When was your company established in Sacramento?
How many homes have you built in the Sacramento area?
Are you fully licensed and insured?
How would you compare yourself to other Sacramentohome builders near you?
What are the advantages of the homes that you build?
What kind of new home warranty do you provide?
Are you comfortable with providing references from previous homebuyers?
Do you currently have any model homes we can visit?
If you don't, can you arrange an appointment for me to see a home you built for another local homeowner?
What are the primary energy-saving features of the homes you build?
Do you build only from designs you supply, or can I provide my own set of architectural plans?
What standard features are included in your homes?
What are the additional options and upgrades I can select?
Who will be overseeing the construction of my Sacramento home?
Who do I contact if I have any questions?
How comfortable are you with making changes or upgrades during construction?
How and when will the final cost of my home be determined?
How long is it going to take to build my new home?
Does the community have an HOA (Homeowners Association) and an architectural review committee? If it does, can I obtain a copy of their rules and the amount of any fees?
What is your inspection during key construction stages, at the final walkthrough, and how or when will you address any matters that need correcting or finalizing?