Top 10
Sacramento

Junk Removal & Furniture Hauling Companies
Top Best
Junk Removal & Furniture Hauling Companies
Are you looking for a garbage collection company in Sacramento? We have selected an excellent list of companies for you. If you cannot take the garbage yourself to the landfill, the best solution is to order garbage collection from specialized companies.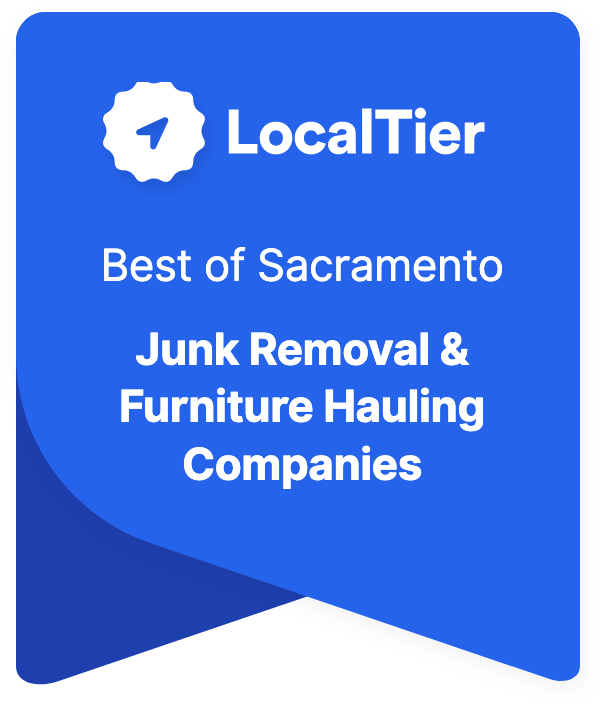 Contact for Top 10 Junk Removal & Furniture Hauling Companies in Sacramento
Of course, we are not talking here about small volumes of garbage that can fit in ordinary bags, but about waste the size of a container or even several containers. Even if you have your own cargo transport, this task is not so easy to solve. According to the law, you cannot just take the garbage and take it to another place in Sacramento. If you throw the trash in the wrong place, then you will be fined.
To get rid of garbage legally, you need to negotiate with a landfill where solid waste is penetrated. As a result, the price of receiving junk at the dump when exporting it will cost no less than the cost of similar services from specialized organizations. If you take into account your time spent and the costs of using trucks, it turns out that garbage removal on its own will cost more. However, there is no point in overpaying – after all, for an acceptable amount, you can entrust the entire garbage collection to experts in this matter.
In addition to the obvious tasks, such as responsibility for the safety of employees, environmental friendliness of production, and respect for the environment, the company is responsible for waste disposal.
In this regard, it is necessary to approach the selection of a waste disposal company in Sacramento carefully. Criteria for selecting a waste disposal contractor:
Providing the entire range of services-from garbage collection and junk removal to the preparation of documents necessary for the inspection bodies;
Availability of a license to carry out activities;
Using multiple disposal methods;
Availability of own transport, special equipment, containers;
Trained staff in the state.
Our Selection Criteria
Each business is graded according to the following criteria:
Qualification
How qualified are they to do the work in their chosen field? Do they have any licenses or certifications?
Availability
Are they open during normal business hours? Are the hours clearly posted on their website and at their actual storefront?
Reputation
What are others saying about them? How well-known are they in the community?
Experience
How many years have they been in business? Have they won any awards or accolades?
Professionalism
How do they treat their customers? Are they courteous?
Now you are ready to choose Junk Removal companies in Sacramento
So, you have already chosen a company for garbage collection. We invite you to find out how processing differs from waste disposal.
Processing is the first stage. It can include sorting, disassembly, cleaning. Recycling involves changing waste so that secondary raw materials, energy, or certain products are obtained. Waste disposal consists in changing the junk so that it can be used again for its intended purpose (recycling), returning it to the production cycle after proper preparation (regeneration), as well as extracting valuable components for their reuse (recovery).
In addition, recycling is understood as the destruction of waste. All waste is conditionally divided into two groups: solid household waste (glass, plastic, food waste) and industrial (medical and biological, radioactive, construction, etc.).
It is desirable to divide household waste into groups:
Waste paper is paper and cardboard. The paper can be in books, newspapers, magazines, notebooks, and printed documents. The main thing is that it should be dry and relatively clean, not soaked in fat or oil. They also willingly accept cardboard — there is a lot of it in packages from various sweets and boxes from furniture and household appliances.
Glass is any cans and bottles: transparent, green, brown, from wine, beer, lemonade, and other beverages.
Metal is primarily tin and aluminum cans. They are accepted at most recycling collection points. However, particular organizations take any scrap metal: metal bottle caps, containers from enamels, lacquers and paints, cans, and any iron pieces in general.
Hazardous waste is batteries, batteries, mercury-containing lamps, and thermometers. They should not be thrown into the general garbage because they can contaminate the environment with substances dangerous to humans.
Three types of methods are used for the disposal of hazardous waste:
High-temperature including fire;
Processing and conversion into secondary raw materials;
Burial.