Top 10
Sacramento

Lasik Eye Doctors in Sacramento for Lasik Eye Surgerys
Top Best
Lasik Eye Doctors in Sacramento for Lasik Eye Surgery
#

1

Douglas Cooper MD - NVISION Eye Centers

Douglas Cooper, MD- NVISION Eyes Centres are professional eye care experts in Sacramento, CA. They take pride in delivering exceptional care to all their patients. They understand that every patient is unique and provide comprehensive eye care services with a personal, professional, and customized approach. Their team of talented surgeons and highly trained staff are all dedicated to delivering the highest-quality medical and surgical care available for your laser eye surgery. Specialties include LASIK, PRK, Cataract, Pterygium Surgery, and Refractive Lens Exchange. Every patient is treated with respect and solutions are agreed upon. When choosing an eye care provider, it is important to choose expertise and professionalism. That is why Douglas Cooper, MD-NVISION Eye Centres are your best choice.

1220 25th St

Sacramento, CA 95816

#

2

Eye Designs Optometry - Arden

Eye Designs Optometry- Arden is a provider of the highest quality family eye care and designer eyewear available in the Sacramento, CA area. Dr. Thomas Murphy started his eye care practice 40 years ago and his family-run business has now grown to three convenient locations. The practice philosophy is simple: provide superior eye care; utilize state-of-the-art technology, offer unmatched quality and selection in eyewear, and empower their patients with the knowledge to care for their eyes in the future. Their technology-assisted eye examinations are all-inclusive, and their doctors are personable and informative. Their commitment to customer service and professionalism is unrivaled and renowned. Look no further for your eye care needs.

1689 Arden Way Ste 1091

Sacramento, CA 95815

#

3

Griffin & Reed Eye Care

Griffin & Reed Eye Care is an all-around eye care company in Sacramento, CA, established in 1974. They provide the following services: laser vision correction, general eye care, optical and cataract surgery. Using the latest procedures and technologies, they care for and protect your eyes, safely and with precision. They are proud to present the latest procedures and technologies to correct your vision with safety and precision. Their new website has informative and useful content with video clips on a wide range of eye care topics. Please contact their Sacramento or Roseville office today to schedule your free LASIK consultation with one of our doctors. Your eyes deserve the best- don't hesitate to contact them.

651 Fulton Ave

Sacramento, CA 95825

#

4

Keith Liang MD

Keith Liang, MD is a specialist eye care company in Sacramento, CA. Their highly qualified and professional doctors provide expert care to all their patients. They offer LASIK eye surgery, Near-Vision Reading, Cataract, Retina, Cornea, and Glaucoma Centres. They also specialise in Dry Eye treatment. They also treat a wide range of medical eye conditions and are experts in their field. Their website contains information about financing and billing as well as how to prepare for your first visit. There is detailed content on various medical eye conditions as well as their many specialty services. Numerous patient testimonials testify to their exceptional quality of service. Call them now for their expert advice.

3160 J St

Sacramento, CA 95816

#

5

Newman Lasik Center

Newman Lasik Center is a premier laser vision practice in Sacramento, CA. Their facilities boast state-of-the-art technology in laser eye surgery and quality vision correction care. They provide a warm, friendly environment where their patients can feel confident in having chosen expert staff and laser vision. Their first consultation is complimentary and you will be given expert advice. They are open four days a week from 8:30 am - 5:30 pm. Their staff is friendly and resourceful. They are specialists in LASIK surgery and pride themselves on their precision and reliable service offering. If you are tired of wearing glasses or contacts, book an appointment to consult with one of the leaders in the industry.

3838 Watt Ave Ste A-110

Sacramento, CA 95821

#

6

NVISION Eye Centers - Roseville

NVISION Eye Centers is the premier provider of LASIK and cataract surgery in Roseville, CA, established in 1999. Led by Richard Meister, M.D, an innovative leader in ophthalmology, NVISION provides the best patient experience using the latest up-to-date technology and treatment by the most talented and experienced surgeons in the industry. More than 1,900 eye doctors refer their patients and trust their own eyes to NVISION surgeons. Procedures that are offered are: LASIK, Cataract Surgery, Photorefractive Keratectomy (PRK), Pterygium, Refractive Lens Exchange They are considered a leading pioneer in developing laser eye surgery into the safe, commonplace procedure that it is today. Call them now for an expert consultation on their wide range of services.

1524 Eureka Rd

Roseville, CA 95661

#

7

Patricia Sierra MD

Patricia Sierra, MD is an O.D Board Certified and Fellowship Trained Ophthalmologist practice in Sacramento, CA. Their practice offers decades of unsurpassed expertise and experience in the comprehensive treatment of complex and advanced cornea, glaucoma, cataract, and laser vision correction, all performed by fellowship-trained eye care specialists. They prioritize customer service, and every patient is treated with the utmost respect. Laser surgery is now a safe, commonplace procedure and they are the experts in their field. Patients testify to their exceptional and professional customer service and their expertise is sought after. If you are looking for expert, caring advice and treatment, then look no further. Call us now so that we can help.

1515 River Park Dr Ste 100

Sacramento, CA 95815

#

8

Richard A Lewis MD

Richard A Lewis, MD is a comprehensive eye care service provider in Sacramento, CA, practicing since1988. His services include LASIK eye surgery, cataract surgery, corneal transplants, and glaucoma treatment and research. His top priority is achieving excellence in everything that he does. This values-based practice is driven by the passion to enhance patient lives by improving their vision. He strives to provide the highest quality and safety through state-of-the-art technology, surgical technique, clinical findings, and treatment as well as excellent customer service. If you are considering laser vision correction, need cataract or corneal eye surgery, or glaucoma therapy he can provide the care you need. He is available to answer any questions you may have and will do his best to make your experience with us a pleasant one.

1515 River Park Dr Ste 100

Sacramento, CA 95815

#

9

Richard D Grutzmacher MD

Sacramento Eye Consultants is a comprehensive eye care service provider in Sacramento, CA, established in 1988. Their services include LASIK eye surgery, cataract surgery, corneal transplants, and glaucoma treatment and research. Their top priority is achieving excellence in everything that they do. This values-based practice is driven by the passion to enhance patient lives by improving their vision. They strive to provide the highest quality and safety through state-of-the-art technology, surgical technique, clinical findings, and treatment as well as excellent customer service. If you are considering laser vision correction, need cataract or corneal eye surgery, or glaucoma therapy they can provide the care you need. They are available to answer any questions you may have and will do their best to make your experience with us a pleasant one.

1515 River Park Dr Ste 100

Sacramento, CA 95815

#

10

Royo Eye and Laser Center

Royo Eye and Laser Center is a specialist ophthalmology practice in Sacramento, CA. They strive to provide excellent customer service and support. They offer many services ranging from simple office visits and refractions to glaucoma checks and LASIK eye surgery. In-office, minor procedures are performed by their highly qualified and professional doctors. They host an in-office optical department with a wide range of fantastic frames to choose from. They want you to see the difference and they do their utmost to ensure that you do. They treat most medical eye conditions, like astigmatism, and far-sightedness. Look no further for your ophthalmology needs. Expect professional, expert assistance at every interaction. They will assist you.

5404 Laurel Hills Dr

Sacramento, CA 95841
Are you looking for the best Sacramento LASIK eye surgeons and LASIK eye surgery centers? You may be medically advised to undergo a LASIK eye surgery procedure. We have researched and highlighted some of the best ophthalmologists and LASIK eye surgeons in Sacramento.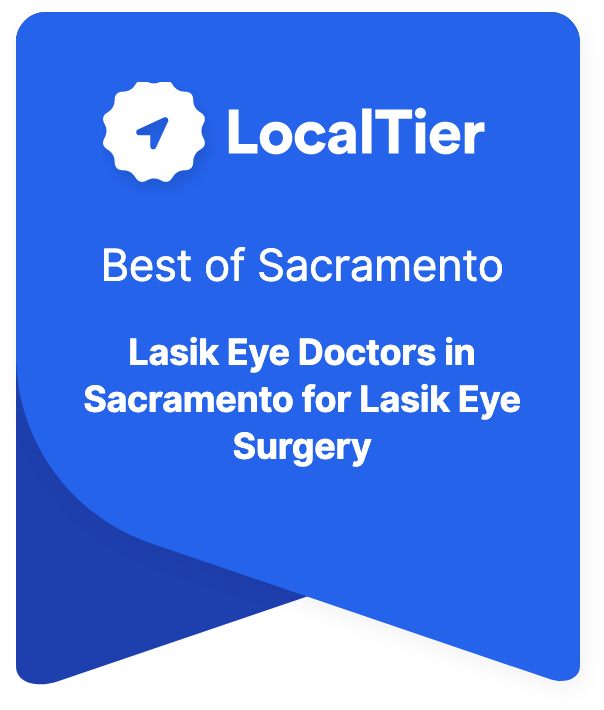 Best Doctors for LASIK Eye Surgery in Sacramento
Got vision problems? LASIK eye surgery can help you solve your problem. To understand this procedure better, in simpler terms, Sacramento LASIK eye surgery is a simple eye procedure that uses a laser to improve vision. An ophthalmologist can do the procedure in 30 minutes or less.
A LASIK eye surgery is commonly done to correct myopia, hyperopia, and astigmatism. Not everyone though can go through this procedure. It will be best to first seek the advice of an ophthalmologist to know if LASIK eye surgery can cure your specific eye concerns. These eye surgeons and specialists are the only ones who can determine and evaluate your current eye conditions. They will tell you if you are suited and fit to undergo LASIK eye surgery.
The cost for Sacramento LASIK eye surgery is a bit high especially for those patients with limited budgets. Generally, it is not covered by medical or health insurance. The reason for this is because Lasik eye surgery is an optional procedure and as such, is not medically required or necessary. Thus, it will be advisable to scout for a LASIK eye center that offers the most affordable and quality LASIK eye surgery.
LASIK Sacramento
To help you find the best LASIK eye surgery center in Sacramento, a list of the Top 10 Best Lasik Eye Doctors in Sacramento is included in this article. This list can help you choose the best LASIK eye doctor who can do the procedure for you.
Our Selection Criteria
Each business is graded according to the following criteria:
Qualification
How qualified are they to do the work in their chosen field? Do they have any licenses or certifications?
Availability
Are they open during normal business hours? Are the hours clearly posted on their website and at their actual storefront?
Reputation
What are others saying about them? How well-known are they in the community?
Experience
How many years have they been in business? Have they won any awards or accolades?
Professionalism
How do they treat their customers? Are they courteous?
Contact The Best Sacramento LASIK Eye Doctors
A lot of people suffer from various vision problems, most of which can be corrected by LASIK eye surgery. The most common one is astigmatism, a condition where you can either be near-sighted or far-sighted, depending on your case. This eye condition is due to lifestyle and unhealthy habits, but there are also claims that it can also be hereditary. Lucky are the ones who can undergo Sacramento LASIK eye surgery to correct their vision problems.
Not everyone is blessed to have a 20/20 vision. For those who can't see clearly without the aid of eyeglasses or contact lenses, it is very hard to work and function normally, daily. Every day is a continuous struggle for them. This is the main reason why LASIK eye surgery can be their biggest hope. It is their ray of sunshine after the rain. Sacramento LASIK eye surgery gives them a new view on life, literally, that is.
If you are one of those patients who were advised to have LASIK eye surgery, it will be best to go through the list of the best LASIK eye surgeons on this page. You may also take your time to read the ophthalmologist ratings and customer reviews. Lastly, once you have chosen the right Sacramento LASIK eye doctor and LASIK eye surgery center for your procedure, prepare yourself better for the procedure by doing some research. A positive mindset can help you go through this in a healthy and happy way. Clearly, a whole new world awaits you after your successful Sacramento LASIK eye surgery.