Top 10
Sacramento

Massage Therapists & Massage Therapys
Top Best
Massage Therapists & Massage Therapy
#

1

Davis Massage and Body Therapy

Davis Massage And Body Therapy have been offering community massage services since 2014 in Davis, CA. The longest-running and most financially stable of all community massage centers in the USA today. Here they have more than ten years experiencing in treating traumatic stress through massage therapy. They also offer muscle re-education, cranial-sacral therapy and physiotherapy techniques derived from Thai and TuiNa massage. Through these forms of treatment, you will find you are offered an easy, quick, affordable way to address the pain you are suffering from at the moment. Unlike other forms of massage therapy, the service they offer doesn't require the use of messy oils or having to undress. So you can very quickly get on with the rest of your day.

1105 Kennedy Pl Ste 5

Davis, CA 95616

#

2

Jungle + Grace Massage Studio

Jungle + Grace Massage Studio has been providing a wide range of massage therapy treatments since 2006 in Sacramento. They provide treatments specifically to help people recover after undergoing plastic surgery. With over 15 years of experience in orthopedic massage therapy, they have devised plans that aid patients recovery from plastic surgery faster. They also provide services such as vacuum therapy, manual lymphatic drainage and cupping. All of which can help a person to recover quicker and more efficiently after any kind of surgery. They are more than happy to take the time out to discuss any questions you may help create the perfect plan to help in assisting with recovery following surgery.

2775 Cottage Way Ste 22

Sacramento, CA 95825

#

3

Just Relax Massage

Just Relax Massage has been offering a unique massage service to the people of Sacramento since 1993. Along with providing their clients with deep tissue and Swedish massage sessions, they offer several other services. Clients are able to arrange appointments to undergo cupping or a mix of Swedish and Thai therapies. No matter how long each session lasts, they ensure that they provide their clients with a unique and rich experience. This is because they take the time to listen carefully to what their clients have to say. Every session is specifically tailored to meet the client's needs and will be carried out by a highly trained massage therapist.

1103 Fulton Ave

Sacramento, CA 95825

#

4

Kang Health Center

Kang Health Center has been providing massage therapy sessions to the people of Sacramento since 2019. Each of the massage therapy treatments they offer is able to help treat different health issues. The main ones available here are full-body TuiNa massage, topical therapeutic massage, and traditional Chinese massage. With more than ten years of experience, massage therapists create a customised session plan to meet each client's particular requirements. Plus, all sessions here can be arranged for the most convenient time for their clients, allowing them to lead more healthy and productive lives in the future.

6519 Savings Place 250/255

Sacramento, CA 95828

#

5

Lisa Souza CMT

Lisa Souza, CMT, has been working closely with people from all walks of life in Sacramento since 2006. The whole aim of the services provided here is to help people develop a stronger connection between their mind, body and spirit. With more than 15 years of experience, they are able to provide deep tissue and neuromuscular therapy massage sessions to treat a wide array of health problems. They also like to work closely with their clients to enable them to be able to discuss what their problems are freely. So allows them to create the ideal massage therapy plan that will meet their particular needs.

4755 J St

Sacramento, CA 95819

#

6

Mae's Acupressure Massage & Acupuncture

Mae's Acupressure Massage & Acupuncture has been able to provide high-quality massage and acupuncture services to the people of Sacramento since 2010. With over 12 years of experience, the team here can help you relax and help your body heal. Should you wish, they can provide you with a combination of massage and acupuncture treatments that can prove even more effective in dealing with all kinds of health problems. Everyone treatment offered here is designed so it can be customised to meet the particular needs of each person seeking their help.

1007 7th St Ste 212

Sacramento, CA 95814

#

7

Massage Heights

Massage Heights, Del Paso Road, Sacramento has been providing various massage therapy treatments since 2013. The kinds of treatments offered here include hot stone therapy, face, prenatal, sports, deep tissue and Swedish massage therapy. With over eight years of experience, highly skilled and compassionate massage therapists can identify what form of massage will help their clients deal with any health problems they have. Plus, each of their treatments is customised to ensure that the best results possible are achieved. This means each plan will be tailored to each client's specific and unique requirements.

2761 Del Paso Rd Ste 100

Sacramento, CA 95835

#

8

Natural Healing & Massage

Natural Healing & Massage has been providing massage to the people of Sacramento since 2010. Initially, they offered Therapeutic Massage therapy, but over time have chosen several other forms of massage therapy. Today, they can treat a variety of different health problems using Swedish, deep tissue, sports, and Myofascial massage therapy. Also, they treat health problems using Reiki and Reflexology techniques. With more than ten years of experience, they are able to provide their clients with customised plans to meet their particular needs. They take the time to find out exactly what the problem is to provide each client with a level of treatment that is second to none.

2830 I St Ste 107

Sacramento, CA 95816

#

9

Now +  Zen Acupuncture

Now + Zen Acupuncture was established in 2019 in Sacramento and offers access to a varied range of massage therapies. They combine ancient Eastern medicinal therapies with modern amenities to help improve their client's health, beauty and wellness. The types of treatments offered here include acupuncture, medical massage, and cupping. All of which help relieve tension and improve circulation and help reduce pain and eliminate toxins from the body. With over 15 years of experience, they can customise every treatment to meet the individual's needs. They also design plans that will address the root cause of any health problems a person is experiencing.

815 30th St

Sacramento, CA 95816

#

10

Rize Therapy

Established in 2016, Rize Therapy has been providing different massage therapy treatments to the people of Sacramento. They specialize in the treatment of muscular dysfunction and pain disorders through advanced massage therapy. With over eight years of experience, Rize Therapy can provide you with a course of treatment that will meet your particular requirements. Before treatment begins, they carry out a pre-assessment, so they can devise an approach that will help you deal with your health problems more effectively. Plus, if your time is limited, they can arrange to carry out any treatments in the comfort of your own home.

930 Alhambra Blvd Ste 293

Sacramento, CA 95816

#

11

Sacramento Massage Studio

Sacramento Massage Studio has been providing several different massage therapy treatments in Sacramento since 2011. The kinds of services that they provide include Integrated massage, deep tissue and prenatal massage sessions. They also offer facial massage sessions along with reflexology and cupping treatments. With more than ten years of experience, the highly qualified therapists at Sacramento Massage Studio can customize each of the treatments they provide to each client's personal needs. As they only offer a limited number of sessions each day, their clients are given the personal attention they deserve and feel comfortable with.

2301 J St Ste 100

Sacramento, CA 95816

#

12

Therapeutic Touch CMT

Although only established in 2014 in Sacramento, Therapeutic Touch CMT has offered personalised massage treatments since 2007. Along with providing Swedish, deep tissue and prenatal massage treatments, they now offer a range of other holistic therapies. Today they offer sessions of reflexology, hot stone and aromatherapy treatments to their clients. With over 14 years of experience, Therapeutic Touch CMT can create therapies that will help meet each client's individual requirements. In order to do this, they like to take time to get to know their clients so that the best course of treatment can be devised for them. Through these personalised sessions, their clients soon learn how beneficial massage therapy is.

25 Cadillac Dr Ste 102

Sacramento, CA 95825
Are you feeling tired with sore and aching muscles? A massage therapy session is just what you need right now. No need to worry as you can easily find the best massage therapists in Sacramento.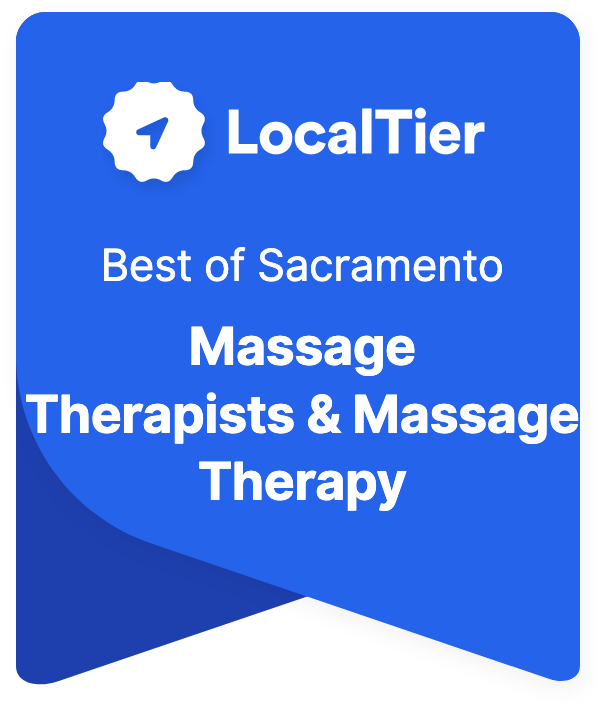 Find the Best Massage Therapists & Massage Therapy in Sacramento
Imagine starting your day faced with all the loads of work waiting for you. As you go about doing your daily chores, you may become so busy and forget that you are just human too. You get tired and bogged down. You feel all those muscle pains that can't go away. Do you undeniably yearn for a relaxing massage? Go and ask the help of an experienced massage therapist to knead and thump on those muscles, removing the aches and pains brought about by heavy workloads and tons of stress. "Please take those pains away!" is a shout silently screaming from inside of you. There is no better moment for you to relax and treat yourself to those pampering and healing massages but now.
But where can you find the right massage therapist who will give you exactly what you need? A massage therapist who can allow you to have the best massage therapy session that you long for. You do not want to make the wrong choice here lest you'll end up with more aching body parts than what you had before. You need to find those reliable, skilled massage therapists who can provide you with the best therapeutic and quality massage.
There are several massage therapists in the Sacramento area right now. Each one may provide different types of massage to suit our needs. They can offer a wide variety of massage treatments which may include aromatherapy massage, Swedish and Shiatsu, Deep Tissue massage, trigger point, foot reflexology, hot stone therapy, TMJD treatments as auxiliary treatment jaw joints problems, pre-and post-natal massage, manual lymph drainage, medical and sports massage and a whole lot more. You may just choose the right one to provide you with the best massage therapy session. Get in touch with them to ask for the specific therapeutic and healing massage services that they offer.
Finding the best massage therapists may not be that hard. Included in this article is the top 10 best massage therapists in the Sacramento area. This list is for you to find the best massage therapists who can give you the massage therapy session that you may be looking for. They are all skilled and highly trained massage therapists who can provide you with the best massage experience that is worth every penny you'll spend.
Our Selection Criteria
Each business is graded according to the following criteria:
Qualification
How qualified are they to do the work in their chosen field? Do they have any licenses or certifications?
Availability
Are they open during normal business hours? Are the hours clearly posted on their website and at their actual storefront?
Reputation
What are others saying about them? How well-known are they in the community?
Experience
How many years have they been in business? Have they won any awards or accolades?
Professionalism
How do they treat their customers? Are they courteous?
Now you are ready to hire Massage Therapist in Sacramento
Not everyone has the same massage therapeutic needs. Some may be a bit sensitive to touch and would prefer light massage to deep tissue therapy. Others may have existing medical conditions that they need to address. The best massage therapies can be designed and customized according to every person's needs and requirements. Just let the massage therapists know beforehand. Inform them of your current medical condition and what specific parts of your body need healing. These professional massage therapists are trained to provide the best specific massage techniques.
Their common goal is to help our clients improve their health and well-being. These massage therapists would love to see you enjoy the massage and feel good after a worthy and relaxing massage therapy session. You may leave all your pains and aches with them. So, what does your body need right now? To relieve yourself of muscle pains and discomforts? Go over the list of the top 10 best Sacramento Massage Therapists & Massage Therapy. Check each one and what they can offer. Once you've selected the best massage therapist of your choice, check your schedule, and book your appointment. Some of these top massage therapy clinics even offer a complete package to include spa and skincare. The complete works to make you feel good all over. One thing is for sure. A visit to these experienced massage therapists will leave you feeling refreshed, relaxed, and free of any stress and muscle pain. This is exactly what you need. So go ahead and book a massage therapy session now and get the best massage experience ever. You simply deserve it!