Top 10
Sacramento

Party Bus Rental Companies
Top Best
Party Bus Rental Companies
Do you need a party bus in Sacramento? We can suggest the best party bus rental companies.
It is hard to surprise modern people: restaurants and nightclubs have bored everyone, and there are not many in our city, so the likelihood of having an original party is diminishing. Where today you can spend an evening so that guests will remember it for a lifetime?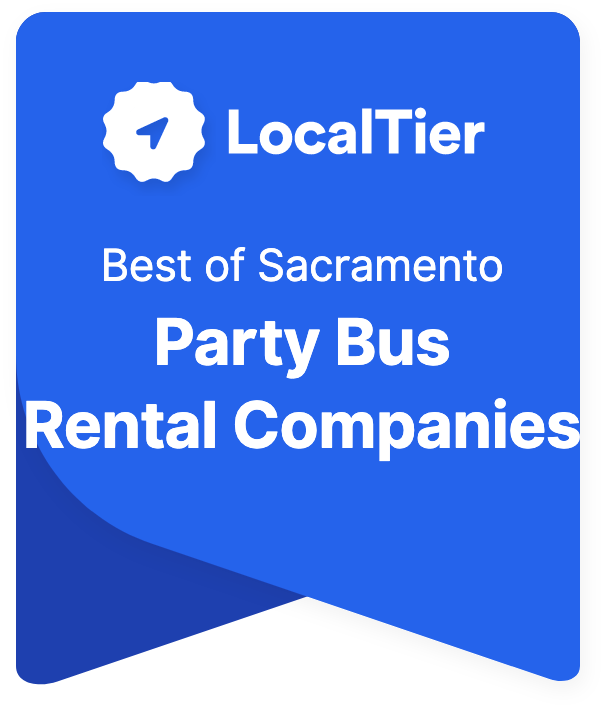 ##Find The Best Party Bus Rental Companies in Sacramento
Among the "findings" of our time stands out party bus - a nightclub on wheels. You cannot just drive around the city on such a bus, but also dance, sing karaoke, drink cocktails, and socialize with guests. Club buses combine the ambiance of a nightclub and a limousine. Party bus is a commercial transport for parties and celebrations: adult, children's, corporate and friendly. It is an ordinary vehicle outside, but inside - it can be a bar, dance floor, karaoke club, and even a restaurant on wheels. Once you are inside the party bus, you are in the city's quirkiest nightclub.
A party bus has everything you need for a small but complete party: sofas, tables, bar counter, dance floor, plasma screens, light-music system, restroom, and cloakroom. You can create an unforgettable birthday, party, corporate event, or even a wedding. Suppose your holiday is very cheerful, noisy and active. In that case, an ordinary limousine will not do. You need transport in which it is possible not only to communicate but also to dance. There is such a transport - party bus.
We have selected for you the best party bus rental companies. Party bus is a new word in the entertainment industry, so you can be 100% sure - you will not think of a more exciting and fun celebration arranged by party bus. You just have to want it, and your party will go anywhere without interruption.
Our Selection Criteria
Each business is graded according to the following criteria:
Qualification
How qualified are they to do the work in their chosen field? Do they have any licenses or certifications?
Availability
Are they open during normal business hours? Are the hours clearly posted on their website and at their actual storefront?
Reputation
What are others saying about them? How well-known are they in the community?
Experience
How many years have they been in business? Have they won any awards or accolades?
Professionalism
How do they treat their customers? Are they courteous?
Now you are ready to choose the right party bus in Sacramento
How to choose the right party bus? Let us look at the main aspects to consider when selecting repair comapnies to rent a party bus in Sacramento
If you are going to a sporting event or concert, chances are you are not the only one with the idea. Therefore, booking in advance will ensure that you get the best bus with all the facilities you need.
A party bus is a regular party, so you need to know how many people will be attending. Know your headcount before you choose your vehicle.
Plan your route and destination. This might seem obvious if you rent a party bus to go somewhere, but most buses make several stops. Are you going out for dinner before the concert? Let the driver know the holidays so he can plan your route and you arrive as quickly and safely as possible.
At night, the hourly rate can be higher. Get to know what will happen if you extend the rental time. That is, take into account tips or other taxes or fees. Many people rent a party bus for a group of people, spreading the cost evenly. Therefore, if you are the organizer, you should know the total cost of the evening so that everyone can contribute evenly.
If you rent an adult bus, there is a good chance that adult beverages will be consumed. So make sure you know what you want and plan for good drinks. If you work with an excellent transport company, they can help arrange refreshments purchased before the trip or even in the evening when you are off the bus and at one of your destinations.
Finally, you have learned that a party bus is fun. So plan a night out and use our list of repair companies to rent a party bus in Sacramento and stay with only a positive experience.