Top 10
Sacramento

Personal Fitness Trainers & Personal Training Gyms
Top Best
Personal Fitness Trainers & Personal Training Gyms
#

1

9Round - Sacramento

9Round Sacramento is a fitness gym located at 1028 Florin Road Sacramento, California 95831. They offer a 30-minute kickbox fitness program that improves their client's strength. They also provide free workout sessions for first-time visitors and residents only with no obligations. They do not allow clients under 18 years into the gym unless accompanied by an adult. They provide trainers on every floor to guide clients through every station and show them all the moves to prevent injuries. They let the clients drive their fitness forward by providing an extended two-week introductory package with unlimited workouts and a pair of hand wraps for only $39. Contact them today to schedule your training.

1028 Florin Rd

Sacramento, CA 95831

#

2

CrossFit Loco Ocho

CrossFit Loco Ocho is a physical fitness gym located at 4120 El Camino Ave. Sacramento. They are open Monday to Friday from 5 am to 6 pm and from 7 am to 9 am on Saturdays. They program an ever-changing variety of exercises that are constantly varied functional movements performed at high intensity. They provide incredibly effective strength and conditioning programs used by athletes in all levels of fitness. They provide 43 classes times a week which start on time at the top of every hour. They do not charge a sign-up or set up fee but provide affordable monthly and annual packages. Their intense workout programs and state-of-the-art gym equipment have a 4.8-star rating.

4120 El Camino Ave Ste B

Sacramento, CA 95821

#

3

East Sac Fitness

East Sac Fitness is a physical fitness gym located at 4471 D St, Sacramento, CA 95819, USA. They have state-of-the-art equipment and an extensive class schedule in a boutique fitness setting. They provide flexible programming and multiple membership options with fitness experts qualified in all areas to ensure their clients' fitness programs are successful. The staff works together to integrate the clients' training to help them achieve their fitness goals. They are open Monday to Friday from 5 am to 9 pm, and Saturdays and Sundays from 7 am to 6 pm. They have a wide range of classes specially designed for their client's needs, from the experienced athlete to the clients looking to lose weight and remain active.

4471 D St

Sacramento, CA 95819

#

4

Kaia FIT Natomas

Kaia FIT Natomas is a physical fitness gym located at 1435 North Market Blvd, Suite 3, Sacramento, CA 95834 United States. They have a core strengthening program that focuses on function and muscle programs. They are a women's fitness program that delivers personalized training in a group atmosphere and recognizes the importance of simple exercises and movements. Their fitness professionals teach healthy eating habits by giving nutritional guidance that includes meal plans and recipes. They have themed fitness-focused events in which their clients participate and maintain their fitness in a fun way, offer Kaia fitness coach training, and have a Kaia fitness clothesline. Visit their website today to learn more about them and to enroll in the Kaia program.

1435 N Market Blvd Ste 3

Sacramento, CA 95834

#

5

Level Up Fitness

Level Up Fitness is a certified physical fitness gym located at 6350 Folsom Blvd, Ste 160 Sacramento, CA 95819, United States. They specialize in individual and couples training and have a unique style of training. They help clients all over the Sacramento area meet and exceed their fitness goals. They have skilled, professional, and certified trainers who can develop customized training programs for each client to maximize results and keep the clients motivated. They teach the proper nutritional habits to their clients and encourage them to integrate diets and physical exercises into their lifestyle to attain new levels of fitness while remaining healthy. They use a wide range of fitness techniques to build muscles, endurance, and flexibility.

6350 Folsom Blvd Ste 160

Sacramento, CA 95819

#

6

Milestones Movement Therapy

Milestones Movement Therapy is a sports massage therapist located at 1801 Hanover Dr. Suite D, Davis CA, 95616, United States. Their premier massage and personal training studio offer medical massages, sports massages, deep tissue massages, prenatal massages, medical massages, functional movement therapy, and individual training classes that are customized to help clients achieve their fitness goals. They have a team of certified personal trainers, massage therapists, and functional movement specialists. They offer gift certificates for occasions such as birthdays and holidays, which are redeemable for any of their massage services, practical movement therapies, or personal training sessions. They also offer free, no-obligation ten-minute consultation to help clients choose between their packages.

1801 Hanover Dr Ste D

Davis, CA 95616

#

7

Shape Health & Fitness

Shape Health & Fitness is a personal trainer located at 5363 H. St, Sacramento, CA 95819, United States. They use a simple proven system to transform their clients' lives. Their programs are doctor recommended to improve your general health and fitness. They have somatotype workout training that is designed to help clients with different body types improve their fitness. They educate their clients on the diet and nutrition habits to incorporate into their lifestyles to improve their fitness and body strength. Visit their website to watch and read satisfied clients' testimonials and see their complete list of services. Join their community today to achieve your fitness dreams.

5363 H St

Sacramento, CA 95819

#

8

Time To Be Fit

Time To Be Fit is a five-star rated fitness gym located at 3711 J St, Sacramento, CA 95816, United States. They have no membership fees, have a monthly menu of options, provide a private atmosphere, are experts at training professionals, have small class sizes, and open their doors to beginners. They established themselves in 1995 and have provided a broad spectrum of fitness options to all their clients in a unique environment ever since. They provide private and group training experiences with certified trainers who understand the goals and limitations of each client. They provide the appropriate modifications and adjustments to the fitness training program to optimize results. Contact them today to start a personalized training program.

3711 J St

Sacramento, CA 95816

#

9

We Support Fit

We Support Fit is a fitness gym located at 2828 Marconi Ave, Sacramento, CA 95821, United States. They have state-of-the-art equipment and certified trainers that help the clients achieve their fitness dreams. Their personalized training programs have earned a 4.5 Star rating on yelp. The gym is always clean, and the staff and trainers make the clients feel comfortable. Their training programs are affordable for their clients. The gym is small and services residents of Sacramento. The trainers provide private and group training sessions, and the training programs are specialized to each client's body type to optimize results. Visit their website today to choose one of their fitness packages.

2828 Marconi Ave

Sacramento, CA 95821
Are you searching for Sacramento personal fitness trainers or the best personal training gyms in Sacramento? Read this article for more insights.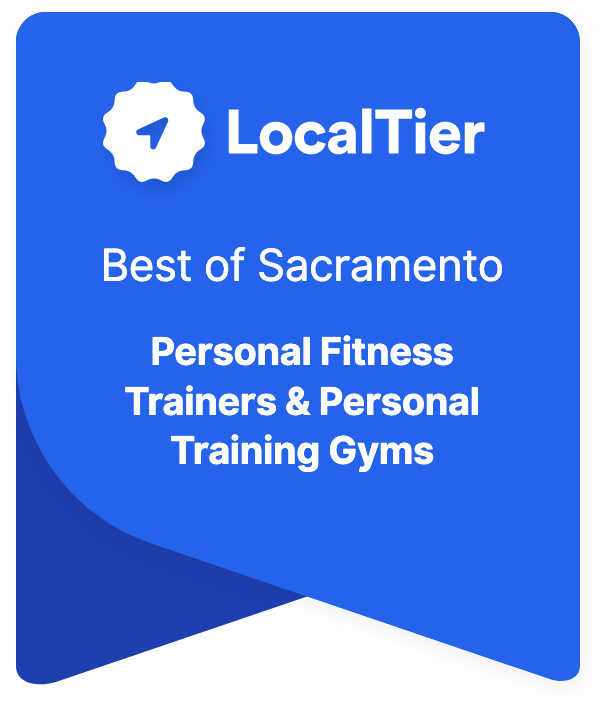 Here are the Best Fitness Trainers & Personal Training Gyms in Sacramento
Why is physical fitness so essential? Physically fit people are healthier, less prone to health issues, and generally feel amazing. Taking the step to be physically fit is more than just exercise; you must make the necessary changes to your lifestyle.
The lifestyle that you live today will, in a big way, contribute to how you live tomorrow. It is essential to follow through with your exercise routine, or it's high time you engaged in one.
Personal fitness training and daily exercise are part of this change, but eating healthier can also play a massive role in your journey. Physically fit individuals usually adopt healthy habits in their daily life. Making such massive changes in your life can be difficult. Still, personal fitness trainers can help by providing you with the tools, the motivation, and the education to get you on track to a healthier lifestyle.
Becoming fit will impact your mental health positively. When your body is fit, it positively affects your brain function by elevating blood flow to the brain. Reducing stress is one of the significant advantages of being active daily. Getting into a regular exercise routine will boost your energy levels and release hormones associated with improving your moods.
Several Sacramento personal fitness trainers located in the metro area, offer free initial consultations to map out a training program tailored to your specific needs. Quite many have been serving this area for years; their team is trained and certified in nutrition and the fitness regiments you need to succeed.
Whether you are looking to lose weight, increase flexibility, add muscle, or increase energy, they will inspire and provide the motivation you need to reach your objectives.
If you are searching for help to get in shape, here are the top 10 personal fitness trainers in Sacramento to help you achieve your goals.
Our Selection Criteria
Each business is graded according to the following criteria:
Qualification
How qualified are they to do the work in their chosen field? Do they have any licenses or certifications?
Availability
Are they open during normal business hours? Are the hours clearly posted on their website and at their actual storefront?
Reputation
What are others saying about them? How well-known are they in the community?
Experience
How many years have they been in business? Have they won any awards or accolades?
Professionalism
How do they treat their customers? Are they courteous?
Now You Are Ready to Hire a Personal Fitness Trainer in Sacramento
Sticking to a training program is not always easy. You want to exercise, eat right, and lose weight, but you might need a little extra motivation. When you choose a personal fitness trainer, it makes it much easier to stay within a program. This list has some of the most top-rated personal fitness trainers. It is upon you to take that first step into healthy living with the best personal fitness trainer in Sacramento city.
A lot goes into curating a personal exercise routine, so finding the right trainer is essential to accomplish your goals. Doing thorough research on the fitness trainer you want to hire is a good idea, and it will help you understand your goals in your fitness journey.
Sacramento city has some of the best personal fitness trainers. You do not have to travel out of your local area to find a trainer as they are near you, waiting to offer you the help you need.
The gyms in Sacramento city also have all the equipment to make your exercise routine much better. You should book your first gym class with the best trainers the city has to offer.
Residents of the Sacramento and surrounding cities will find some of the best in the area on this list, making it easy to choose one for their needs. Some have more than one location, so it is easy to find one near you or choose a fitness trainer to come to your home, office, or other location.