Top 10
Sacramento

Pond Builders and Pond Excavation Contractors
Top Best
Pond Builders and Pond Excavation Contractors
Would you like to have a beautiful pond in your yard or plan to build a pond in a park? These top ten pond builders and pond excavator contractors in Sacramento can help you have this additional new feature in your yard.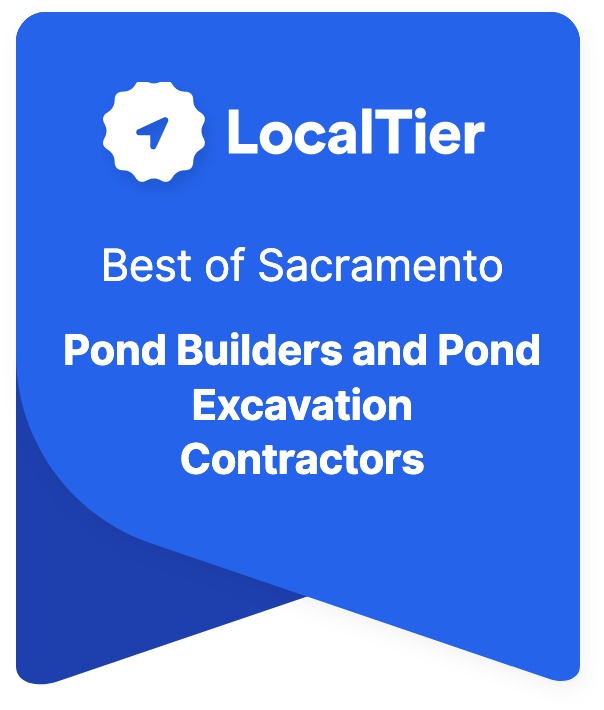 Contact for the Best Pond Builders and Pond Excavation Contractors in Sacramento
Any pond can lend a different look and feel to any yard or garden. As the pond sits there amidst all the greens, the ambiance can take a different turn. Whether it's a pond filled with lotus and lilies, or a pond where colorful fishes swim around, it will always be a pleasant sight to behold and enjoy. A pond will always give a special touch to any property where it stands, whether in a private yard or a public place. Building your pond can be done much easier with the help of an experienced pond builder contractor.
It would be best to know how your pond will look before hiring a pond builder and excavator. You must decide whether it will be in-ground or above-ground, filled with fishes, or will stand as a decorative piece. Gather all your ideas together and write them down. When you sit down with your chosen pond builder contractor, you can discuss all the details with them. Make sure to let them know what you want and how much you can afford to spend. It will be easier for them to map out the plan and process if you have clear and open communication.
To help you find the best pond builder contractor for your project, this list of the top ten Best Sacramento Pond Builders and Pond Excavation Contractors is included in this article. Do take note that some Sacramento Pond excavation contractors can dig holes but may not be skilled to build the pond. It will be advisable to consult with your chosen local pond builder contractor about the specifics before you start with the job.
As you go through the list, pay attention to the type and scope of services they offer and whether they are licensed and certified. It will also be wise to get the services of a pond builder contractor who has an extensive experience in pond building. You may also do some research to get information on their background and what their customers are saying about the jobs that they've done for them.
Our Selection Criteria
Each business is graded according to the following criteria:
Qualification
How qualified are they to do the work in their chosen field? Do they have any licenses or certifications?
Availability
Are they open during normal business hours? Are the hours clearly posted on their website and at their actual storefront?
Reputation
What are others saying about them? How well-known are they in the community?
Experience
How many years have they been in business? Have they won any awards or accolades?
Professionalism
How do they treat their customers? Are they courteous?
Now you are ready to hire Pond Excavation Contractors in Sacramento
The pond builder contractor that you will hire must be equipped with the right tools and equipment, highly skilled and properly trained crew, and must adhere to strict safety standards. They must have all the necessary building permits and licenses before starting with your pond project. These build pond builders must always ensure that the final product is done for ultimate customer satisfaction.
Remember, your newly built pond is meant for you to cherish and enjoy, so you better select a pond builder contractor who knows how to do their job well. Ask around for referrals and recommendations. The best pond builder and excavator can cater to all types of residential and commercial customers. They can build all sorts of ponds - golf ponds, city ponds, parks, recreation ponds, or a tiny little pond in your yard. No work is too small nor too simple for them as they'll deliver the same quality of service for everyone.
Let your chosen pond builder contractor design and create the pond of your dreams. As you stand before your newly built pond while sipping a cup of warm coffee at hand, you'll thank yourself and your pond builder for doing a great job.