Top 10
Sacramento

Printing Companies & Commercial Printers
Top Best
Printing Companies & Commercial Printers
#

1

Minuteman Press - Midtown Sacramento

Minuteman Press is a professional web designing agency in Sacramento. They specialized in web and graphic design and printing services. They have earned a high reputation in the market because of the exceptional quality of their products. Their team is dedicated to the customers' complete satisfaction and never stops working until reaching the best result. They provide their services at a competitive price and use the customer-oriented approach in their work. Their experienced staff offers the best solutions for the specific business implementing the frontier technologies in the projects.

930 Alhambra Blvd Ste 80

Sacramento, CA 95816

#

2

Primetime Colors

Primetime Colors is a trusted printing service company in Sacramento. They specialize in sign making, screen and T-shirts printing, and any graphic design. They serve the most demanding customers by creating unique products. They provide a service of automatic estimations of the customers' orders on their site. Their experienced team meets all clients' wishes and desires, providing customized service. Their staff create and print high-quality items and give the electronic version to the clients for free. They are always happy to discuss the peculiarities of the order via phone or email.

1015 25th St Ste 280

Sacramento, CA 95816

#

3

On-Line Printing and Graphics

On-Line Printing and Graphics is a highly qualified graphic design and printing service in Elk Grove. They specialize in designing and printing unique images and pictures for both individuals and business clients. Their experienced team has served the local business for years, providing the best results for all graphic and printing needs. They create infographics for the customers' sites and reviews, draw digital images and prepare animation clips for publishing on the internet. They are professionals in any printing operations at various materials, including fabric, plastic, and ceramics.

9245 Laguna Springs Dr Ste 200

Elk Grove, CA 95758

#

4

Ink Monkey Graphics

Ink Monkey Graphics is the leading printing service in Davis. They specialize in all sorts of printing and embroidery, both for local and distant customers. They accept the orders for the individual style of clothing and produce brand books for companies. Their experienced team has been providing recognizable printed screens, banners, and billboards for almost 20 years. They offer glad stoles, promotional items, business cards, wearable printed garments, and many other things. Their publishing service is beyond any expectations. They always finished the work on time with the highest quality.

2500 5th St

Davis, CA 95618

#

5

Promote Me

Promote Me is a family-owned and progressive company in Roseville. They specialize in producing business gifts and promotional products. They offer the creation of branded merchandise for events and regular use by companies. Their experts ensure the customer in the best results making them happy and completely satisfied. Promote Me helps local non-profit establishments, chambers, schools, and charities promote their community services. They will be pleased to contribute to their customer's success and growth. Their team provides the services in the shortest time at a reasonable price.

931 Washington Blvd Ste 110

Roseville, CA 95678

#

6

R & M Framing

R & M Framing is one of the leading printing service companies in Sacramento. They specialize in picture framing, shadow boxes, oil paintings, and printing on sports jerseys. Their experienced team has been working for the clients' growth and promotion for over 20 years. They offer particular suggestions for artists and collectors. They have an online branch for ready hand-made frames and goods to satisfy their customers' needs quickly and efficiently. They focus on the clients' requirements and exceed all expectations bringing confidence and unique feeling to their customers.

1200 S St Ste C

Sacramento, CA 95811

#

7

Time Printing Solutions Provider

Time Printing Solutions Provider is a well-known and reputed printing company in Sacramento. They specialize in signage and printing services for various needs. Their professional staffs have been working for over 50 years in the printing business, meeting all the wishes and requirements of their customers. They focus on their clients' needs and provide large format and atypical printing on paper, fabrics, plastics, and clothes. They are happy to please their customers with affordable prices and high-quality results. Their staff is dedicated to finishing all works on time.

161 Commerce Cir Ste A

Sacramento, CA 95815

#

8

Imprint Direct

Imprint Direct is a prominent printing and sign-making service in Sacramento. They specialize in printing, window, vehicle, boat lettering, sublimation, cut vinyl, banners, billboards, and road and yard signs. They produce interior signs and tables for offices and schools, window decoration, and printed plate replacement. They position themselves like a commercial printer but not an ordinal printing center. They use the most modern and efficient cloud technologies for producing their items. They aim to develop the local community and let people know everything about their surroundings.

#

9

Arden Signs Banners Print & Embroidery

Arden Signs Banners Print & Embroidery is a locally owned and trusted advance printing service in Sacramento. They specialize in full service of signs, graphics, and printings. Their responsible team always meets all requirements of the customers. They achieve the 100% satisfaction of the clients and support businesses to grow and develop in the local and state community. Their graphical designs are recognizable and well-performed. Arden Signs Banners Print & Embroidery provides printing and sewing services on clothes and produces merchandise items for events at a reasonable price.

3027 Arden Way

Sacramento, CA 95825

#

10

Alphagraphics

Alphagraphics is the best printing company in Rancho Cordova. They specialize in a wide variety of services for printing, graphic design, and marketing items production. Their highly qualified team has been working for years to satisfy the most demanding clients and earned the reputation of the reliable supplier of any printed goods. They work with both individuals and commercial clients, promoting items in physical or virtual sailing channels. Their staffs create a unique design for every customer to be different from their competitors and address potential clients directly.

11225 Trade Center Dr Ste 175

Rancho Cordova, CA 95742

#

11

Endless Possibili-Tees, Embroidery & Fleet Graphics

Endless Possibili-Tees, Embroidery & Fleet Graphics is one of the best printing and wraps producing companies in Sacramento. They specialize in screen printing, sign making, and vehicle wraps production. They make printed materials for events and meetings for business companies and family events. Their experienced personnel provide a wide range of ready items and give consultations on time, price, and complexity of producing the unique goods for their customers. They work at competitive prices and always finish on time. Their primary goal is to meet all wishes and desires of the clients.

5430 Florin Perkins Rd Ste 100

Sacramento, CA 95826

#

12

Pacific Office Equipment

Pacific Office Equipment is the best printing center in North Highlands. They specialize in the repair of printers, scanners, and faxes. Their highly qualified technicians expertise and diagnose the broken equipment and maintain it to avoid any damage. They serve office devices with all possible cases and use only high-quality materials and parts. They have a license for Canon, HP, and Epson repair. They fix any problems with the equipment of various brands in the shortest time. They make the collaboration with the clients comfortable and enjoyable. They work in a friendly and respectful manner.

5802 Watt Ave

North Highlands, CA 95660
If you are finding yourself considering a commercial printing company in Sacramento, you are not alone. Dozens of other businesses are in the same situation as you are. You might be thinking you could just buy a printer and do the work yourself. However, a commercial printer offers reliability that you cannot find anywhere else.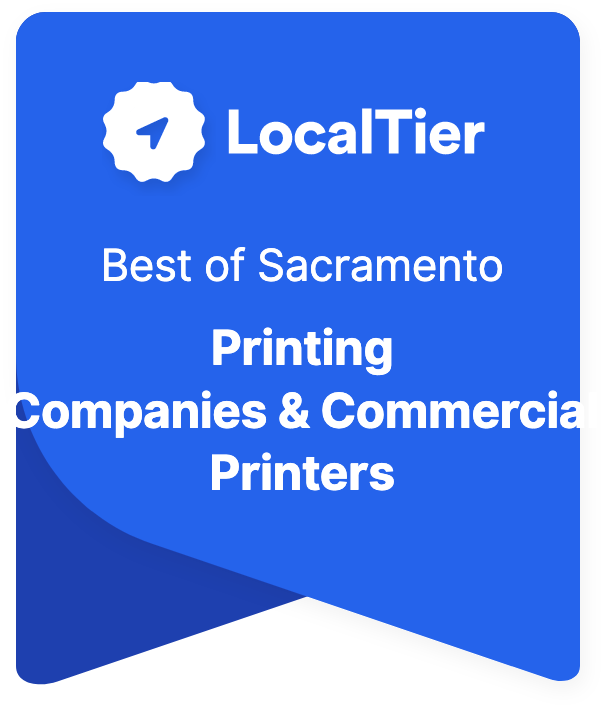 Find The Top Printing Companies & Commercial Printers in Sacramento
There are dozens of businesses to chose from, so you will need to take your time doing some research to ensure you are getting the best value for your money. Professionals will have a higher quality of paper at a cheaper rate than you can print yourself. Many are also skilled at assisting with digital imaging if you struggle to decide how something should look.
When looking through the list of the top commercial printing companies we have compiled, know that you will need to do some research to narrow the options. The benefit of using a company that is local to you is reduced shipping costs. This will also mean you receive shipments faster, and you are close to talking to them in person if problems arise. During your research, you will want to check out their online presence to gather as much information you can. You should be able to find out their policies, warranties, prices, and services they offer.
After doing some research and looking for any red flags in reviews:
Reach out to the top three or four businesses.
Talk about your needs as a business, and make sure you are clear about your budget.
Listen to their answers and watch their body language, if possible. When you are satisfied with your business, you are ready to begin the partnership.
Our Selection Criteria
Each business is graded according to the following criteria:
Qualification
How qualified are they to do the work in their chosen field? Do they have any licenses or certifications?
Availability
Are they open during normal business hours? Are the hours clearly posted on their website and at their actual storefront?
Reputation
What are others saying about them? How well-known are they in the community?
Experience
How many years have they been in business? Have they won any awards or accolades?
Professionalism
How do they treat their customers? Are they courteous?
Now You Are Ready to Hire Commercial Printing Companies in Sacramento
Searching for that perfect commercial printing companies business is a daunting process. You are presented with so many options that it is easy to become overwhelmed quickly. Thankfully, we have started you with the list of the top companies in Sacramento. However, you will still need to narrow the options down to find the one perfect for you.
Researching their website will give you the essential information. Looking at reviews online or talking to other customers will help you spot any red flags. However, you will want to ask questions to determine if they can meet your needs as a printing company. You will want the answers to the following questions:
What options do I have (color, black and white, paper sizes, etc.)?
What are the shipping costs, or can I pick it up?
Do you offer proofs that I can edit before you start to print?
What file options do you support?
Is there a minimum order requirement?
How long does it take to complete?
What are the charges for a rushed job?
What type of payments do you require?
You want to contract with a company that can answer your questions without making you feel bad for asking them. The environment should be warm and inviting. It may be a good idea to converse with a company that also offers digital imaging services so they can guide you through the layout of your job. Anything they can do to make your life easier as a business owner will be helpful.
A printing company should make your work life easier, so always take the time to do ample research. The companies that have made this list have displayed expertise in the industry and strive to create the best product at competitive prices.