Top 10
Sacramento

Storage Shed Builders for Backyard Sheds
Top Best
Storage Shed Builders for Backyard Sheds
#

1

America's Dream HomeWorks

America's Dream HomeWorks is a family-owned business in the home improvement area serving Sacramento and surrounding areas. They offer a wide range of home renovation services at affordable prices. They specialize in home remodeling, kitchen remodeling, bath renovation and other renovation services. They control the quality of the work throughout the whole process of implementation. Their experienced team has been renovating and improving residential homes for the last two decades. They offer professionally driven services and high-quality building materials for all their customers. Their primary goal is to meet all wishes of the customers.

7115 Watt Ave, Ste 100

North Highlands, CA 95660

#

2

Atlas Shed

Atlas Shed is a trusted shed construction company based in Pleasant Hill, California. They specialize in the construction of affordable, attractive sheds using heavy duty floors which are built with pressure treated components. If you own a large yard that you enjoy taking care of, and you're looking to build a shed to store all of your equipment and tools, you know exactly who to call. Atlas Shed has been in the business for more than a decade, and during this time, they have honed their skills and expertise enough to become one of the top shed construction companies in the state. They offer world-class services and an unforgettable customer experience that will leave you satisfied every time.

#

3

Belru Construction

Belru Construction is a family-owned home construction business based in Roseville. It was established in 2010 and has over a decade's experience in home building and home improvements. They have worked on everything from building new homes from scratch, extensive second story additions to even kitchens and bathrooms. At Belru Construction, they pride themselves for being responsible and accountable to all their clients. Through the leadership of their CEO Dmitriy Trepachko, the staff at Belru Construction provides high quality workmanship and are continuously learning to improve their skills. Dmitry is an experienced builder, project manager and entrepreneur. He uses his acquired skills to motivate his team. They are best known for their custom staircases, fine woodwork and high-end finishes.

#

4

Creative Patio Works

Creative Patio Works is a respected patio construction company based in Sacramento, California. They specialize in installing custom-designed solid and lattice patio covers, and their design focuses on providing unique shade structures that enhance the exterior of your home. With more than 12 years of dedicated experience in the industry, Creative Patio Works has earned a stellar reputation thanks to their commitment to customer satisfaction. They take every step necessary to ensure the utmost quality control, from using their own in-house staff of design experts to selecting the best aluminum suppliers in the region. There's nobody better to call for all of your patio needs.

1832 Tribute Rd Ste G

Sacramento, CA 95815

#

5

MB Construction

MB Construction is an expert bathroom and kitchen remodeling specialist, in Pilot Hill, CA, since 2009. They are a small family-owned father and son business. Walk-ins are welcome and they provide free consultations as well as virtual estimates. They are budget-friendly and have a wide service offering. Their services include bathroom, kitchen, and home remodeling; windows and electrical services, damage restoration, cabinetry, and flooring. They have built a track record of quality, excellence, and superior service. You can expect consistent professionality, high-quality building materials, and fair pricing from this established firm. Excellent customer service is a value that drives every customer interaction. Call them now to discuss your requirements and let them make your home dreams a reality.

#

6

Meacham Construction

Meacham Construction is a reputable home construction company based in Sacramento, California. They specialize in building homes that cater to the personal vision and taste of their clients, while also adding their own unique flare to the entire process. They have been in business for nearly 20 years, and with so much experience in the industry, they know exactly how to build a house that not only looks very aesthetically pleasing, but that will also stand the test of time. They have a team of construction workers that help satisfy dozens of clients each year, and their homes are some of the best in the state. Meacham Construction works within your timeframe and budget to build a beautiful home that you'll actually enjoy living in.

#

7

Palmer & Sons Construction

Palmer & Sons Construction is a reliable family-owned remodeling company in Rancho Cordova. They specialize in kitchen remodels, bath renovation, windows and roof design, installation, and maintenance. They have been working in the market for over 35 years, providing contemporary materials and technologies. Their experiences staffs aim to help people in remodeling their homes. Palmer & Sons Construction strives to make people get rid of their worries and frustrations about bad weather, heavy rains, or strong winds. They never leave their customers without complete satisfaction following the reputation of the best local remodeling company.

#

8

Papo Construction

Papo Construction is a dedicated general contractor construction company based in Sacramento, California. They specialize in construction, full remodeling, bathroom remodeling, plumbing, and flooring systems. They also offer masonry services, custom iron fencing, electrical services, and much more. They have years of experience in the industry, and their team of highly trained professionals is always ready to provide you quality services at an affordable price. Their success as a contractor company is largely due to the fact that they provide their customers with dedication and an excellent customer service experience. You won't find a better construction company in the Sacramento area.

#

9

Shaver Construction

Shaver Construction is one of the best Sacramento remodeling companies. They specialize in tiling, roofing, sidings, and covering objects both inside and outside. Their experienced technicians design the current projects for the most demanding customers. They always use only safe and reliable materials and technologies to provide a high quality of results. They offer renovated and new constructions in kitchens, bathrooms, rough framing, and door installation for Sacramento homeowners. They provide an endless variety of works at a competitive price and high implementation level. Their team does everything to reach the complete satisfaction of their clients.

#

10

Tuff Shed

Tuff Shed is a dependable shed construction company based in Sacramento, California. They specialize in offering high-quality shed construction services at competitive, affordable prices that are hard to come by these days. With years of experience in the industry, Tuff Shed is able to build you the shed of your dreams, whether you're looking for something small and modest to store a few tools, or for something more grandiose to house your entire arsenal of tools. They're able to do it all, and with a smile on their face. Tuff Shed gets the job done in the blink of an eye, and they take an old-fashioned approach to customer service that leaves you satisfied every time.

1235 Fee Dr

Sacramento, CA 95815
On the lookout for storage shed builders for backyard sheds in Sacramento? We have collated the top 10 storage shed builders in Sacramento for all possible uses to help you pick the right one for you.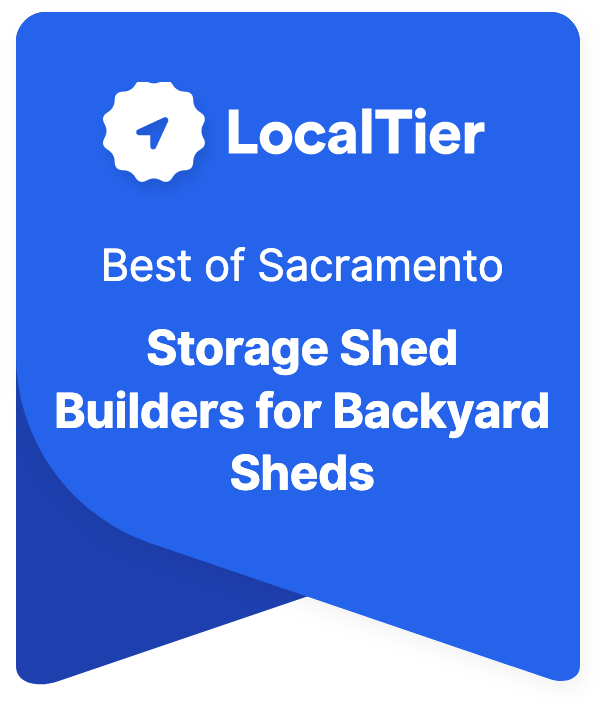 Checkout the Best Storage Shed Builders for Backyard Sheds in Sacramento
On the lookout for storage shed builders for backyard sheds in Sacramento?
Maybe you have recently moved house and need some more storage at your new property? Perhaps you have recently found yourself struggling for storage space but not wanting to throw anything away?
Or maybe you have just purchased something that requires storage shed builders to build a backyard shed? Each day, a host of homeowners within Sacramento search for storage shed builders in their area.
What are the common problems that they come up against?
They all struggle to separate the excellent storage shed builders from the lousy storage shed builders. They find it hard to find the time to sift through all of the different businesses out there that offer storage shed solutions.
They don't know what a fair price or service is. Who couldn't use a little extra storage? Storage sheds are great for storing this, such as out-of-season equipment and tools: skis, extra paint cans, lawnmowers, or snow shovels.
All of these can be stored safely and efficiently if you find the proper storage shed builders. Shed storage is also an excellent option for other equipment or objects that you don't use frequently. You do have the option to buy a shed pre-built, but to get one hand-made by storage shed builders allows you to have a bespoke shed that perfectly suits your needs.
If you have your shed custom-made, you can have extra features, extra space, or even shelves put in, making it the perfect choice for idea shed storage. Sheds have changed a lot from the simple storage units they once were. They are now used for other things such as sleeping, home offices, cooking, and even relaxing.
With that in mind, we have collated the top 10 storage shed builders in Sacramento for all possible uses to help you pick the right one for you.
Our Selection Criteria
Each business is graded according to the following criteria:
Qualification
How qualified are they to do the work in their chosen field? Do they have any licenses or certifications?
Availability
Are they open during normal business hours? Are the hours clearly posted on their website and at their actual storefront?
Reputation
What are others saying about them? How well-known are they in the community?
Experience
How many years have they been in business? Have they won any awards or accolades?
Professionalism
How do they treat their customers? Are they courteous?
Choose The Best Shed Builders for Backyard Sheds in Sacramento
Now you have all of the tools you need to employ storage shed builders suitable for you!
The sites we have listed here each have unique skills to offer you. Hopefully, you managed to figure out which ones are the most likely to meet your needs. This list should help you make up your mind and find the right suit for you.
But don't just choose the first one that jumps out at you. Make sure to get quotes from several sources to compare them and check that you are getting the best offering.
People often employ storage shed builders that are not right for them and are left with disappointment and regret.
Go through each of the sites we have listed and pick out the ones that seem best suited for your needs. Make a note of the ones that stand out to you the most. After you have made your list, begin checking each of them out.
Start by reading reviews about each company. Make sure you look at independent review sites to allow you to work out which company will be best for you.
Once you have your list narrowed down, you can begin calling them to enquire further. Ask them about warranties, prices, insurances, and also if you have anything particular in mind for you shed.
This is especially important if you seek a custom shed that can be used other than just for storage. If this is the case, make sure you contact each company with these details.
Once they understand what you are after, they will be able to provide you with a much clearer quote.