Top 10
Sacramento

Supplemental Medicare Gap Insurance Agencies
Top Best
Supplemental Medicare Gap Insurance Agencies
#

1

Amber Lidskin - Kuhtz Diehl Insurance Services

Amber Lidskin - Kuhtz Diehl Insurance Services is a highly qualified life insurance company in Sacramento. They specialize in working with the Medicare health insurance program. Their professional personnel is providing consultations for drawing up the optimal MediGap plan or Medicare Advantage plan. Their central priority is to help to understand the insurance and choose the best one for each specific client. Amber Lidskin - Kuhtz Diehl Insurance Services guarantees high quality of services and selection of the best medical program. They satisfy all requirements of their clients. They provide a free plan for future works. All services for clients are free of charge.

2775 Cottage Way Ste 32

Sacramento, CA 95825

#

2

Dean Bennett Insurance & Financial Services Inc

Dean Bennett Insurance & Financial Services Inc is a trusted insurance agency in Roseville, California. They have health insurance specialists with extensive training in health care reform. They develop employee benefits packages for small and large companies as well as sole proprietors. They provide auto insurance and broker groups, individual and senior health insurance plans such as group disability, life, dental, and retirement plans. They provide management of bona fide fringe benefit plans for companies bidding on public contracts that require prevailing wages. They are a certified Disabled Veteran Business Enterprise. Their experience of over 21 years and excellent, reliable service has earned them a five-star review on yelp.

3017 Douglas Blvd Ste 300

Roseville, CA 95661

#

3

RL Wells & Associates

RL Wells & Associates is a locally owned and operated life insurance company in Elk Grove. They specialize in health, families and employers, life, dental, vision, and disability insurance. Their professional team provides fair payments from insurance companies. Their primary goal is to help you in the implementation of insurance claims and interaction with insurance companies. RL Wells & Associates does not charge clients for its services and provide it for a competitive price. They follow all desires of their clients. They provide a free plan for future works.

9275 E Stockton Blvd Ste 100

Elk Grove, CA 95624
Are you in need of Medicare Supplemental Insurance? You may be looking for an agency where you can buy Medigap insurance near you. In that case, Sacramento has the best supplemental Medicare gap insurance agencies that can give you a host of options. See the list below and ask them how.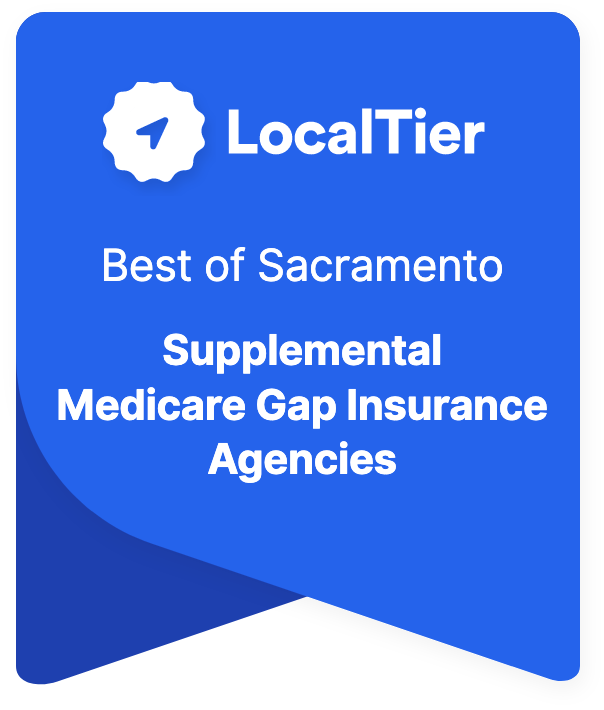 Top Medicare Gap Insurance Agencies in Sacramento
Health care coverage is one thing that you need to prepare for when you get old. Most people in their post-retirement years should not even worry about their health care coverage. You may have your Medicare insurance, but it may not be enough to sustain or pay for the entire medical cost. Thus, it is vital to secure a supplemental Medicare gap insurance policy. This type of insurance agencies is called Medicare gap or Medigap.
As Medicare can only cover a portion of your medical bill or health care cost, you need another insurance policy that will augment your main one. Medicare gap or Medigap is a form of supplemental coverage which can help lessen the burden of settling the whole amount. You may secure this type of insurance from any reputable and trustworthy insurance agency.
To determine which agency can best supply Medicare gap insurance, you may refer to the list of the top ten best Sacramento supplemental Medicare gap insurance agencies below. These agencies can provide you with the best supplemental health care coverage plans to fit your needs and budget. They will also take their time to explain to you the details of your health insurance plan.
You may go through the list and select those insurance agencies with a proven track record that are duly licensed and certified. You can be assured to get the best service from these highly trained professional insurance agents. They will also guide you in understanding how these insurance products work. Understanding the process and how you can use these insurance policies will give you some peace of mind. It is advisable to have someone who can assist you with any insurance questions or concerns or when you need to file any claims.
Our Selection Criteria
Each business is graded according to the following criteria:
Qualification
How qualified are they to do the work in their chosen field? Do they have any licenses or certifications?
Availability
Are they open during normal business hours? Are the hours clearly posted on their website and at their actual storefront?
Reputation
What are others saying about them? How well-known are they in the community?
Experience
How many years have they been in business? Have they won any awards or accolades?
Professionalism
How do they treat their customers? Are they courteous?
Now You Are Ready to Hire The Best Insurance Agencies in Sacramento
Medicare gap is a supplemental form of insurance agencies that augments the cost of health care coverage and supplies, including the cost of some of your medication requirements. You may also use your Medicare gap supplemental insurance to help you pay for a percentage of your bill when you get sick outside of the country. Medicare Supplement Insurance or Medigap fills the coverage "gaps" of Medicare.
The usual health care costs that Medicare gap can cover are co-payments, deductibles, and health care if you travel outside of the US. It does not cover long term care, dental care, vision care, hearing aids, eyeglasses, and private duty nursing. Most Medicare gap insurance policies also do not cover prescription drugs. The plan is for one-person coverage only and is available only for Medicare Part A and B.
Premiums may vary for every insurance agency and may depend on the type of insurance plan you will get and your location and age. The benefits, however, are always the same for all Medigap plans. When a person reaches his retirement years, they should spend them with little or no worries. They should be spending more time enjoying life at this point and not be concerned with how they will pay for their medical or health care coverage. Thus, it pays to get healthcare insurance before you get to be in that stage. After all, you deserve to live your life to the fullest, even in your twilight years.