Top 10
Sacramento

Swimming Pool Companies & Pool Builders
Top Best
Swimming Pool Companies & Pool Builders
#

1

American River Pool Service & Repair

American River Pool Service & Repair is a trusted pool cleaning company based in Orangevale, California. They specialize in equipment upgrades, weekly pool checkups, pool cleanings, and more. American River understands just how important your pool is to the overall image of your home. When you have a dirty, stagnant, green pool, your home also appears unhygienic and dirty to anyone who doesn't actually live in it. They also understand how much of a hassle pool cleaning can be, which is why they strive to make their services as accessible and convenient as possible. Nobody cleans pools better than American River Pool Service & Repair, and their customer service is truly excellent.

#

2

Bishop Pool Service & Repair

Bishop Pool Service & Repair is a dependable pool cleaning and pool and hot tub service company based in Orangevale, California. They specialize in swimming pool repair services, and are a top-rated pool repair service provider. They also offer professional pool electrical checkups and installation, variable speed pool pump services, as well as pool plumbing. It doesn't just end there. Bishop Pool Service & Repair also offers equipment installation, variable speed pumps, heaters, filters, pool lighting, controllers, motors, robotic cleaners, and so much more. There's really nothing that they can't do when it comes to optimizing your swimming pool and making it good as new.

#

3

Care and Repair Pool Service

Care and Repair Pool Service is a trusted swimming pool cleaning and pool and hot tub service company based in Carmichael, California. They specialize in providing services regarding all things pool-related, and are one of the best pool repair and cleaning services in Carmichael. They were established in 2008, and have more than a decade of experience in the industry. However, the owner first began working in pool repair and maintenance in 2003, so it's safe to say that Care and Repair Pool Service knows exactly what they're doing when it comes to swimming pools. They are Chemistry Certified, Jandy TEch equipment certified, and Maytronics Tech certified.

#

4

Clean Pool Pros

Clean Pool Pros is a pool cleaning and pool and hot tub service company based in Elk Grove, California. They specialize in transforming pools from green to clean, and also provide their clients with weekly maintenance services. They have been in the industry for years, and combine their extension experience with an old-fashioned style of customer service that sets them apart from other pool cleaning companies out there. Clean Pool Pros prides themselves on dropping what they are doing to answer the phone, respond to emails, and ensure that their customers are always happy. So, if you're someone who values excellent quality and professional customer service, you know exactly who to call.

#

5

Generation Pool Plastering

Generation Pool Plastering is a trusted pool and hot tub service company that is based in West Sacramento, California. They specialize in providing their clients with quality pool treatments, pool services, and pool repair projects. They were established in 2016, and have several years of experience in the industry. In fact, just one year after their establishment, the company experienced substantial growth, and now not only serves West Sacramento, but also Elk Grove and the Northern Nevada regions. They partner with several local property management companies and realtors to provide professional pool service and maintenance. There's nothing that they can't do, and their pool repairs, plastering, and complete remodeling services will blow you away.

1024 Soule St

West Sacramento, CA 95605

#

6

Huntington Pool Services

Huntington Pool Services is a professional pool cleaning and pool and hot tub service company based in Elk Grove, California. They specialize in providing quality weekly pool maintenance services, and make it their goal to make sure that your pool is in great shape. Not only that, but they put all of their effort into ensuring that your pool stays in great shape throughout the year, even going so far as to show up every week. They make sure that your pool's chemicals are balanced, and that your pool equipment works at its maximum efficiency. Huntington Pool Services was established in 2007, and with over a decade of experience in the business, there's nothing that they can't do when it comes to pools.

#

7

M&M Pool Construction

M&M Pool Construction is a reputable pool and hot tub service and pool cleaning company based in Carmichael, California. They specialize in providing building, servicing, remodeling, and repairing services, and have done so for more than a decade. With more than 15 years of experience in the industry, there's nothing that M&M Pool Construction can't do. Their goal is to provide their clients with absolute customer satisfaction, and they have been remodeling, servicing, repairing, and building pools in the Carmichael area for years. They are dedicated to customer service, and work around the clock to ensure satisfaction.

5848 Gibbons Dr

Carmichael, CA 95608

#

8

North Star Pools Plastering

North Star Pools Plastering is a trusted pool and hot tub service company based in Sacramento, California. They specialize in plaster, pebble, diamond brite, and quartz scrapes. North Star Pools Plastering was established in 2019, though the owner had previously been working in the pool remodeling industry for more than 16 years. He has plenty of experience in the field, and nobody does pool remodeling in Sacramento quite like he does. With a dedication to customer satisfaction and an excellent work ethic, North Star Pools Plastering is one of the best pool remodeling and servicing companies in California.

7934 Butte Ave

Sacramento, CA 95826

#

9

Pacific Coast Leak Detection

Pacific Coast Leak Detection is a trusted pool and hot tub service and plumbing company based in Lodi, California. They specialize in providing smart home leak detection device installations, as well as repair services to protect your home, business or spa from disastrous leaks. They have been in the business for years, and are dedicated to helping their clients save both time and money. Their main goal is to help homeowners and businesses find their leaking issues with unobtrusive techniques that are designed to keep repair costs as low as possible. So, if you have a leak in your home or business and are working on a tight budget, you know exactly who to call.

#

10

Premier Pools & Spas

Premier Pools & Spas is a pool and hot tub service company based in Rancho Cordova, California. They specialize in new pool construction, and have a passion for creating some of the most stable and durable swimming pools in California. They construct world-class pools, and their customer satisfaction is the reason that they have earned such a stellar reputation. With more than 31 years of experience in the industry, Premier Pools & Spas has the skills and knowledge necessary to transform what you envision into your ideal backyard. Their staff is highly trained and compassionate, and each member knows that choosing to build a pool is a huge undertaking. They will walk you through every step of the process.

11250 Pyrites Way

Rancho Cordova, CA 95670

#

11

Swim Chem

Swim Chem is a trusted Pool Cleaners company based in Sacramento, California. They specialize in residential swimming pool water chemistry maintenance, equipment repairs, and equipment replacement. They have been in the industry for more than 50 years, and is currently the only company in the greater Sacramento area that offers Reverse Osmosis treatment in lieu of draining a pool that requires attention. Their specialized services are some of the best in California, and their dedication to customer service means that you'll always leave satisfied. Swim Chem is passionate about keeping your pool looking and feeling healthy, and their mastery of pool chemistry blows other pool companies out of the water.

4950 Auburn Blvd

Sacramento, CA 95841
Are you planning to build a pools service? It will be best to find a swimming pool builder near you. There are plenty of good swimming pool companies in Sacramento.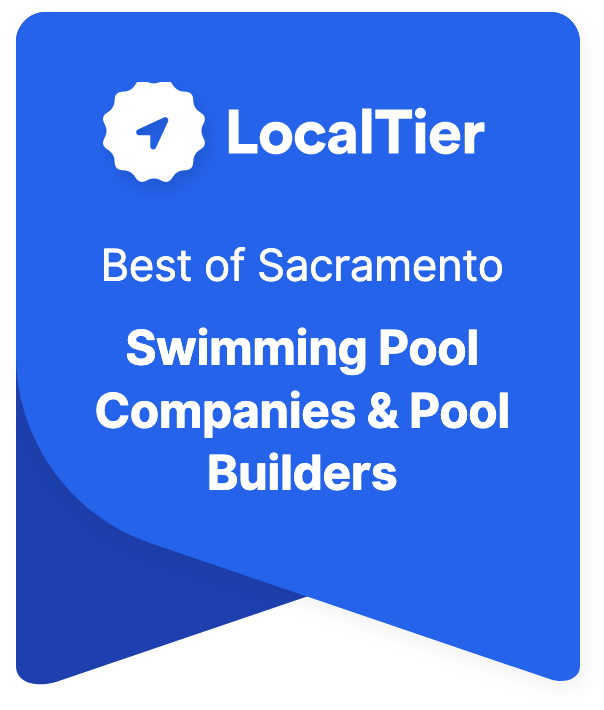 Here are the Best Swimming Pool Builders in Sacramento
Taking a dip, wade, and swimming in your pool is an exciting idea. It is one of the advantages of having your swimming pool right outside your doorsteps. Perhaps you've been toying with this idea for quite some time. You want this plan realized, and you want it done soon.
So, you go scouting for the best swimming pool builder in Sacramento and you'll find a long list of swimming pool companies in your area. How will you choose the best one? A list of the best swimming pool companies and pool builders in the city of Sacramento is included in this article. to make your search easier. You may go over the list and review each swimming pool company listed, including their services.
Some swimming pool builders in Sacramento may offer different types of pools. You can choose any pool option that can fit your budget and space. These swimming pool builders can customize your pool according to what you want. It can fit a specific size, shape, and design that you have in your mind. After all, this swimming pool will be your haven. One thing that you can savor and enjoy for a long time. Remember that swimming is a healthy activity. It can relieve your stress and can help you relax and have loads of fun.
Look for a good swimming pool builder who will be dedicated to doing the job from start to finish. They will leave no stone unturned in terms of quality and durability and will provide superior pool designs and installation. Swimming pool builders will also offer patio and walkway design and hardscaping to create an overall coherent design for the entire pool area. Your chosen pool builder must be committed to delivering outstanding results for this project.
Our Selection Criteria
Each business is graded according to the following criteria:
Qualification
How qualified are they to do the work in their chosen field? Do they have any licenses or certifications?
Availability
Are they open during normal business hours? Are the hours clearly posted on their website and at their actual storefront?
Reputation
What are others saying about them? How well-known are they in the community?
Experience
How many years have they been in business? Have they won any awards or accolades?
Professionalism
How do they treat their customers? Are they courteous?
Hire The Best Pool Companies & Pool Contractors in Sacramento
Footer Content is a known fact that building your swimming pool is a significant investment. It can also be an expensive venture with much extensive work to be done. The cost may vary depending on the agreed specifications of the swimming pool. It will be wise to consider every detail of the plan before signaling the project to start. You may always request a detailed plan from your chosen pool builder.
No amount may be expensive enough to match the pleasure your swimming pool can bring to you and your family. You can still have other options if you have a limited budget to spend. You may opt to have those affordable custom-made swimming pools. Or you can also apply for a pool loan. Some pool builders in Sacramento offer consultation, free estimates, financing, and easy payment options. It will be wise to do your research to ensure that the local pool builder you will hire will be reliable, reputable, with a solid experience in building pools. The best pool builder in Sacramento will leave no snags behind in completing this task.
What are the perks of having your pool at home? There are a lot.
You get to enjoy your water exercise anytime you want.
Your swimming pool area can also be a great venue for parties and other events.
You can always bond with your kids while swimming.
Building your pool at home increases the value of your property.
Fact is, everyone enjoys playing and relaxing by the poolside. It is one of the most rewarding advantages of having your pool to enjoy at your own home.