Top 10
Sacramento

Taekwondo Academies & Martial Arts Schools
Top Best
Taekwondo Academies & Martial Arts Schools
#

1

Carmichael Academy - Family Taekwondo

Carmichael Academy- Family Taekwondo is an outstanding Taekwando school in Roseville, CA, established in 1998. Their Taekwondo school might just seem like a place to get fit and learn self-defense, but to them, it is so much more. When you train at Carmichael, you'll experience a place where you fit in, no matter what your background or fitness level is. You'll get into better shape, learn super-cool self-defense moves, and experience change. Your mind will become stronger, and you will notice that you become more focused. Taekwondo is a Korean form of martial arts, characterized by kicking and punching techniques, with an emphasis on head-height kicks. Call them now to improve your body and mind.

5733 Marconi Ave

Carmichael, CA 95608

#

2

Folsom Academy - Family Taekwondo

Folsom Taekwondo-Family Taekwondo is a professional self-defense school in Folsom, CA. It offers a wide range of martial arts programs such as kid's programs, family programs, adult programs, and birthday parties. Watch your child transform as he/she gains the discipline and tools to focus and concentrate. The skills learned in these classes will last a lifetime. One of the things that you will learn in their classes is how to control your body – as well as your mind. Learn and achieve inner-calm with our martial arts experts. Their teachers are patient, kind, and professionally trained. Train with your family and bond with each other. Call them now to discuss their programs and find one that suits you.

9580 Oak Ave Pkwy Ste 12A

Folsom, CA 95630

#

3

Jaime's Martial Arts

Jaime's Martial Arts is a dedicated martial arts company in Rocklin, CA. Since they opened, they have been dedicated to changing the lives of people one person at a time, through martial arts, education, and coaching. They strive to provide a safe, comfortable, and welcoming atmosphere for all students and family members. They take pride in creating an environment for individuals to achieve, develop and succeed in their personal goals. They strongly believe that martial arts can be for everyone, regardless of age, gender, or experience levels. Through all their programs, students will not only learn the necessary skills but through their practical approach will be enabled to live their best lives. Call them to make a life-changing appointment.

6835 Lonetree Blvd Ste 101

Rocklin, CA 95765

#

4

Kang's ATA Self Defense

Kang's ATA Self Defense is an expert self-defense school in Elk Grove, CA. Their focus is on character development, physical fitness, and self-defense, rather than fighting. Their overarching goal is to build their student's self-esteem. They are a community that works together toward better focus and concentration and greater self-discipline and mental toughness. They focus on improved strength, stamina, and flexibility. Personal safety and competency in self-defense are their mantras. They have martial arts programs for all ages, but their specialty is in working with children and families. Self-defense is a component of all martial arts training, no matter what the style and that is certainly the philosophy at this specialist school. Call them to find out more now.

5700 Whitelock Pkwy Ste 110

Elk Grove, CA 95757

#

5

Lincoln Family Taekwondo Academy

Lincoln Family Taekwondo Academy is a certified Taekwondo Academy in Roseville, CA, established in 2017. They are the only SKILLZ Worldwide Licensed and Certified School that focuses on Child Development ages 3 and up. They are the premier martial arts training center in the surrounding area. They teach a methodical, structured, and professional system that focuses on Body, Mind, and Spiritual training to build strong bodies and clear minds. They deliver the best child development program around. Join the hundreds of families that call Lincoln Family Taekwondo their martial arts home. Begin your path to a healthier, happier, and more confident you at Lincoln Family Taekwondo. Book a class and transform your life.

615 5th St

Lincoln, CA 95648

#

6

Roseville Academy - Family Taekwondo

Roseville Taekwondo- Family Taekwondo is a transformative martial arts school in Roseville, CA. They offer a friendly, family environment where members can get strong together. Your children will be taught to be disciplined, respectful, and confident. Sign up for a trial and experience their excellent program for yourself. Their instructor is dynamic and masterful and knows how to improve his students mentally and physically. The best part of the experience is taking classes together as a family. Looking for a family activity to bond over? Then look no further than this amazing school. Improve all aspects of yourself: Mind, Body, and Spirit. They are open from 9 am to 9 pm Mondays to Fridays and 9 am to 2 pm on Saturdays. Book a class today.

1249 Pleasant Grove Blvd Ste 130

Roseville, CA 95678

#

7

Sierra View Country Club

Sierra View Country Club is a famous golf, tennis, venues, and event spaces company in Roseville. They specialize in hosting outdoor and clubhouse events. Their highly qualified employees provides a five-star service for events in scenic locations and indoors. Their central priority is to meet clients' requests for out-of-town events with a high standard of service. Sierra View Country Club cares about the five-star level of events held at its various venues. They follow all desires of their customers. They provide unique services at affordable prices.

105 Alta Vista Ave

Roseville, CA 95678

#

8

United Martial Arts Academy

United Martial Arts Academy is a comprehensive martial arts academy in Rancho Cordova, CA, established in 2017. They are not just about kicking and punching. They are the experts in martial arts education for children, adults, and families. They teach a comprehensive character development program that focuses on confidence, respect, focus, self-control, and self-discipline. Their staff is committed to providing a positive learning experience. Helping their students become healthier and more successful in life through the practice of martial arts and fitness training is their mission. To accomplish this, they set goals of self-improvement in a clean and challenging environment. They hope to influence their students' behavior so that they will develop the habits and lifestyle that will lead to long-term success. For a life-changing programme, look no further.

2951 Sunrise Blvd Ste 120

Rancho Cordova, CA 95742
Would you like to learn Taekwondo in Sacramento ? You'll want to search for the best Taekwondo academies or martial arts schools that are near to you in this Sacramento area.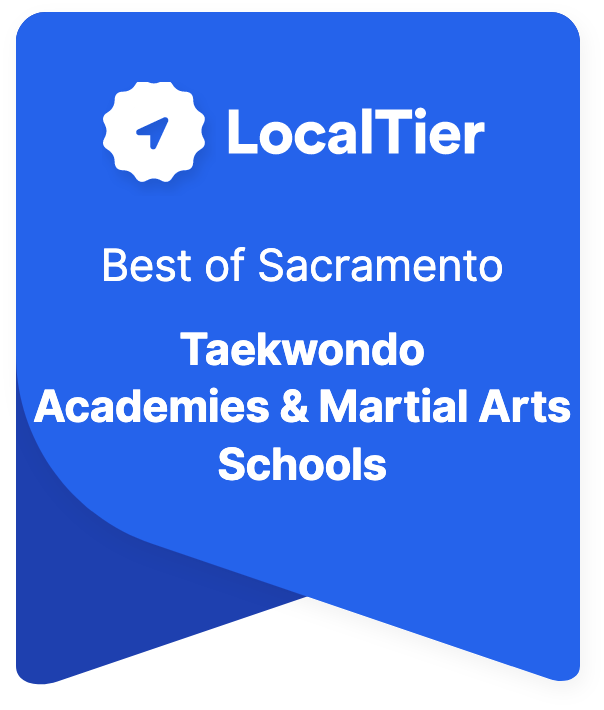 Here are the Top Taekwondo Academies & Martial Arts Schools in Sacramento
No matter how old you are, learning Taekwondo in Sacramento can prove to be a very exhilarating idea. Although many younger people enrol for this type of martial arts activity, it isn't just restricted to children. Are you all set to find out more about martial arts in Sacramento, or would you like to register yourself or your child up for such a great family activity? If you are, then you are probably looking to enrol at one of the leading academies martial arts schools in Sacramento.
There are several martial arts academies to choose from, so deciding which one to go to can prove daunting. But we have carried out some of the legwork for you to make your decision a little easier. In this article, you'll find our choices for the top 10 best Taekwondo academies martial arts schools in Sacramento.
You must receive the best training to fully understand the safety precautions when you undergo martial arts training. A reputable martial arts instructor will make sure that they guide you through your training in the best way possible to reduce the risk of you having an accident.
An experienced martial arts instructor will teach you everything you need to know about this particular sport. So not only do you feel comfortable but also less nervous. Martial arts are made up of different levels, and the right instructor will assist you in achieving your desired goals.
Sacramento has some of the best academies martial arts and schools, so you will not need to travel far to enjoy good quality Taekwondo Do training. No matter how old you are, excellent martial arts schools will be more than happy to tailor your training schedule to meet your needs and suit your schedule.
So what are you waiting for? Why not give one of them a call, and their martial arts instructor will be more than happy to answer any concerns you may have.
Regardless of why you want to learn martial arts/Taekwondo, it would be best to feel confident. This is why you need to check out several Taekwondo academies Martial arts schools before you sign up for any classes. You will want to learn from the best, and our list provides you with a good starting point.
Our Selection Criteria
Each business is graded according to the following criteria:
Qualification
How qualified are they to do the work in their chosen field? Do they have any licenses or certifications?
Availability
Are they open during normal business hours? Are the hours clearly posted on their website and at their actual storefront?
Reputation
What are others saying about them? How well-known are they in the community?
Experience
How many years have they been in business? Have they won any awards or accolades?
Professionalism
How do they treat their customers? Are they courteous?
Hire The Best Taekwondo Academies & Martial Arts Schools in Sacramento
Are you now ready to learn such sports as Taekwondo/martial arts with a top Sacramento martial arts school?
This list of academies martial arts schools should give you something to consider. Each of them employs martial arts instructors who have a unique way of approaching the lessons and teaching their students martial arts skills.
Check each of them out and see which appeals to you the most. Not all of them will be suitable for you, and their prices, time limits and class times will vary. Best to make sure you choose one that suits your particular needs.
As you look through our list, make some notes, and then contact the academies martial arts schools that you like the look of and are a good fit for your requirements. Make sure that you have questions prepared that you can ask them.
Some of these Sacramento martial arts schools have special offers available/ Who doesn't love a good bargain? You will save quite a bit by choosing a Taekwondo academies martial arts schools that offer a significant discount. Most of them in Sacramento haves various packages, so you should select one that you will be comfortable with.
Learning Taekwondo do is a great adventure and can prove very rewarding and add excitement to your life. But take your time and make sure that you ask all necessary questions. It is good to arrange to meet the martial arts instructor and inspect the academy before making your final decision.
No matter your age learning to perfect Taekwondo martial arts skills will prove an enjoyable experience, especially when you find the best martial arts instructor in Sacramento. These martial arts schools are just a phone call away and ready to book you in for your first lesson.