Top 10
Sacramento

Vape Shops and Vaporizer Stores
Top Best
Vape Shops and Vaporizer Stores
#

1

Millenium Smoke Shop

Millennium Smoke Shop is a prominent smoke shop in Roseville. They specialize in all types of accessories and goods needed by a smoker. They sell a wide range of items, from collection cigarettes to affordable accessories. They provide the largest selection of hookahs, sorts of tobacco, vaporizers, hand-blown glass, and concentrate products. They offer an excellent choice from the world top brands. Their experienced specialists love smoking and give expert advice about the most modern novelties in the tobacco world. They position themselves like a flagship 21st-century smoke superstore.

1000 Melody Ln Ste 100

Roseville, CA 95678

#

2

Folsom Vape & Smokes

Folsom Vape & Smokes is one of the leading tobacco and vape shops in Sacramento. They specialize in providing a large variety of vape products and liquids. Their attentive staffs give recommendations about e-juices, water pipes, cigars, cigarettes, etc. They offer a friendly and welcoming environment making their customers relax already on the threshold of their store. Their experience team has been serving the customers for over five years and is always happy to see a smile of satisfaction on their clients' faces. They offer all goods at competitive prices.

8399 Folsom Blvd

Sacramento, CA 95826

#

3

The Smoke Shop

The Smoke Shop is a premier smoke shop in Sacramento. They specialize in smoke and vape goods and accessories. Their staff experienced all new technologies and sorts of tobacco and provide customized help to choose the best options for every customer. They constantly expand their assortment and assist the clients in sorting out the novelties. Their team shares its knowledge and experience about cigarettes, tobacco, and e-liquids with pleasure. They create the most comfortable and relaxing atmosphere for the customers and guests in their shop.

7210 Fruitridge Rd

Sacramento, CA 95820

#

4

Cigarettes Plus vapes

Cigarettes Plus vapes is a well-known and trusted tobacco and vape dealer in Elk Grove. They specialize in premium products for smokers. They provide the most contemporary goods like water and hand pipes, hookahs, digital scales, and many others. Their experienced team offers recommendations and reviews of tobacco and e-juice products to meet the requirements of their customers. They focus on the complete clients' satisfaction and make them happy and relaxed with their items for smoking. They have a nice assortment of CBD, shirts, hats, and other accompanying goods.

9742 Elk Grove Florin Rd

Elk Grove, CA 95624

#

5

Baba Smoke N Vape

Baba Smoke N Vape is the best vape and tobacco shop in Citrus Heights. They specialize in vape mods, e-juices, water pipes, and the most contemporary accessories. Their experts tell the customers about the peculiarities of e-juices. They offer unique products of organic and vegan e-liquids. They have a large inventory of smoking accessories and meet all wishes and desires of their customers. Their goal number one is to make the customers happy and satisfied. They have been working for years to be on the top of the market.

6035 Greenback Ln

Citrus Heights, CA 95621

#

6

Switch to Vapor

Switch to Vapor is a trusted and reliable smoking shop in Sacramento. They specialize in providing a wide range of tobacco flavors and e-liquids. They have a unique service of mixing flavors and creating any PG/VG mix-ups for their customers. They make their clients feel worthy of trying the best and unique products. Their experts offer recommendations on the composition and saturation of the parts in their products to satisfy the most demanding customers. They work from the early morning to the late evening for the customers' convenience.

6840 65th St Ste 120

Sacramento, CA 95828
As in all cities of the country, the demand for electronic cigarettes in Sacramento is growing daily. Thousands of steamers buy vapes in them.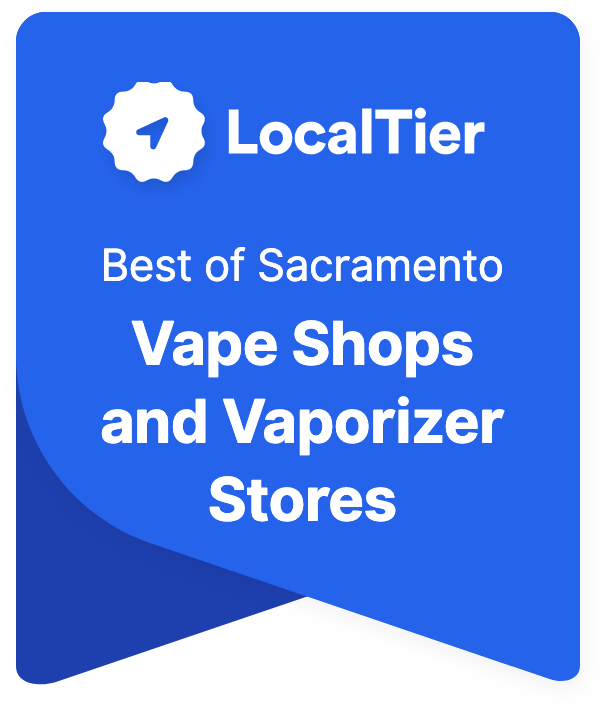 Find the Best Vape Shops and Vaporizer Stores in Sacramento
Nothing surprising: the advantages of vaping are apparent even to the inveterate skeptics, and the pleasure of this process itself cannot be compared with anything! However, there is one important condition: only high-quality steam generators from the world's leading manufacturers will allow you to fully enjoy the taste of the aromatic liquid. In addition, precisely such devices are offered to customers by branded vape shops listed in the list below.
Over the past few years, a whole layer of experienced steamers has managed to form in the United States, for whom the release of each new "device" becomes a big event. At the same time, the number of newcomers who want to buy a vape, but have a very approximate idea about electronic vaping, has recently been increasing almost exponentially. The assortment of the described stores will please both those and others! The catalogs of stores present top models of steam generators from recognized industry leaders that can impress the most advanced users. You can buy universal starter kits too that will not require extra financial costs and help you fully immerse yourself in the beautiful world of rich aromas and thick steam. In addition, you can buy branded liquids, components, and accessories.
Experienced consultants will be happy to answer all your questions, help you decide on a choice. They will tell you everything that a beginner should know about vaping in a simple and accessible form. The stores present only proven products from Joyetech, Eleaf, and other world-famous brands, and a unique extended warranty applies to most items in their catalogs. The branded vape shop will be the best alternative to smoking and is guaranteed to bring many unforgettable impressions.
Our Selection Criteria
Each business is graded according to the following criteria:
Qualification
How qualified are they to do the work in their chosen field? Do they have any licenses or certifications?
Availability
Are they open during normal business hours? Are the hours clearly posted on their website and at their actual storefront?
Reputation
What are others saying about them? How well-known are they in the community?
Experience
How many years have they been in business? Have they won any awards or accolades?
Professionalism
How do they treat their customers? Are they courteous?
Check Out The Best Vape Shops and Vaporizer Stores in Sacramento
To choose the most suitable vape, you need to pay attention to the following characteristics:
The volume of the battery;
What amount of steam you want to get;
Type of atomizer: drip, tank or combined model.
In order for devices for hovering to cause a comfortable feeling, you need to know the features of certain devices and their quality.
Mechmods allow you to control the steam supply using a button; however, for some it may be inconvenient. The second group of devices are those that generate steam during a puff. Such devices accurately imitate a cigarette, although not in every case they have an external similarity with it.
As practice shows, in order to understand how to choose an electronic vaporizer that will suit you perfectly, it may take a lot of time, many experiments.
Many users who are just switching to electronic vaping do not know how to choose a vape that is suitable for them. Modern manufacturers offer a large selection of devices with different characteristics. Conditionally, they can be divided into several categories:
Entry level. Among them are models with minimal disassembly and the easiest operation;
Average level. For those who are ready to spend more time on fashion, getting more delicious steam as a result;
High level. They often require certain experience and skills from the user. They can work with the most complex windings, giving a maximum of steam with excellent taste.
Some manufacturers offer unique devices aimed at a certain category of steamers.
Which brand to choose – everyone decides for himself, based on his taste and aesthetic preferences. If you are wondering how to choose a vape device, contact a specialist. Managers of the companies represented in our list will be happy to tell you about new products and teach you how to use vape correctly.