Top 10
Sacramento

Walk-In Bathtub Companies for Accessible Bathrooms
Top Best
Walk-In Bathtub Companies for Accessible Bathrooms
#

1

GVD Renovations

GVD Renovations is a locally owned and trusted contractor in Roseville. They specialize in complete exterior and interior renovation services, including James Hardie siding replacement, kitchen remodeling, bathroom remodeling, replacement windows and home remodeling. Their competent team has extensive experience making hundreds of Sacramento homeowners happy. Their expert design consultants will be pleased to give a customer all recommendations on improving the living space. They use only high-quality materials and modern technologies in their work. GVD Renovations offers excellent craftsmanship, always keeping your home and yard clean and ready to live after finishing the project.

620 Commerce Dr, Ste D

Roseville, CA 95678

#

2

Solid Construction & Design

Solid Construction & Design is one of the most prominent home remodeling contractors in Sacramento. They specialize in residential home renovations, kitchen remodeling, bathroom remodeling, countertops, shower installations, home additions, new construction, and more. They use the best vendors and suppliers and guarantee that only the best materials will be used in a construction project. They have been remodeling houses for over 15 years and are a family-owned and operated business. They strive for quality work and customer satisfaction. They offer customized service for every client and prove their reputation as an honest contractor. They never push unnecessary spendings to their customers.

5549 Auburn Blvd

Sacramento, CA 95841

#

3

Kitchen Mart

Kitchen Mart is one of the most trusted companies in Sacramento. They specialize in kitchen remodeling and bath remodeling, cabinet refacing and repainting, and custom countertop services. Their highly qualified staffs offer assistance with kitchen cabinets and bathroom cabinets, countertops made of different materials. Their main priority is to help people with the choice of bathroom and kitchen furniture. Kitchen Mart also offers assistance with the interior decoration of rooms and finding the necessary building materials. They satisfy all the requirements and desires of their customers. They respect and value their customers.

3742 Bradview Dr

Sacramento, CA 95827

#

4

Mike Loomis Kitchen and Bath Design

Mike Loomis Kitchen and Bath Design are one of the oldest contractors company. They have specialized in for the past 60 years in Rancho Cordova. They have been focusing on the kitchen and bathroom design, taking into account an individual approach and unique needs. Their professional staff is providing bringing your dream kitchen to life. Their primary goal is to create a comfortable space in the kitchen. Mike Loomis Kitchen and Bath Design are proud to transform your Sacramento kitchen into a relaxing, innovative, and ideal for entertaining guests with an artistic vision and commitment to high-quality work.

11369 Sunrise Gold Cir

Rancho Cordova, CA 95742

#

5

A+ Construction & Remodeling

A+ Construction & Remodeling is a home remodeling contractor servicing Sacramento and surrounding areas. They specialize in general home improvement and renovations. Their experienced specialists provide a full range of services: from a complete renovation of the house or kitchen to local design projects. They aim to ensure outstanding quality of work is constantly manifested in every project. A+ Construction & Remodeling guarantees an individual approach and compliance with the terms and quality of construction. They follow all requirements of their clients. They work in the friendliest manner.

3612 Madison Ave Ste 33

North Highlands, CA 95660

#

6

American Therapy Tubs

American Therapy Tubs is a famous kitchen and bath company in Elk Grove. They specialize in supplies of the therapeutic bath. Their highly qualified personnel provides choosing the necessary bathroom taking into account the needs and recommendations of doctors. Their key goal is to find the best American-made baths for hydrotherapy. American Therapy Tubs provide the best service and the best value for money, as well as an excellent selection of more than 15 American-made models. They satisfy all requirements of their clients. They respect and appreciate their clients.

10471 Grant Line Rd Ste 120

Elk Grove, CA 95624

#

7

USA Bath California Remodeling

USA Bath California Remodeling is a reputable bathroom remodeling contractor in Sacramento. They specialize in replacing showers and bathtubs with new waterproof wall systems and the conversion of bathtubs into shower cabins for easier access and increased space. Their highly qualified staff is providing performing high-quality work in the remodeling of the bathroom. Their central priority is high customer satisfaction. USA Bath California Remodeling offers the best guarantee in the business, allowing you to improve work quality. They never stop until they reach the complete satisfaction of their customers.

2500 Del Monte St Ste 100

West Sacramento, CA 95691

#

8

Zothex Flooring

Zothex Flooring is one of the best contemporary photography companies in Sacramento. They specialize in Carpet Installation, Cabinetry, and Flooring. Their experienced team creates panels, coverings, and wallpapers. They represent all goods for online stores and services. Their key goal is to provide to satisfy all wishes of their clients. They use the most advanced equipment in its work. They satisfy all wishes of their clients.

4021 N Freeway Blvd Ste 100

Sacramento, CA 95834

#

9

Closet Factory

Closet Factory is one of the most prominent photographers in Elk Grove. They specialize in portrait and event shooting. Their highly qualified staffs have been working for over ten years making their clients happy. They provide services at affordable prices, feeling the responsibility to bring joy to every person they work with. They focus on the internal beauty of their models and give priceless recommendations on clothes, makeup, and the environment for an outstanding result. They never repeat their plot shooting environment adapting to their customers' needs and desires.

9930 Kent Street

Elk Grove, CA 95624

#

10

Vitex Innovation

Vitex Innovation is a kitchen remodeling company that specializes in kitchens, bathroom remodeling, home construction, and renovation services in Sacramento. They are proud of the highest grades given by their customers. They provide services on remodeling the floors in every room of your house, including such complicated coverings as in kitchens and bathrooms. Their experienced team will attentively record your personal preferences and provide the best solutions. Vitex Innovation aims to achieve all customers' home remodeling dreams to come to reality. They prioritize high-quality and modern approaches in all their projects. It makes their floors serve for decades and clients happy.

11255 Sunrise Gold Cir Ste C, D and E

Rancho Cordova, CA 95742

#

11

Domus Surfaces

Domus Surfaces is a well-known countertop installation company in Sacramento. They specialize in direct factory slabs and tiles made of marble granite, quartzite onyx, and semi-precious materials. Their highly qualified experts are providing choosing the most beautiful stone products for your project. Their key goal is to fill your project with high-quality, beautiful stone. Domus Surfaces uses the most modern technologies to manufacture stone products, which guarantees the high quality of the final product. They meet all wishes of their customers. They provide excellent services at a reasonable price.

3129 Fite Cir Ste 140

Sacramento, CA 95827

#

12

Tryon Construction Company

Tryon Construction Company is a well-known cabinetry company in North Highlands. They specialize in the embodiment of your thought or idea into reality. Their experienced professionals provide a full range of works from a complete individual house from scratch to a built-in closet built into the wall. They focus on the quality and timing of construction. Tryon Construction Company offers to carry out any household repairs, including emergency calls. They provide a free estimation of the future works. They will be happy to answer all questions by phone or email.

#

13

Inspired Closets Sacramento

Inspired Closets Sacramento is a respectable and trusted company for the house's design, interior, and organization in Roseville. The company specializes in cabinetry. Highly qualified specialists will help organize the space around a client. This space will be comfortable and will delight their customers. A client-oriented company always takes into account the wishes of its customers. It anticipates their desires, satisfying all customer requests. Their furniture is created uniquely for each client. The world around a client will be perfect. They Contact us to get a free consultation right now. They provide a free work plan for future projects.

951 Washington Blvd Ste 506

Roseville, CA 95678

#

14

Sacramento Millworks

Sacramento Millworks is one of the most trusted and long-running companies in Rocklin. They specialize in cabinetry sales and installation, and building supplies. Their experienced employees help with the selection of high-quality baseboards, casings, and cornices. They are focused on decorating your home or business. Sacramento Millworks offers individual sales of interior and exterior doors. They are ready to answer all customer questions and satisfy their desires. They are happy to answer all questions by phone or email.

2254 Sierra Meadows Dr Ste D

Rocklin, CA 95677

#

15

Number2Project

Number2Project is one of the best companies in Carmichael. They specialize in Furniture Repair, Furniture Assembly, Cabinetry. Their highly qualified specialists assist their customers by supplying quality lumber for all indoor and outdoor needs. Their main priority is the framing of lumber, fir arc, pressure-treated material, plywood, pre-primed trim, fascia, beams made of glued beams, lumber, engineering products, equipment, building materials. Berry Lumber also offers its services in windows, doors, siding, milling on an individual order. They are ready to take on any customer's order.

4028 Knoll Top Ct

Carmichael, CA 95608

#

16

DC Floors

DC Floors is a well-known flooring company in Sacramento. They specialize in all issues related to flooring. Their professional specialists provide sales, installation, repair, finishing, and restoration of floor coverings of any size. Their central priority is to maintain an impeccable reputation through attention to detail. DC Floors is also engaged in specialized projects, such as unique design, medallions, borders, and inserts. They meet all requirements of their clients. They respect and appreciate their clients. They provide excellent customized services at an honest and reasonable price.
Are you looking for walk-in accessible bathrooms in Sacramento? The design of any living space should affect the aesthetic parameters of a particular room and carefully consider the room's functionality for a specific person. Moreover, when it comes to residents with disabilities, it is necessary to equip the house not just according to the mind but also to science.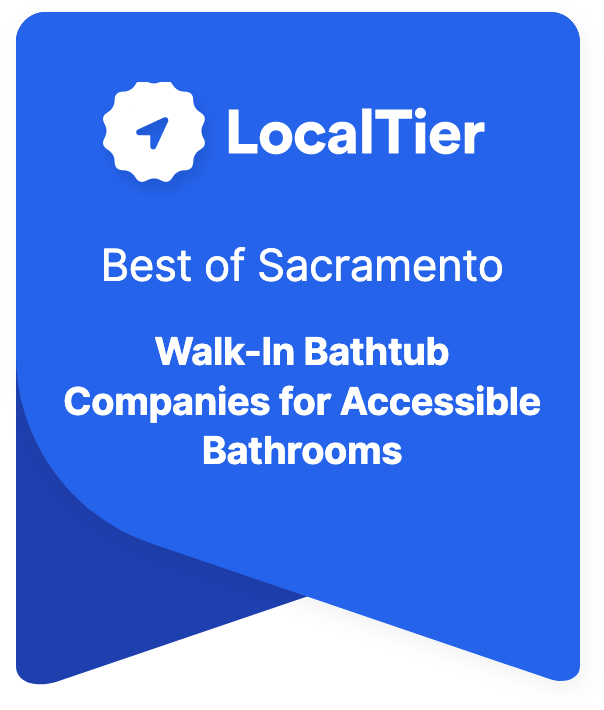 Walk-in Bathtub Companies in Sacramento
The bathroom is one of the most dangerous places in the apartment. For people with disabilities, visiting the bathroom or toilet becomes a test because the layout needs to be carefully considered.
You can provide the bathroom with many handrails and put a shower instead of a bath. An elderly person or a child will not throw their leg over a high side. A good solution if age has not brought problems with the musculoskeletal system when just standing for five minutes and raising your hands to the shower over your head is already a burden. Therefore, it is safer to wash sitting down. It is also worth considering that many bathrooms are not designed for the best option of a shower cabin - with a drain on the floor.
Therefore, there are sitting baths with a door that closes hermetically, without missing a drop - you can absolutely confidently type water into such a bath. In 85% of cases, such baths are made of acrylic.
Sacramento Walk-in Today, In the Best Bathtub Companies in Sacramento
Tightness, anti-slip coating, handles and handrails, anatomically correct seat shape - a high-tech and expensive product. The presence of hydro massage holes and nozzles is necessary if massage with water jets is included in the daily procedures. Choose high-quality built-in bathrooms so that a person feels comfortable and can wash safely.
To do this, we have selected the best manufacturers for you, who will make life more comfortable and ensure safety when taking a bath.
Our Selection Criteria
Each business is graded according to the following criteria:
Qualification
How qualified are they to do the work in their chosen field? Do they have any licenses or certifications?
Availability
Are they open during normal business hours? Are the hours clearly posted on their website and at their actual storefront?
Reputation
What are others saying about them? How well-known are they in the community?
Experience
How many years have they been in business? Have they won any awards or accolades?
Professionalism
How do they treat their customers? Are they courteous?
Contact the Best Walk-in Bathtub Installation Companies in Sacramento
When you have chosen a built-in bath, you should also pay attention to the basic rules for arranging a bathroom:
The bathroom itself should be spacious so that there is enough space between the sink and the toilet. Therefore, in small rooms where the toilet and bathroom are separate, they will be combined.
Access to the heated towel rail should be open as much as possible.
All shelves, hooks, towel holders, shower, and faucet should be placed in the access area for a sedentary person so that it is comfortable to use them while in the bathroom.
Instead of a traditional bathroom, there should be a built-in the bathroom with a drain on the floor without thresholds. You can wash sitting without having to climb over the side of the toilet.
A clean shower should be located near the toilet and, if necessary, reach the sink so that you can wash your hair.
The sides of the bath are a severe obstacle for a person with disabilities. Therefore, it is better to abandon the tub and replace its built-in bathroom when equipping a bathroom.
Choosing materials with low thermal conductivity, such as an acrylic bath, is recommended so that a person does not feel a sharp cold or a temperature drop. This is important because the temperature difference leads to a narrowing expansion of blood vessels, which can cause dizziness, loss of consciousness, and therefore a fall.
Our advice is to use shock-absorbing finishing materials when equipping the bathroom. It is also advisable to limit the hot water temperature in the boiler to eliminate the possibility of overheating, which can cause dizziness and loss of consciousness.
We believe that the presented list of companies will help make the bathroom much more comfortable.