Top 10
Sacramento

Water Damage Restoration Flood Repair Companies
Top Best
Water Damage Restoration Flood Repair Companies
#

1

911 Remediation

911 Remediation is one of the most trusted companies in Sacramento. They specialize in insulation and damage restoration. Their experienced and highly qualified specialists offer services to repair damage by water, fire, and mold, as well as other catastrophic events such as sewage discharge and even earthquakes. They aim to support people who have problems with various injuries due to different situations. 911 Remediation also offers assistance with projects related to disinfection or decontamination. They are ready to maintain any order. They work in the most respectful manner.

8136 Junipero St Unit B

Sacramento, CA 95828

#

2

Banconn Enterprise

Banconn Enterprise is one of the most trusted local companies in Sacramento. They specialize in biohazard cleanup, environmental abatement, and damage restoration. Their professional teams will provide you with high-quality help with minor and serious household problems. Their top priority is the proper execution of their work and a high level of customer service. Banconn Enterprise professionally serves the needs of its customers at an affordable price. They are ready to fulfill all the wishes of their customers. They respect and appreciate their clients making them happy.

4741 Pell Dr Ste 1

Sacramento, CA 95838

#

3

Bio Safety Clean

Bio Safety Clean is one of the best companies in Sacramento. They specialize in biohazard cleanup and image restoration. Their highly qualified specialists will help to clean up the crime scene. Their main task is to restore the premises after the crimes. Bio Safety Clean also offers restoration services for your premises. They are ready to provide you with additional benefits in their field. They are prepared to take on any order and follow all the instructions of customers. They will be happy to answer all questions by phone or email.

#

4

Brazil Quality Construction

Brazil Quality Construction provides a wide range of roofing services in the Sacramento area for over 40 years. Established in 2013, they continue to this day to adhere to all industry codes and standards. After visiting a customer's home or business premises, this company's professional estimator will provide them with a detailed free no-obligation estimate. They will also arrange a time convenient for the customer to go over the estimate so that they fully understand the required work. Their experienced roofing contractors will carry out the work to a high standard and will only leave the site once the customer is fully satisfied with the work carried out.

#

5

Solid Construction & Design

Solid Construction & Design is one of the most prominent home remodeling contractors in Sacramento. They specialize in residential home renovations, kitchen remodeling, bathroom remodeling, countertops, shower installations, home additions, new construction, and more. They use the best vendors and suppliers and guarantee that only the best materials will be used in a construction project. They have been remodeling houses for over 15 years and are a family-owned and operated business. They strive for quality work and customer satisfaction. They offer customized service for every client and prove their reputation as an honest contractor. They never push unnecessary spendings to their customers.

5549 Auburn Blvd

Sacramento, CA 95841

#

6

Rainbow International of Sacramento

Rainbow International of Sacramento is one of the most promising and trusted companies in Sacramento. They specialize in damage restoration. Their team will also provide you with quality help with carpet cleaning. Their most important goal is to ensure high-quality home and commercial restoration combined with honesty and compliance with all the requirements of their customers. Rainbow International of Sacramento serve for the needs of its customers in repair and cleaning. They are always ready to fulfill all the wishes of their customers achieving the best result.

909 Fee Dr

Sacramento, CA 95815

#

7

Roto-Rooter Plumbing & Water Cleanup

Roto-Rooter Plumbing & Water Cleanup is one of the highest quality companies in Sacramento. They specialize in restoration after catastrophe and accidents. Their professional workers will also provide you with high-quality assistance in case of minor household problems, for example, in case of a broken kitchen faucet or even in case of destruction after emergencies. Their most important goal is honest assessments and a high level of customer service. Roto-Rooter Plumbing & Water Cleanup offers professionally service for its customers in restoration and cleaning in a short time and at an affordable price. They provide a free plan for future works.

3961 Pell Cir

Sacramento, CA 95838

#

8

ServiceMaster Restoration by Elite

ServiceMaster Restoration by Elite is one of the most highly qualified and best companies in Sacramento. They specialize in Insulation Installation, Damage Restoration. Their experienced and highly skilled teams are ready to remove odor, visible damage, and hidden health hazards and toxins. Their primary goal is to help people who have problems with fire recovery, disaster recovery, water damage, etc. ServiceMaster Restoration by Elite also offers assistance in cleaning up injuries and crime scenes and biohazards. They are ready to meet all the needs of their customers.

1419 North Market Blvd Ste 10

Sacramento, CA 95834

#

9

SERVPRO of Citrus Heights/Roseville

SERVPRO of Citrus Heights/Roseville is a respected damage restoration company based in Sacramento, California. They specialize in providing 24-hour emergency services for commercial or residential needs regarding water damage, fire damage, store damage, mold remediation, commercial restoration, and much more. They were established in 1983, and with more than 37 years of experience in the industry, there's nobody better to turn to than SERVPRO when you need damage repaired on your property. They have been serving the residents of Sacramento with their fire, water and mold needs for years, and even serve large commercial clients.

701 Del Paso Rd

Sacramento, CA 95834

#

10

Statewide Restoration

Statewide Restoration is a local damage restoration company based in Sacramento, California. They specialize in the restoration and repair of damaged residential and commercial properties. They provide 24/7 emergency services at a moment's notice, and are able to assist their clients with all kinds of disaster reconstruction - from fire, to flood, to earthquakes. They make use of a team of dedicated specialists to provide a full range of in-house design, estimating, production and construction services. The most important service that Statewide Restoration provides is working in conjunction with your insurance adjuster to handle your insurance and mortgage communication needs. They have more than 10 years of experience in the industry, and their customer service is impeccable.

8864 Fruitridge Rd

Sacramento, CA 95826

#

11

The Green Bee Restoration

The Green Bee Restoration based in Sacramento specialises in providing various cleaning and reconstruction services for residential and commercial properties. Established in 2007, their team of certified master technicians have more than 40 years of experience working in the building industry. They work closely with their customers to save as much money as possible whilst ensuring that all work is carried out to a high standard. This is also a company that has the experience to deal with issues such as mold growth in premises using the latest technology. Before any work commences, they will arrange a visit and provide customers with a free estimate. If a customer is not satisfied with the work carried out at any stage, they are happy to come back and fix the issue for them.

#

12

Good Life Fire Restoration

Good Life Fire Restoration isSuitable a construction company that offers services to plan and carry out restoration works to any homes in the Sacramento area. Established in 2009, their team of experienced and skilled craftsmen will help homeowners add value to their homes. Along with complete reconstruction work, the team who have nearly 100 years experience in the building industry can carry out other projects, including repairs to homes caused by termites, complete repainting of properties, and construction and repairs to decking patios and awnings. Good Life Fire Restoration offers premier services at affordable prices using only the best quality materials.

3720 Madison Avenue, Ste 210

North Highlands, CA 95660
Are you needing a Sacramento water damage repair contractor or looking for reviews for a company that carries out water damage restoration flood repairs?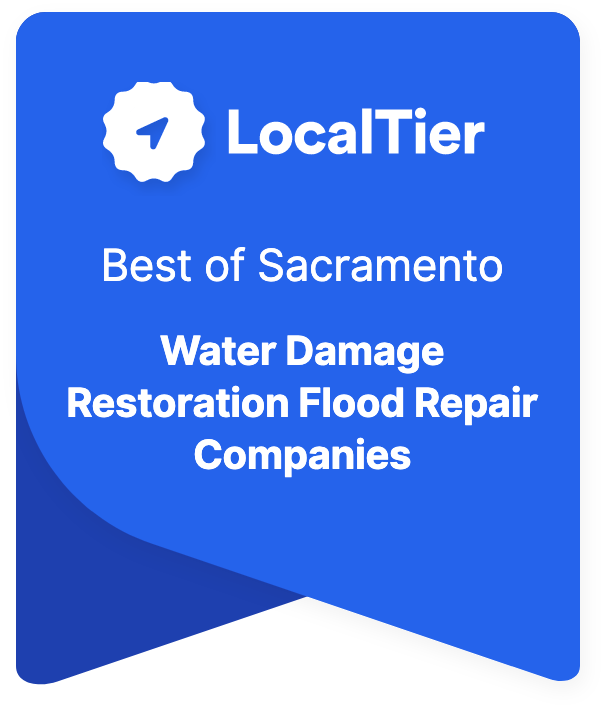 Find Out The Best Water Damage Restoration Flood Repair Companies in Sacramento
Each day hundreds of homeowners in Sacramento will search for water damage repair contractors near them.
If you are looking to hire the services of a water removal water damage repair company, you have come to the right place.
In Sacramento, there are several water damage repair companies who can provide you with the help you need to deal with any issues you may have, from water removal, water damage, water mitigation, just to name a few.
As a homeowner, when you need access to a Sacramento water removal water damage repair company, you need to find the best one as quickly as you can.
You must hire a company that can carry out repairs to your home after water damage near to you that is highly qualified. Ideally, look for one who offers great discounts. Below are some companies that can help you carry out water damage repair to your home in the Sacramento area. So why not give them a call now!
We have created a list of the best Sacramento water removal and damage repair companies.
You will find that if you carry out a little more research into each of the companies listed, you'll be able to choose the one that meets all your specific requirements.
We have also ranked them, and you can see our rating criteria here. With the best options at your fingertips, you can quickly find the best contractor for your needs.
Make sure you go to the various water damage repair company websites to read any reviews left by previous clients. Choose a Sacramento water removal company that carry out water damage repairs that have received positive feedback. Never choose one that has received numerous complaints from their previous client.
Also, it is a good idea to ask family and friends about who is the best water damage repair company in Sacramento. They will provide you with an honest opinion regarding a particular company. This will help you to make a much easier choice.
When you need to hire a Sacramento water damage repair contractor, our list will prove helpful and make your search for one a lot easier.
Our Selection Criteria
Each business is graded according to the following criteria:
Qualification
How qualified are they to do the work in their chosen field? Do they have any licenses or certifications?
Availability
Are they open during normal business hours? Are the hours clearly posted on their website and at their actual storefront?
Reputation
What are others saying about them? How well-known are they in the community?
Experience
How many years have they been in business? Have they won any awards or accolades?
Professionalism
How do they treat their customers? Are they courteous?
Now You Are Ready to Hire Water Damage Restoration Flood Repair Companies in Sacramento
When ready to hire a Sacramento water damage repair contractor, you need to be cautious when hiring such a company.
Unfortunately, there are a lot of sham companies. One local homeowner reported recently that a company had taken many Sacramento homeowners for a ride this year. They left them with a mess in their home and a financial burden as well.
When thinking about selecting a Sacramento water damage repair company in your area, you must make sure you ask all the necessary questions with regards to the company's history, such as:
When was this water damage repair company set up?
How long with it take to complete the project?
Do they require payment upfront or on completion of the project?
Are their employees highly professional?
Do they have the relevant insurance?
Will they carry out a free inspection of any water damage before work begins?
Do I need to buy any materials or products needed for the project, or will they provide a quote for these items?
Be careful, as some companies will not be able to deliver on their promises. So carry out some research so you can choose the best water damage repair company that the city of Sacramento has to offer.
Choose a water removal water damage repair company trusted by many Sacramento homeowners as they provide a high-quality service.
There are plenty of Sacramento water damage repair contractors whose aim is to provide customers with a service that goes beyond their expectations.
Remember to use our list simply as a guide, as Nothing beats you carrying out due diligence. Make sure that you ask the right questions regarding qualifications, how long the company has been in business, obtain references and check out reviews online.