Top 10
Sacramento

Web Designers & Developers
Top Best
Web Designers & Developers
#

1

WebPerfex

WebPerfex is one of the top rated digital marketing and web design companies in Sacramento. They specialize in a complete stack of digital marketing services which include custom website design, custom web development, SEO, search engine optimization, PPC advertising, lead generation, Google Ads and more. They offer customized web solutions for small businesses across the nation. If you need help with SEO and web design, WebPerfex will build and implement an optimal marketing strategy for you. Make sure you contact them and get a free consultation for your business.

#

2

Specter

Specter is the best software development boutique in Auburn. They specialize in desktop, mobile, and web application development, quality web design, and digital marketing. They use advanced technologies and approaches for digital marketing to make their customers successful and prominent in the market. Their experienced team has been providing optimization of the customers' websites for over a decade. They improve the user interface and perform SEO changes to the content. They make the clients closer to the owners of the sites. They always focus on their customers' needs and requirements.

100 El Dorado St Ste D

Auburn, CA 95603

#

3

Speedy Marketing & SEO

Speedy Marketing & SEO is a recognizable web design and digital marketing company in San Leandro. They specialize in building influential sites for both commercial companies and nonprofits. They use only innovative marketing strategies to improve the online engagement of the clients to the developed areas. Their experienced team maintains the customers' sites are providing the best optimization procedures. They offer a unique 7-days service to design and implement a place for a client. They focus on the customers' needs and requirements. Speedy Marketing & SEO has provided high-quality service in the web design and development sphere for years.

#

4

2Leaf Web Development

2Leaf Web Development is a remarkable website developer in Sacramento. They specialize in backend and frontend development for small, middle, and large businesses. They customize their products making the customers' sites recognizable and taking leading positions. Their team has been working for almost 15 years, creating hundreds of sites for their customers. They provide a whole stack of web development services, including selecting the best hosting, use of modern web technologies, and search engine optimization. They offer free consultations and recommendations, creating leading media channels on the web.

2110 K St Ste 22

Sacramento, CA 95816

#

5

Primetime Colors

Primetime Colors is a trusted printing service company in Sacramento. They specialize in sign making, screen and T-shirts printing, and any graphic design. They serve the most demanding customers by creating unique products. They provide a service of automatic estimations of the customers' orders on their site. Their experienced team meets all clients' wishes and desires, providing customized service. Their staff create and print high-quality items and give the electronic version to the clients for free. They are always happy to discuss the peculiarities of the order via phone or email.

1015 25th St Ste 280

Sacramento, CA 95816

#

6

Minuteman Press - Midtown Sacramento

Minuteman Press is a professional web designing agency in Sacramento. They specialized in web and graphic design and printing services. They have earned a high reputation in the market because of the exceptional quality of their products. Their team is dedicated to the customers' complete satisfaction and never stops working until reaching the best result. They provide their services at a competitive price and use the customer-oriented approach in their work. Their experienced staff offers the best solutions for the specific business implementing the frontier technologies in the projects.

930 Alhambra Blvd Ste 80

Sacramento, CA 95816

#

7

Ciarnelli Designs

Ciarnelli Designs is a highly reputed and recognizable web designing company in Sacramento. They specialize in website design and developing websites adapted for various screen sizes and internet connection speed. They provide a whole stack of services for eCommerce solutions and monthly maintenance of the developed sources to follow the changes in the market. They offer content management and search engine optimization for the customers' sites. Their experienced team creates modern and unique designs customized for every client for the best fitting of their business.

#

8

Capitol Tech Solutions

Capitol Tech Solutions is a recognizable and trusted digital transformation agency in Sacramento. They provide software development, data science, and digital marketing services for businesses, nonprofits, and government agencies. They strive the innovative digital techniques and strategies and great software solutions. Their experienced team partners with a customer to develop the most appropriate and responsible website. They offer the development of strategic digital marketing and a customized website design. They are dedicated to a user experience and friendly interfaces for their sites for the best success.

2831 G St Ste 200

Sacramento, CA 95816

#

9

Uptown Studios

Uptown Studios is a famous versatile company in Sacramento. They specialize in various digital activities - web design, video and film production, and print media. They offer brand development and rebranding service, social media training, and even podcasts and video blogs shooting and handling. They have earned an excellent reputation for almost 30 years of operating. They exceed any expectations of their customers. Their highly skilled team creates the best video clips using the frontier IT and responsive web pages fitting on a screen of any size.

2415 23rd St

Sacramento, CA 95818

#

10

Post Modern Marketing

Post Modern Marketing is a top-ranked web design and marketing company in Sacramento. They specialize in web design, digital marketing, and advertising. They create progressive user-oriented designs of simple, intuitive, and attractive to the most demanding client. Their experienced staff offers beautiful works always on time and meeting all requirements and preferences of their customers. They work intensively in the field of the digital marketing to provide the best service to their clients. Their payment system is transparent and straightforward, completely satisfying every customer. Post Modern Marketing is the right choice to get marketing results quickly and effectively. If you are a local Sacramento business owner, this marketing agency should be on your shortlist.

1661 Garden Hwy Ste 200

Sacramento, CA 95833
All successful businesses in Sacramento have a website for customers to find them and learn more about the services they offer. However, it takes time and knowledge to design a website that brings potential clients to your fingertips. If you are a business owner searching for the best Sacramento web designers, you have come to the right place.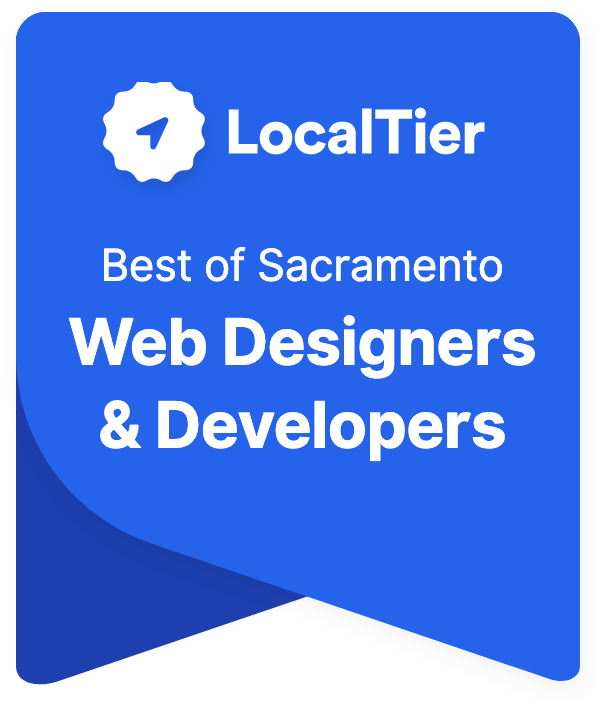 Best Web Designers and Developers in Sacramento
We have compiled a list of the top web design and developers in Sacramento who are ready to provide an online presence that meets your needs.
Many believe that web design and marketing is nothing more than creating a few pages that offer information and some graphics for aesthetics. However, there is much more involved than creating a pretty site if your goal is to convert traffic into sales. If your online presence does not make you money, then it costs your business.
Web development and web design is a different industry than any other. Some developers have spent time and money achieving degrees, while others have started with experience and certification. This can make searching for the best website design company in Sacramento challenging. You want someone who understands your goals and has the knowledge on the best way to achieve them.
Best Sacramento Web Design
Creating a relationship with a web designer and an online marketing company is crucial because it is long-lasting. You will need them to make the website design and manage it as long as they are contracted. For this reason, you will want to take your time to research your options. Visiting the online profiles for the web design companies on this list will help you start, but then you will need to set up appointments to meet with the developers individually. You want a web design company in Sacramento that strives to understand the project in its entirety, as well as their role. You will also need to decide if you want any control over the process or let the Sacramento web design company handle the ins and outs of site creation.
Our Selection Criteria
Each business is graded according to the following criteria:
Qualification
How qualified are they to do the work in their chosen field? Do they have any licenses or certifications?
Availability
Are they open during normal business hours? Are the hours clearly posted on their website and at their actual storefront?
Reputation
What are others saying about them? How well-known are they in the community?
Experience
How many years have they been in business? Have they won any awards or accolades?
Professionalism
How do they treat their customers? Are they courteous?
Ready to Hire a Sacramento Web Designer?
Before you dive into contacting a Sacramento website design and marketing company off this list, it is essential to understand the information they will need to know. You cannot adequately judge which website design company is best if you do not give them a clear picture of the project.
The first thing they will need to know is what the goal of the webpage will be. Some websites are designed only to give information about your company with a contact page to reach you. However, others are to sell products virtually. Make sure you understand your marketing goals, preferred target audience, and total budget available.
Next, you will need to consider how much involvement you want in the process. Are you planning on having the Sacramento web design company design the site and provide content? Will they just make sure it stays operational? How much knowledge do you have in SEO practices so search engines will view your site as trustworthy? Consult with the Sacramento website design company or web developer to determine different available packages and guide you to the best solution for your company.
Contact The Best Web Designers in Sacramento
Finally, you will want to decide ahead of time who will own the site. As mentioned, there are different options available for all web designers and internet marketers in Sacramento. In some cases, you can provide the web host and domain name, and they will log in to design. Other times, everything is included in the package available. They will host the site and manage it from their end. Be clear with what your desires are, especially if you end up changing web design companies or developers down the road.
In short, you will need to do ample research before hiring a website designer or web developer in Sacramento. Having a web design company local to you is optimal if you want to be hands-on in the process. Remember, this will be a team project. Taking your time and choosing a web design and digital marketing company that matches your personality will ensure a long-term relationship that maximizes your profits.