Top 10
Sacramento

Christmas Light Installation Companies
Top Best
Christmas Light Installation Companies
#

1

Golden State Christmas Lights

Golden State Christmas Lights, located in Elk Grove, is a company that specializes in holiday light displays for homeowners and business owners. Each customer who chooses to will work closely with this company's experienced and knowledgeable staff to provide them with the best light display that meets their particular requirements. Work will begin with creating a design and then leads through to the installation of the lights. Customers do not need to worry about any lights failing as they will also maintain the display, take it down, and put it into storage after the holiday period has come to an end.

#

2

Polar Lites

Polar Lites is a company that specializes in the design, installation, maintenance, removal and storage of holiday decorations and lighting. This is a company, since 2001, has been offering this service to the people of Sacramento and the surrounding areas. All of the decorations and lights used in their designs are made for commercial-grade materials and supplies. So customers can be assured that not only will these last but also a much superior appearance. Their experienced staff work closely with their customers and deal with any issues that may arise, no matter how big or small they are. Polar Lites is all about superior equipment and products and can offer exceptional services to residential and commercial customers at reasonable prices.

2429 Tower Ave

Sacramento, CA 95825
Are you looking for a professional light installer to help you put up those holiday lights? No need to worry as there is a lot of Christmas light display installation companies in Sacramento area. They will be happy to let you light up your homes or business.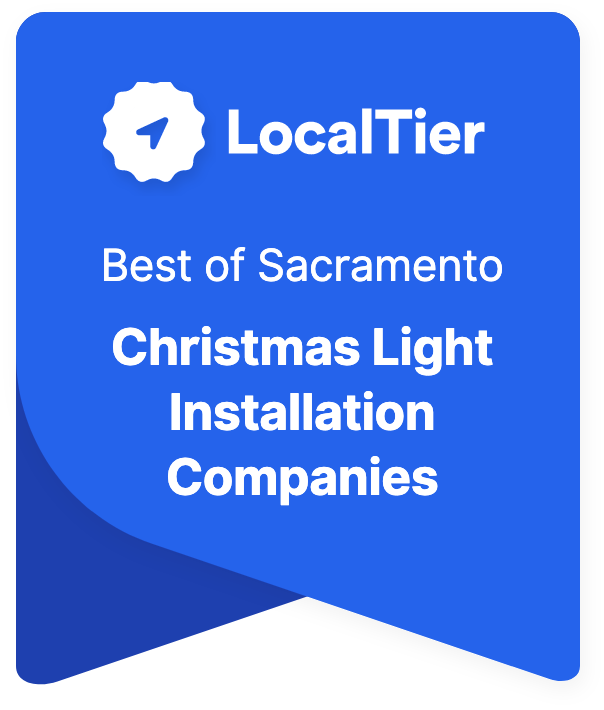 Best Christmas Light Installation Companies in Sacramento
Spread the holiday cheers with those brightly lit Christmas lights. After all, it is the most wonderful time of the year in Sacramento. Light up those lights for the happiest season for everyone. Let the lights glow and shine brightly in everyone's heart. A stunning Christmas light display can only be achieved if you get the services of a Sacramento professional light installer. After all, any Christmas spirit won't be complete without those pretty lights brightly hanging in your place this yuletide season in Sacramento installation companies.
Getting them installed especially on hard-to-reach areas like your rooftop can be a real challenge. Add up the risk of sliding down because of snow. Thus, you should hire a professional light display installer. Let those professionals take care of arranging your Christmas light display this yuletide season. They can do custom cutting of lights to fit the space where you want the lights placed. These professional light installers can offer the whole package of christmas light installation companies, maintenance, removal, and storage after the season is over. You can even have the option of the kind of light that you want to use. It can either be those LED lights that are more energy-efficient and environment-friendly or the conventional incandescent bulbs. You may want them to stay steady or blink slowly. Its entirely up to you.
Our Selection Criteria
Each business is graded according to the following criteria:
Qualification
How qualified are they to do the work in their chosen field? Do they have any licenses or certifications?
Availability
Are they open during normal business hours? Are the hours clearly posted on their website and at their actual storefront?
Reputation
What are others saying about them? How well-known are they in the community?
Experience
How many years have they been in business? Have they won any awards or accolades?
Professionalism
How do they treat their customers? Are they courteous?
Are You Ready to Hire Sacramento Holiday Lighting Companies?
You can help spread happiness by just putting up a string of lights for everyone to see. It may not be the grandest Christmas light display but the joy of seeing them can instantly make anyone happy. So go ahead and bring on those lights for everyone's delight. To help you out, those Sacramento professional light installers can whip up the most reasonable package for you. Look for those who offer a lifetime guarantee when choosing a local light installation company. Most of these professional light installers in Sacramento serve both residential and commercial clients. To help you decide on which light installation company to hire, a list of the Top 10 Best Sacramento Christmas Light Installation Companies is included in this article.
You may also do your research online or you can just ask around for recommendations. Once you have selected a light installation company, make sure that they got all their workers ensured for safety and assurance purposes. You may also ask if they offer free estimates and discounts for their light display installation services. Another item to ask is if their cost covers the entire package. Some of them may even include weekly checkups and repairs if needed. Regular maintenance is very important, especially for light displays.
No one else would know best how your home or business should be designed this Christmas in Sacramento. Only you can tell the professional light installer how you want it made. For sure, you already have it pictured out in your mind. So go ahead and let your home or business get the best Christmas light installation companies display this season.
Deck up those halls with the brightest yuletide lights and have the merriest holiday season ever in Sacramento.