Top 10
Sacramento

Lawn Care Service & Lawn Mowing Companies
Top Best
Lawn Care Service & Lawn Mowing Companies
#

1

4 Seasons Gardening

4 Seasons Gardening is a trusted gardeners, lawn services and gutter services company based in Sacramento, California. They specialize in everything to do with gardening and landscaping, from planting new bushes and flowers, to mowing your lawn, to making sure that your garden has the perfectly manicured look that you wish to achieve. They have been serving the Sacramento area since 2000, and with more than 20 years of experience in the industry, they are one of the best gardening companies in the state. Felipe Maldonado, the owner of 4 Seasons Gardening, is passionate about gardening, and oversees each job to ensure the best possible results.

#

2

A D Landscape Service

A D Landscape Service is a diversified landscaping service, architectural design, and pest control company in Sacramento. Their multiple staffs provide a wide range of high quality services in everything landscape design and lawn maintenance. They provide weekly maintenance services both for their former projects and for those inherited from the other designers. Their experienced maintenance crew exceeds all expectations when implementing and supporting the works. Their primary principle is a complex approach allowing solving the arrangement of the land plot in all aspects. They have been in the market for over 30 years.

8010 Betty Lou Dr

Sacramento, CA 95828

#

3

Above It All Tree Care

Above It All Tree Care is a reputable tree services company based in Citrus Heights, California. They specialize in tree removal, pruning, and trimming, and even offer 24/7 emergency services for those times when you need them the most. They have more than 30 years of experience in the industry, and happen to be one of the oldest tree services companies in Citrus Heights. They also offer professional building clearances, height and weight reductions, and more. There's really nothing that Above It All Tree Care can't do when it comes to looking after your trees and landscaping.

#

4

Bell's Tree Service

Bell's Tree Service is a local tree services company based in Sacramento, California. They are specialists when it comes to landscaping and tree maintenance. They are able to help you with all of your tree-related needs, whether you need a tree pruned, moved, or completely felled and removed. Bell's Tree Service does it all, and they've been doing so for years. With an old-fashioned approach to customer service and more than a decade of experience in the industry, the service that they provide is truly world-class. So, the next time you need any tree services, you know exactly who to call.

2551 Bell St

Sacramento, CA 95821

#

5

Cruz Landscaping Services

Cruz Landscaping Services is s trusted landscaping company in Sacramento. They specialize in landscaping design and maintenance service using up-to-date technologies and the latest trends in design. Their team is experienced in hundreds of projects, always following the customers' needs and wishes. They focus on charming service and making their customers happy in the new environment. Cruz Landscaping Services offers honest businesses dedicated to a high quality and customized service at an affordable price. Their team supports exceptional service with the best materials and long-living solutions for the better life.

#

6

Green Landscaping

Green Landscaping of Sacramento is a 4.5 star rated landscaping company located in Sacramento County in California. They are licensed and insured to provide customers with numerous landscaping services like sprinkler systems, landscape demolition, and installation, stump grinding, landscape design, and walkways. They are a family-owned company and have provided landscaping services in Sacramento since 2008. They have a professional artistic crew, pay attention to detail when offering their landscaping services, and consistently deliver spectacular things. They will take care of both residential and commercial properties and will give nothing but the best service with the best prices and quality in all of Sacramento and the surrounding area.

#

7

Haman Landscape and Tree Service

Haman Landscape and Tree Service is a dependable tree services company based in Sacramento, California. They specialize in large and dangerous tree removals and trims, as well as tree pruning and stump grinding. They haul materials off to the dump as part of their services, and are dedicated to helping customers save as much money as possible. Haman Landscape and Tree Service offers maintenance of residential and commercial properties, which includes blowing, mowing, trimming and edging of plants and shrubs. They are experts when it comes to new landscape design and irrigation, and with more than 30 years of experience in the business, they are one of the most knowledgeable landscaping companies in Sacramento.

#

8

Mike's Junk Hauling & Dumpster Rental

Mike's Junk Hauling & Dumpster Rental is a garbage collection and transportation company. The company specializes in Junk Removal & Hauling. Their main goal is to help with the cleaning of the area from under the garbage. A professional team makes the space around clean and fresh. Mike's Junk Hauling & Dumpster Rental also offers relocation or repair assistance. Clients choose Mike's Junk Hauling & Dumpster Rental because the quality of their work is impeccable. They help to make their customers' lives easier thanks to their service. They provide unique services at affordable prices.

4300 Calcutta Way

Sacramento, CA 95842

#

9

One Man Mow

One Man Mow is a trusted lawn services and tree services company based in Sacramento, California. They specialize in yard clean-ups and lawn care, and are one of the best gardening companies in Sacramento. They offer reliable lawn mowing, leaf blowing, tree and shrub trimming, and garden cleanup services that are unmatched in the area. They have years of experience in the industry, and their old-fashioned approach to friendly customer service is what sets them apart from other gardening companies. One Man Mow takes the time to get to know each and every one of their clients personally, building a long-lasting relationship founded on respect.

#

10

Purchase Green Artificial Grass - Rancho Cordova

Purchase Green Artificial Grass specializes in landscape installations in Rancho Cordova. They build artificial grass lawns using the best materials. Their staffs will design and construct all the necessary intrastructure for care of the grass. They guarantee years of sustainable landscape architecture by the proven experience. Purchase Green Artificial Grass provides its services for residential and commercial clients. They are dedicated to the complete customers' satisfaction and make their clients happy in comfortable and luxury environment. They offer a free design estimation, samples, and free maintenance recommendations.

2419 Mercantile Dr Ste A

Rancho Cordova, CA 95742

#

11

Raul's Tree Care

Raul's Tree Care is a tree services company based in Sacramento, California. They specialize in offering clients full-quality tree services. They have been working in the tree industry for more than two decades, and arboriculture is their passion. The services they provide are of an excellent quality, and they are by far one of the best tree services companies in Sacramento, and Califonia, for that matter. Their customer service is excellent, and they are always willing to talk and walk you through any tree problems you may be having on your property, whether you're a residential homeowner or a commercial businessman.

2036 Bowling Green Dr

Sacramento, CA 95825

#

12

System Pavers

System Pavers is one of the leading landscaping architectural companies in Sacramento. They have been serving mansions and condominiums for a quarter of the century. Their staffs have extensive experience in all kinds of landscaping, masonry, and concrete works. They strive to satisfy the requirements of the most demanding clients and are obsessed with the high quality of the results. They aim to leave the landscape for years loyally functioning and smooth operating under any circumstances. They build durable products that last a lifetime and give a 30-day satisfaction guarantee.

3035 Prospect Park Dr Ste 110

Sacramento, CA 95670
Are you on the hunt for a lawn care service in Sacramento or a lawn mowing company in the local area? Choosing the right lawn care service company for you can be tricky. That's why we have done the hard work for you. Check out the top ten in your area here!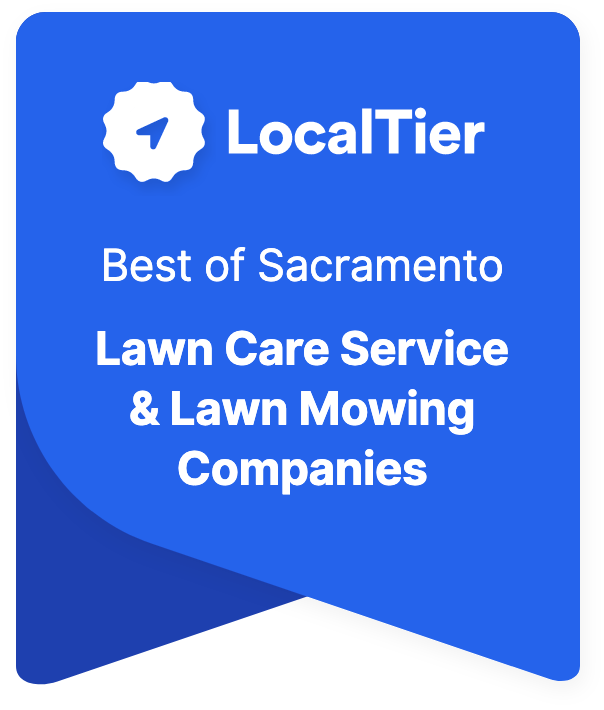 Contact for the Top 10 Lawn Care Service & Lawn Mowing Companies in Sacramento
Are you on the hunt for a lawn care service in Sacramento or a lawn mowing company in the local area?
Each week, countless Sacramento locals head online and search for a lawn care service in the local area. It is a real treat to live in a place as scenic, culturally rich, and rich in history as Sacramento . A significant part of that is the range of many beautiful and picturesque locations that you can visit, or some of the entertainment options on offer, such as a range of live music locations that are easy to find.
With all the different entertainment options on offer in Sacramento, you will likely find yourself spending plenty of time out and about and with much less time available to maintain your lawn to a decent standard.
But the good news is that you don't have to! There are so many excellent lawn care services and lawn mowing companies in the local area that you can find the perfect one for you and spend your time focusing on other things.
The best part? All of the companies that have made our list are also available to work on your lawn during winter to help you remove all of the snow that gets in the way and ensure that you have a beautiful garden all year round. Lawn Care Services Other than the usual services such as trimming, pruning, and lawn mowing, what other services do Sacramento lawn care services tend to include?
Here are a few things that you can expect to see from a lawn care service in Sacramento :
Weed control
Lawn mowing
Lawn care
Mosquito control
Lawn fertilization services
Irrigation maintenance
Crabgrass control
Lawn aeration
Grub Control
Leaf pickup & removal
Lawn fungus control
We've saved you some time and collated the very best lawn care services in Sacramento, each of which is itching for the opportunity to show you just how excellent their service is.
Our Selection Criteria
Each business is graded according to the following criteria:
Qualification
How qualified are they to do the work in their chosen field? Do they have any licenses or certifications?
Availability
Are they open during normal business hours? Are the hours clearly posted on their website and at their actual storefront?
Reputation
What are others saying about them? How well-known are they in the community?
Experience
How many years have they been in business? Have they won any awards or accolades?
Professionalism
How do they treat their customers? Are they courteous?
Now You Can Start Buying Lawn Mowing Companies in Sacramento
If you have a large or complicated-shaped lawn, keeping it up to a high standard and mowing it is no easy task. Anyone with a yard will attest to this, so don't feel like you are the only person out there that is seeking a little help in this department.
It's no secret that keeping your lawn in a pristine condition can be challenging, especially when the weather comes along and has a significant impact on your grass.
In reality, 90% of homeowners are way out of their depth when looking after their lawn, and that is nothing to be embarrassed about! Lawn care services exist for a reason.
It can be very tricky to work out how to manage your lawn and keep it in top condition properly. Add to that the fact that many homeowners are also working full-time jobs, looking after the lawn on top of all of the responsibilities that come with that may be too much work for them.
And maybe in the past, that was a reasonable excuse for allowing your lawn to become poorly maintained. Even if you would like to stay on top of it and keep it in much better condition, it can be hard to justify the time and effort required when there are other, much more important things you need to do with your time.
But instead of allowing your lawn to become disheveled and not looking good, the good news is that you can instead work with a great company in the local area who will take care of it for you.
As you can see from this list, there are so many great options to choose from in Sacramento regarding lawn care. You are spoilt for choice, and there is now no excuse for your lawn not to be in top condition!